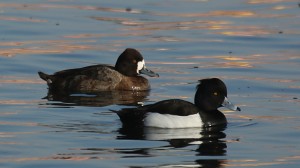 The Audubon Christmas Bird Count is the longest running citizen-science survey in history. This year marked its 115th anniversary. Each year around Christmas time, men, women, and children from around the world go outside and count bird species and populations within a given region.
On January 4, volunteers from the Stanislaus Audubon Society set a new record for total species recorded on the Caswell/Westley Count with 142 species. Some who participated speculated that the combination of heavy December rainfall and balmy weather on count day were responsible for the record total.
For whatever reasons, the 19 census takers who covered the 15 mile diameter count circle during the 32nd Caswell/Westley Christmas Count found most all the common birds they expected to find. They also found a remarkable number of ultra-rare and unexpected species.
The Caswell/Westley Count takes in most of the northwest corner of Stanislaus County and edges into San Joaquin County at Caswell Park. The habitat includes riparian forest, wetlands, grasslands, farmland, and a few urban areas.
With records going back thirty-two years, local birders have been able to devise a rating system based on the number of times a given species has been seen on each count. Species assigned with a number "1" are considered the most common, and, with notable exceptions, easiest to find. The degree of difficulty in finding a species increases as the numbers go up, with the most difficult species assigned the number "5."
Record counts usually include high numbers of "4" and "5" birds, and Sunday's count was no exception. Five species were recorded for the first time ever on a local Christmas Count.
Harold Reeve, who only weeks ago recorded his 300th species for Stanislaus County, braved the cold and darkness and found a Saw-whet Owl a few hours before dawn. He heard the bird calling from a riparian forest near Grayson.
Jim Gain, who is closing in on 300 species for his own Stanislaus County list, found and photographed a Tufted Duck. It was only the second time this species had ever been documented in Stanislaus County—the first and heretofore only record was in 1991 in late winter.
Many of the birds were found on private property and restricted access areas of the San Joaquin River National Wildlife Refuge. However, the vast majority of species recorded can be seen by anyone with a love of nature and desire to encounter some its most interesting residents.
This year, people who visit the public observation platform on Beckwith Road west of Modesto have an excellent chance of seeing White Pelicans and may even see the much less common Tundra Swans that were seen in the area on count day. Both birds are large, white, and awe-inspiring. As always, the big draw at the platform is the winter goose spectacle, which includes tens of thousands of Snow, Ross, and Aleutian Canada Geese.
Those who enjoy the tules and cattails of our local wetlands should look closely for the common but elusive American Bittern, a bird famous for its ability to hide in plain sight by taking advantage of its "camouflage" plumage. The bittern was one of those common birds assigned a number "1" that was missed on Sunday's count.
Local birders are already waiting for next year to begin another search for the bittern and its many feathered friends. They may even set another record.