Within a few short weeks of establishment of Modesto's new low-barrier shelter in the Salvation Army Berberian building, tents began appearing along the street opposite the building, mostly occupied by former residents of  MOES, the Modesto Outdoor Emergency Shelter. At first there were only a few. Now, the number of tents is growing almost daily, but not as fast as the number of homeless people in our parks, along our rivers, and on our sidewalks.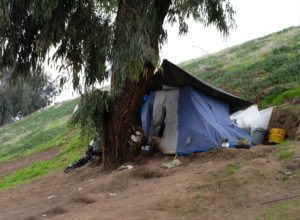 Governor Gavin Newsom has faced facts and realized there won't be enough housing or services to stem the rising tide of homelessness for years. He's authorized use of public lands for temporary housing and offered state money both for transitional temporary living space and more permanent housing and services.
To date, with few exceptions, no one in the state had been willing to admit the obvious truth: We don't have enough infrastructure and services to address homelessness and it will be years before we do have enough. The failure to face these facts has resulted in wasted time, money, and opportunity.
Most everyone charged with addressing rising homelessness has been operating on the obsolete assumption that shelters—barracks-like buildings featuring heavy rations of rules and religion—can fill the dual needs of rehab and relocation.
According to this traditional model, homeless people just need to, "get back on their feet and get back to work." It was once a workable approach, but today it ignores just about every current reality that applies to homelessness, most especially the fact we don't have enough housing for disabled and low income people, including people with fixed incomes—no matter how long they're in the shelter, they still have nowhere to go.
The shelter model also bypasses entirely the lack of housing and services for homeless people who are mentally ill, estimated at between thirty and forty percent of the total homeless population. At least thirty-three percent are considered seriously mentally ill.
Traditional shelters separate men from women, require people to exit during the day, force residents to listen to sermons before they eat, and deny entry to anyone who's intoxicated or on drugs. They also don't allow pets.
The newest concept in shelters—low barrier—allows couples to stay together, permits pets, does not check for drug or alcohol use, and imposes no religious requirements. But even low-barrier shelters, when in the form of a barracks, repel as many homeless people as they attract.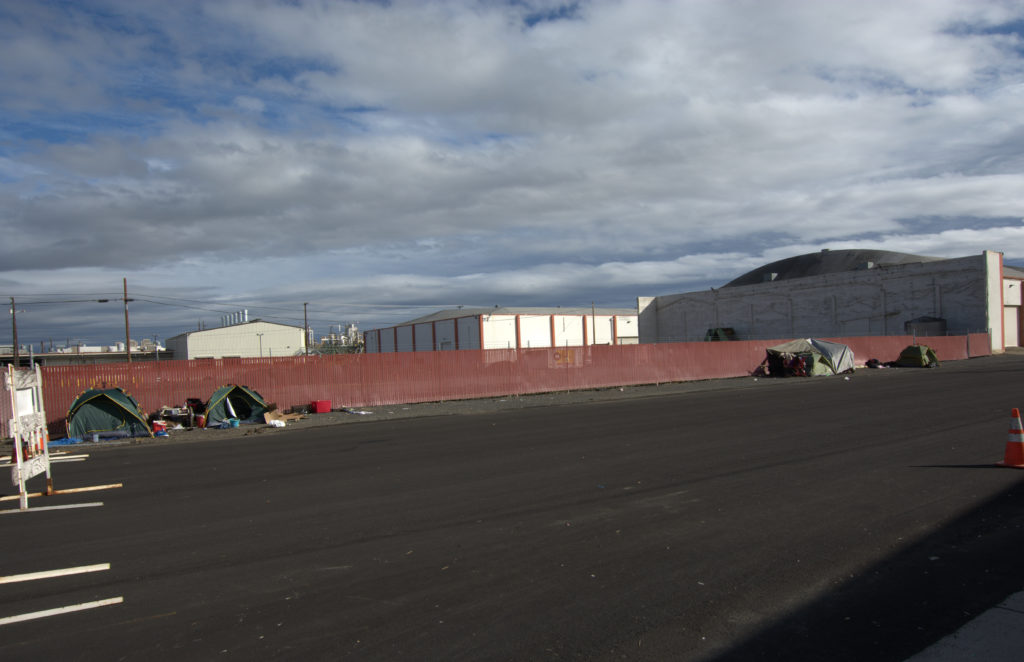 The barracks configuration itself is a barrier to people who fear crowded quarters. It's also a contagion facilitator, helping spread flu, gastroenteritis, and strep throat, all more common among homeless people than in the greater population.
Nonetheless, shelters in the form of barracks can still serve certain segments of the homeless population until more permanent facilities are built, especially the disabled, elderly, and those needing only temporary assistance. The shelter remains one option for addressing homelessness, but shouldn't be the only one.
When given a choice, homeless people prefer a tent or tarp to anything else. That's why we see tent encampments along our rivers, sidewalks, and freeways. The manifold problems of homeless tent camps have been well-documented—they accumulate trash and garbage, attract rats, roaches and bedbugs, and degrade and devalue property values and quality of life.
Inevitably offered as reasons to eradicate homeless camps, few people will acknowledge that poorly managed trailer parks, slums, cheap motels and deteriorated apartment buildings feature the same problems, yet are almost never demonized, mostly because they are less publicized.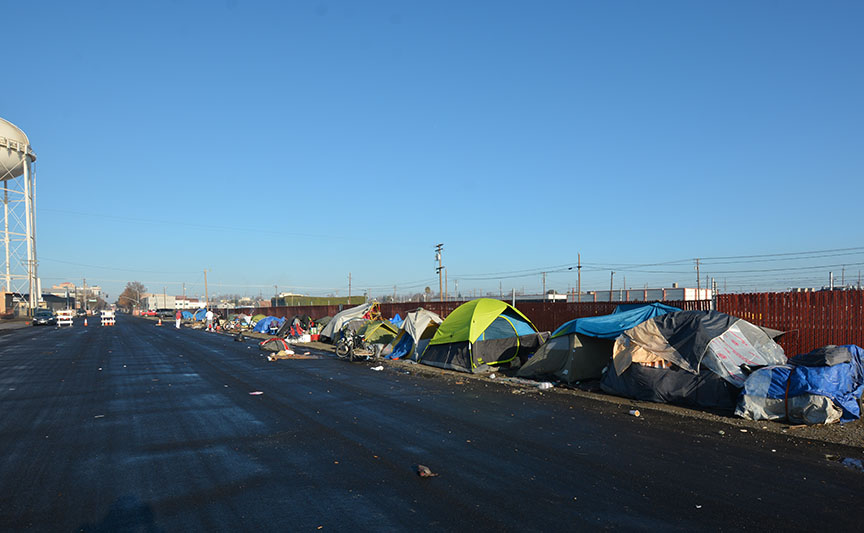 When the City of Modesto and Stanislaus County experimented with tent camps at Beard Brook Park and under Modesto's 9th Street bridge, the results were for the most part positive. The Modesto Outdoor Emergency Shelter (MOES), which was set up early last year, was studied by groups around the state as an effective approach to homelessness.
At its peak, MOES sheltered around 450 people. Quality of life crimes decreased dramatically throughout Modesto, the concentration of people in need made it easier for volunteers to donate food and clothing, and also made it easier for service providers to locate, assess, and serve people in need.
MOES closed when a new shelter became available. Unfortunately, the new shelter could only offer 182 beds and crates for 50 dogs. It couldn't serve even half the needs of people who had been at MOES.
Since the closure, Modesto's streets, parks, and sidewalks have seen a surge of homeless people. Authorities are once again caught up in the "move 'em along" cycle of, "warn 'em, sweep 'em, and bust 'em," that preceded MOES. And once again, to no one's surprise, the move 'em along tactic isn't working.
Given their experience with Beard Brook Park and MOES, Modesto and Stanislaus County are well-positioned to offer a state model for managed homeless camps. They've got a huge reservoir of experience to tap, and most of the personnel who were part of the success of MOES are still available. Authorities should seize the moment and get state funding now for a model approach to homelessness.