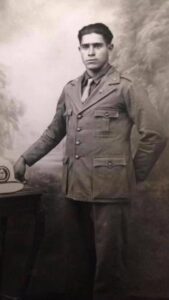 Nick Bavaro's father was already a veteran of the Italian Air Force when he decided he didn't want to fight for Benito Mussolini's fascist government. Discharged in 1933, Paul Bavaro was a working farmer who early on had the foresight to anticipate the awful consequences of Italy's descent into fascism. After Italy invaded Ethiopia in 1935, Mr. Bavaro feared he'd be called back into military service. He loathed the idea of fighting for an undemocratic leader who favored invading sovereign nations on the pretext of expanding the Italian empire.
Sympathetic to his son's disdain for fascism, Paul Bavaro's father arranged a secretive departure from Naples on a ship bound for New York, where Paul entered America as an undocumented immigrant in 1937. After a succession of odd jobs, Bavaro learned he could enter Cuba and reenter America as a legal citizen with Cuban papers. By 1943, Paul Bavaro had become an American citizen. In 1944, he met and married Margaret Longo in Chicago, Illinois.  Shortly thereafter, they moved to Modesto and took up farming. Their son, Nick Bavaro, was born a few years later.
Following the American immigrant tradition of assimilation and success, Nick Bavaro went from Modesto's Grace M Davis High School to earned degrees from University of the Pacific and the University of Southern California before becoming a successful Modesto business owner and consultant for employee benefits.
Maybe because he inherited his father's streak of independence, Nick Bavaro in 2016 decided he didn't want to belong to either of our political parties. A former Republican, he became a "No Party Preference" voter who is still very much engaged and aware of the upheaval in American politics since Donald Trump became president. Late last year, he decided to run for Modesto City Council because he wants to address quality of life issues like economic opportunity, housing, homelessness and urban blight.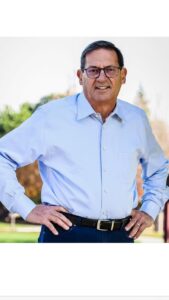 Bavaro sees America as extending the dual promises of freedom and economic success. He says our greatest threat today is lost hope for those blessings. In an era of highly polarized party politics, he prefers a return to simpler values and expanded opportunities.
Nick is a proud grandfather; his son is a Stanislaus County Deputy Sheriff; his daughter, like his wife, is a speech pathologist.
We spoke with Nick recently and came away with the strong impression that he's a man of quiet but resolute courage and far more pragmatic than partisan. He's not the kind of person who needs anyone's endorsement, nor would we expect him to make promises he can't keep. He's from the old American school where working hard, keeping your word, and giving back are taken for granted.
When a breakthrough comes out of the partisan paralysis national and local governments are mired in, it will come through a return to the American pragmatism that brought the country through the Great Depression, World War II, and the Cold War. Though not as monumental as the great crises of our country's history, local problems like homelessness, too few job opportunities and shortages of affordable housing won't be solved until taken on by pragmatists whose only interest is in making things better. We're convinced that that's what Nick Bavaro wants to do, and he wants to do it without the baggage of prior commitments, partisan politics or private agendas. We hope he can stay that way.