California's housing crisis shows no signs of ending soon as more and more people find themselves unable to rent or buy housing of any kind, even when they have work and good incomes. Dennis Lewis is only one of thousands of people who turned their lives around, went to work, then suffered a sudden reversal of fortune that led to months of homelessness. Drug free and awaiting a return to work, Lewis has tried every available avenue. He still can't find an apartment. Redemption shouldn't be this hard. ed.
Thirteen years ago, Dennis Lewis was at the Grand Canyon arguing with, "something I didn't believe in. I didn't have any concept or belief in God, but I was still asking God why I shouldn't commit suicide."
Approaching the age of 30, Lewis already had two strikes, one in 2004 and the other in 2009. Guns and drugs had been constant companions, and his run-ins with the law had gotten increasingly dangerous. Strung out and despairing, the former Modesto resident had become more and more distraught.
After a phone call to a friend who urged him to, "come to Turlock and you will see something great and mighty," Lewis reached a conclusion made famous by Blaise Pascal, the 17th century philosopher and mathematician.
Though he'd never heard of Pascal, Lewis realized that believing in God could do no harm if God didn't exist, and if God did exist, it was better to be a believer than an atheist. The reasoning is known as "Pascal's Wager."
I was homeless and living in my truck," said Lewis of that time in his life when drugs and guns went everywhere he did. "Let's put it this way, he said, "what do you have to lose if you decide to believe in God?"
"After I came back from the Grand Canyon and went to Turlock, I parked my truck in a church parking lot. They let me stay there. Every Sunday, the pastor always invited me to church. One day I went. After church, the pastor came and looked me straight in the eye. All he said was, 'I was glad to see you in church today.'"
"Later, he told me he was starting a home for people like me. I went there and got off drugs and I've been sober ever since."
Once off drugs, he found a better way. He recovered and found steady work as a union roofer. He has custody of a young son from a former relationship.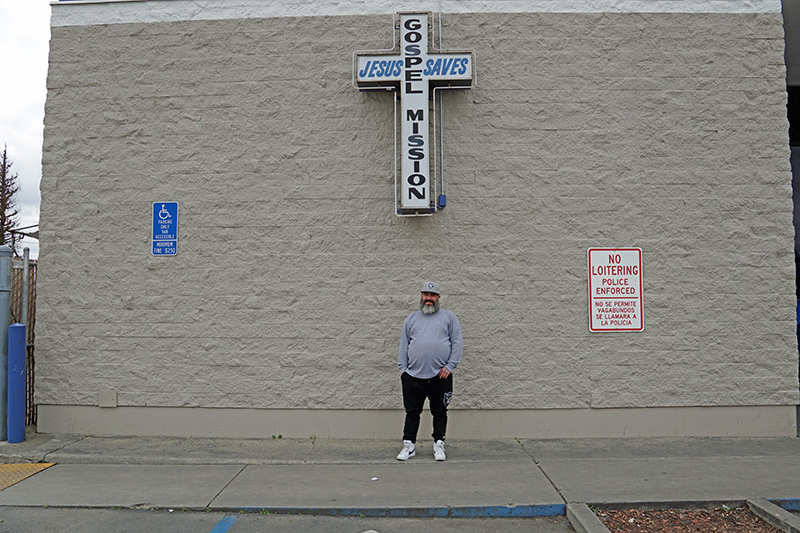 Things began going wrong after he was evicted from his apartment. Like many who've been evicted, he claims it was a wrongful action. Nonetheless, even if he had chosen to fight the eviction, he would have needed housing in the interim. That was last October.
Knowing that layoffs were coming during the slow season for roofing, Lewis asked to get released early so he could look for a rental apartment. At the time, he had no idea how difficult it would be to find a place to live.
"Even on unemployment, I can afford about $1000 a month," he said. "When I'm working, I can pay $1600 or 1800. I just can't find anywhere to live."
After thinking he would find housing within a few weeks, Lewis has been staying at the Modesto Gospel Mission for the last six months.
"I've tried every agency in Stanislaus County," he said. "I tried Community Housing and Shelter Services, Family Promise, the county access center, Liberty Property Management and every other service I could find. I even tried HUD."
After a while, a pattern developed during Lewis's search. "I would call an agency and they would refer me to another agency I had already called. It started to happen over and over."
Ultimately, rising frustration led him to seek help from local politicians. "I've called every office I can think of," he said. "I called Marie Alvarado-Gil, Juan Alanis, John Duarte and Josh Harder. I even called Tom McClintock. They all referred me to places I had already tried."
Dennis Lewis isn't looking for a handout. He expects to be back at work as soon the storm season ends. He's been working for a major roofing company for eight years and has established a clean record after early run-ins with the law. He never realized how difficult it would be to find a place to live, even with a good job and income.
"Everyone needs to know there are a lot of people in my situation," he said last week. "We try everything we can, and there's just no housing. I need a place for me and my son and I can't find one, no matter what I do."