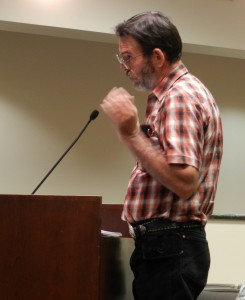 Oakdale Irrigation District (OID) General Manager Steve Knell has maintained for years that one reason the district sells water outside the region is that there's no local demand for OID water.
"We're not against selling water locally," Knell said at last night's sparsely attended meeting of the Local Area Formation Committee (LAFCo) meeting in Modesto. "When local demand develops, we'll try to meet it."
Knell was present to explain OID's water budget and financial situation to LAFCo committee members, who have been criticized for allowing the annexation of Trinitas Partners into the OID without an Environmental Impact Review. Farmers and residents in and around OID claim there is a long list of unmitigated negative impacts from the annexation.
Rice farmer Bob Frobose spoke at the meeting to protest what he called lies prior to the annexation. He also challenged Knell's claims that there is no local demand for OID water.
"There's plenty of local demand for OID water," he said. "There are local farmers who've offered to pay $120 an acre foot for water. That's a lot more than Trinitas pays."
Stanislaus County Supervisor Terry Withrow, who is also a member of LAFCo, said Knell's claims about lack of local demand are based on ideas and surveys that are ten years old.
"The world's gone upside down since then," said Withrow. "There's demand for water all around the county. We have so much more potential now for who wants that water. I think the revenue is here for that water to stay here."
Withrow and Rice were probably referring to offers from at least three farmers to pay $120 an acre foot for OID water. Gary Alldrin, Virgil Thompson, and Louis Brichetto have all offered that amount, and Brichetto recently delivered a plan to OID that would deliver water through a six million dollar pipeline fully paid for by Brichetto himself.
Other farmers have offered OID out-of-district prices for water. Out-of-district water currently runs around $100 an acre foot. That's far more than the $55 an acre foot that Trinitas pays, and magnitudes more than OID's in-district customers pay.
Knell said that OID customers pay by the acre on an escalating scale that works out to around $2 an acre foot for the first few feet of water. At those prices, which are far below the cost of delivery, it's no wonder OID faces budget shortfalls every year.
Knell claims OID needs to sell water to upgrade its delivery systems. For example, OID canals are unlined, which may help to a degree with groundwater recharge, but which also leads to lots of wasted water.
Stanislaus County Supervisor Jim DeMartini was stunned to learn OID's canals are unlined and also wondered why OID pumped record amounts of groundwater last year if it has water to sell outside the region. Knell said the district needs to pump groundwater to serve district customers in locations where surface water is hard to deliver.
But Bob Frobose and many others believe that when OID pumps record amounts of groundwater and sells water outside the region, the net effect is tantamount to exporting groundwater. "They're really just selling groundwater," said Frobose.
Stanislaus County Supervisor Bill O'Brien, whose district includes OID customers, may have expressed the general sentiment best when he said that the state's new groundwater ordinance makes it imperative to keep surface water local.
"I'm in favor of keeping every drop of water we have here," he said. "Every drop of surface water we keep here is a drop of groundwater we don't pump."