A couple of Saturdays ago, a man and a woman lay on the grass beside each other in the deep shade of the First United Methodist Church in downtown Modesto. A shopping cart filled with their belongings was parked on the sidewalk nearby.  I saw them as I was walking to the library that afternoon, under dusty sunlight slanting across I Street.
They both seemed to be asleep, even with the temperature still in the mid-90s and only an occasional light breeze stirring the branches of the old oak that offered a bit of canopy. It was a gentle scene, a momentary respite for this couple, whose unhoused existence is undoubtedly usually fraught with fear and uncertainty.
Later that same day, as I sat on a bench by the old Southern Pacific Depot building at the Regional Transit Center, the elderly woman sitting next to me began fidgeting with her long wooden walking stick. Then she turned to me and told me that she was paying $35 more at Walmart than she used to, and she was on Social Security, and she didn't know what she was going to do.  She became emotional as she talked about her grocery bill and some of her other financial woes. I commiserated with her as best I could but I'm afraid I wasn't much help.
Real life spills out like this all the time on the buses and on the streets. Facades fall away, fakes are ferreted out and dismissed out of hand — there just isn't time or patience for anything that's less than real — and what's very real these days is that many, many people in Modesto are hurting.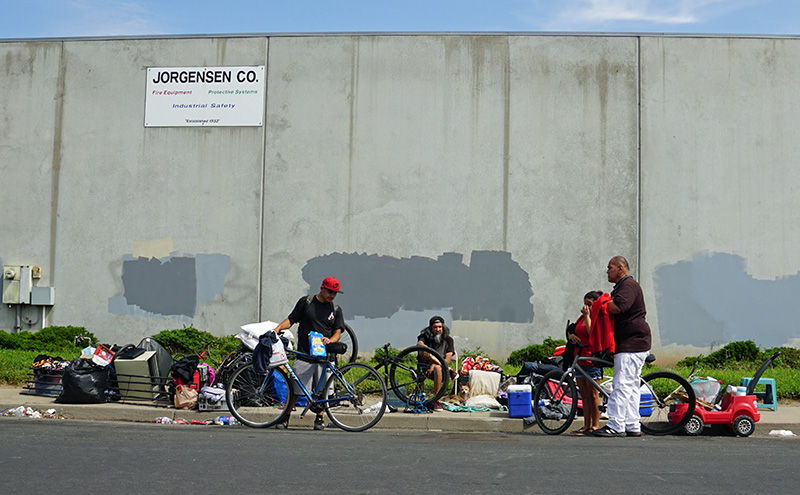 I've just learned that one of my neighbors is being evicted from the unit he has lived in for the past fifteen years. In his case, he'll be able to move in with a friend, but a lot of folks faced by the same situation aren't as fortunate.
Another acquaintance of mine has recently been told by her boss that she should start looking for other work because his business has been falling off.  Of course, as she tries to regroup, my friend worries about paying the rent and other bills.
One need only log on to the Facebook group Renters in Stanislaus to see how desperate many of our neighbors are in their quest to find affordable housing in our County. One elderly woman writes that she is looking for a room but "cannot afford more than a $1000 a month." A single mom writes that she has one child and can pay $900 for a room. A family of three is looking to find a place for $1250 a month. Another mom posts that she's homeless with three kids and is in dire need of a safe place.
These are real people — our neighbors — some of them are young families, just starting out in life and already forced to climb a steep hill just to have a simple rented room or two over their heads.  A few seem to be as old as I am (74), and probably more than a little unsettled as they watch rising rents and inflation in general swallow up their fixed incomes.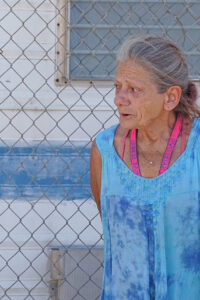 Indeed, the California Housing Partnership reports that, in 2023, "77% of extremely low-income households in Stanislaus County are paying more than half of their income on housing costs." With at least fifty-one cents out of every dollar being handed over to a landlord, where does a family come up with the money to put food in the hungry mouths of their kids, keep them clothed as they go through growth spurts, or do anything but live on a meagre subsistence level? Surely, this is a recipe for more homelessness, ever more suffering than we are currently seeing on our streets.
The 2023 American Community Survey reports that 14.1 percent of Stanislaus County's residents live in poverty, which means that the one in seven of us may now be living not just from paycheck to paycheck but from day to day, which would be frightening for anyone . Modesto's motto of Water, Wealth, Contentment, Health must ring hollow for a growing number of its residents these days.
For so many, the anguish and uncertainty are ever-present now, but no one — no one — is suffering more than those of our neighbors who live unhoused and starving on our city's streets.
I recently glanced at the 2023 Homeless Point in Time (PIT) Count for Stanislaus County, which reveals that almost two-thirds (62%) of the unhoused who took part in the biennial survey this year have been homeless in our county for three or more years. Consider what that may mean — being homeless year after year, season after season — the hunger knifing into you; the hot summer sun or cold winter rains hounding your every movement as you seek refuge from the elements; the threat of sudden violence ever present so you become fearful to sleep during the night; the scorn and verbal abuse tossed out at you by random strangers; the fear of soiling yourself if you can't find an appropriate place in time just to relieve yourself; or of becoming desperately ill one night on a lonely street corner.
And as Lynelle Loeb Solomon can attest, this summer of triple digit heat domes has heightened the humanitarian crisis she sees every day among "my people" as they try to escape the scorching sun any way they can.
As a volunteer for SHARE (a nonprofit dedicated to supplying resources such as temporary housing and transportation for the homeless in Modesto and nearby.) Ms. Solomon packs up her car every week and heroically provides care to "her people" — the unhoused she has met and come to know over several years now, supplying them with hot food, donated clothes, and toiletries — and a plethora of other needs, including hugs.  The other day, Ms. Solomon even tended to the superficial wounds of a man who had been stabbed.  But in addition to ministering to their physical needs, she also lets each of her people know that she sees them as individuals, as people having dignity and worth — and deserving of love like everyone else.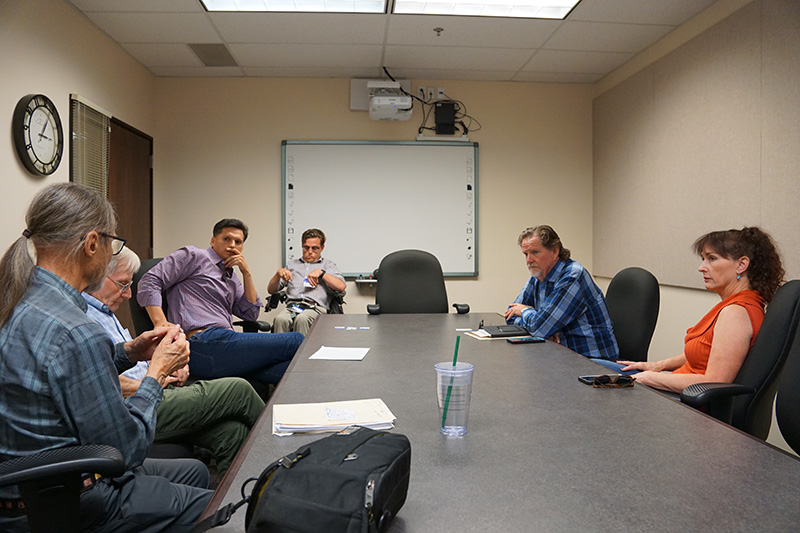 Ms. Solomon is also a fierce advocate for her people, for all the unhoused and unheard in our community, and so she is in good company as a member of the Modesto Citizens Action Group (MoCag), whose teamwork in advocacy of the homeless in our community is unflinching and deeply focused on its mission.
"Our streets are bleeding, our streets are hemorrhaging, and all you can do is let them bleed out," Ms. Solomon chastised the Modesto City Council recently, in the wake of more inaction and studying of plans by local elected officials as she and the other MoCag members continue to fight doggedly for a safe sleeping site and transitional housing for "a specific group of people who are homeless: the people who are camping in the parks, streets, and doorways."  The shocking death of Christine Chavez in July gave further, tragic impetus to the MoCag mission.
Whether meeting with and educating elected officials about the urgency and scale of the suffering currently being experienced by so many on our streets or offering a helping hand to the unhoused, the Modesto Citizens Action Group has been leading the way for some time now. But they need your help.
"Momentum is building to get something done, but we need community support to pressure our elected officials to act," MoCag member James Costello urged. "Other Valley cities are trying to address this issue, but Modesto is lagging in helping this particular homeless population.  Much has been done to help the homeless in our cities and county but much more can and must be done. The community must keep the pressure on."