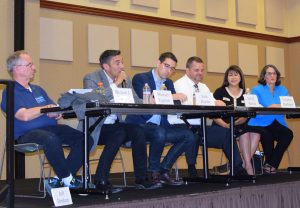 Even before Republican Ted Howze jumped into the mix, the campaign for California Congressional District 10 (CA-10) had more monkey wrenches than gears. Last night in Oakdale, Howze joined the five Democrats in the race in a happy chorus of agreement on everything from Jeff Denham's poor job of representation to opposition to Governor Jerry Brown's Twin Tunnels proposal.
After the debate, an audience member jumped to his feet and said, "I think every one of these candidates should be in Washington DC."
It may have been a moment of optimism for some, but the statement sent a chill down the spines of people who began following the race late last summer.
After months of debates, town halls, fundraisers, door-knocking and advertising, Democrats still don't have a clear choice for the office. Even worse, Howze is doing a fine job of representing himself as a typical Democrat with a few maverick positions on issues like guns and taxes.
With mail-in ballots due to start arriving in early May, CA-10 Democrats still face a bewildering slate of fine candidates. Even worse, Howze has managed to join the campaign looking like a kinder, gentler, more engaged Republican.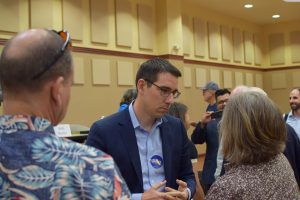 None of this is good for Democrats' dreams of a Blue Wave that will return the House of Representatives to Democratic control. None of it is good for Valley citizens who've dreamed of a trifecta victory in California Districts 10, 21, and 22.
Even with single, strong candidates in 21 and 22, Democrats face an uphill battle against incumbent Republicans David Valadao and Devin Nunes. The Blue Wave sweeping the nation seems to have met a barrier reef in the San Joaquin Valley, and nowhere is resistance stronger than in Congressional District 10.
Incumbent Jeff Denham hasn't bothered to show up for any of the debates so far, and why should he? With five Democrats set to divide a very small pie and a well-camouflaged Republican poised to win over a few Democratic voters as well as a significant slice of a bigger Republican pie, Jeff Denham is in an ideal position to watch the Blue Wave crash against his barrier of incumbency and recede into distant memory.
With only Democrat Josh Harder raising significant money and mounting a district-wide campaign, Denham can hoard dollars and let Democrats cannibalize each other's resources into a crushing defeat and an open door for Republican Ted Howze, who will have virtually no chance against the powerful incumbent.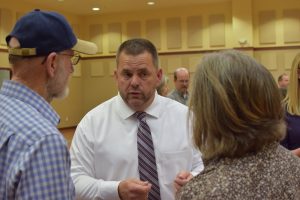 Recently, a small group of Democratic activists engaged in an intense online debate about which candidate to support among so many good ones. Unable to settle on one, they decided Josh Harder and Virginia Madueno were their most viable candidates. Michael Eggman and Sue Zwahlen received almost no mention, and Mike Barkley was mentioned only in terms of wonder and derision.  But all three, Barkley included, will receive votes, and Eggman and Zwahlen will likely receive significant numbers of votes.
In a campaign that was never about issues anyway, but about winning, every Democratic candidate still entertains hopes of victory in the face of mounting political realities against them. Meanwhile, the image of Ted Howze running against Jeff Denham grows ever more vivid and likely.