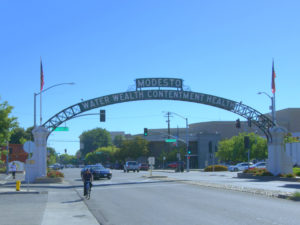 According to UC Davis, 99,000 residents of the San Joaquin Valley have unsafe drinking water. Even more alarming, a recent study by the University of Michigan "predicts that 'the percentage of U.S. households who will find water bills unaffordable could triple from 11.9% to 35.6%" over the next five years.'"
Many people who lack safe drinking water aren't far from water utilities, but simply lack the infrastructure that would bring treated water to their homes. But problems with infrastructure don't apply only to people who lack it. Much of our water infrastructure throughout the nation is old, failing, and insufficient to serve the needs of a growing population.
Given these facts, plans to build tunnels under the San Joaquin Delta for the purpose of delivering northern California water to the southern San Joaquin Valley and beyond seem ever more fanciful. Latest estimates for the costs to construct the tunnels are at $20 billion, and when has anyone known a large government project to meet projected cost estimates?
It's clear today that early assumptions that we have surplus water were erroneous. They were based on an ignorance of ecology as well as on misunderstanding of the growth-inducing effects of water deliveries.
The Central Valley Project (CVP) is a classic example. Originally intended to provide water for small farming operations of 160 to 320 acres in the southern San Joaquin Valley, the CVP has also encouraged population growth and ever-larger farms.
By 1980, long after reality had changed the "small farm" rule, legislators suspended it. By this time, "80 percent of the farmland was in holdings of over 1,000 acres." Moreover, three quarters of farm production was produced by only 10 percent of the farms.
And even in 1980, farmers receiving water from the CVP recognized the reality of wet years and dry years. They planted row crops for the most part. But over the years, the superior profits on so-called "permanent" crops—fruit, grapes, and nuts especially—encouraged more and more planting.
But the problem with permanent crops is they need water year after year. They can't be fallowed without tremendous losses. Hence, once permanent crops are planted, the demand for water increases.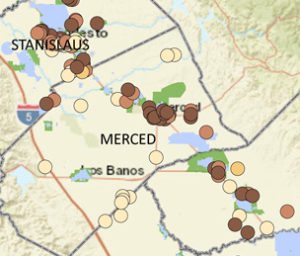 But water from the CVP is "paper water," so-called because it's based on written contracts rather than historic water rights. Paper water is available only when those with true "historic" water rights have been served—it's shut off in dryer years.
Permanent crops also have a little-noted corollary effect. Because of their profitability, permanent crops can confer tremendous political power. Consider, for example, the clout of Stewart Resnick, a Kern County farmer with 180,000 acres of money-gushing nut trees. Because of this money, Resnick has become a major player in water politics. It's the only way he can keep northern California water flowing south to his thirsty empire.
Resnick's southern San Joaquin Valley "Wonderful" empire sucks up over 400,000 acre feet of water a year. By comparison, the entire city of Los Angeles uses about 550,000 acre feet over the same period.
The realities of the old adage, "water flows uphill toward money and power," couldn't be more evident than in the southern San Joaquin Valley, where money and power have made a commodity of an increasingly scarce public resource. And it's also a commodity increasingly dear to Valley citizens even in big cities nearer plentiful water farther to the north.
The City of Modesto, famous for an entryway arch that reads, "Water, Wealth, Contentment, Health," raised water rates by almost 30 percent in 2016, with higher rates expected to follow soon after. And in nearby Riverbank, water and sewer rates doubled in 2015. No one thinks that's the end of the increases.
Nonetheless, the notion of "surplus water" still prevails in political circles. That's what it's called when entities like Oakdale Irrigation District sell it to buyers far south of the San Joaquin Delta, even while nearby cities face rising water rates.
In the end, and likely far too late, ratepayers will learn the hard way that "surplus water" has always been a beguiling mirage, one that could soon leave more and more people in need of a public resource too many of us take for granted.