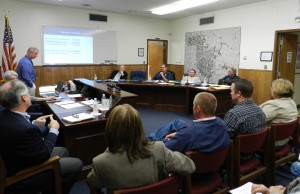 Only a few days ago, it seemed as if the Oakdale Irrigation District's (OID) "On Farm Conservation Funding Program" was likely to be instituted as early as this year. Though it features a controversial fallowing element, criticism of the program has been muted by a well-orchestrated publicity campaign conducted through press releases produced by former Modesto Bee editor Dave Lyghtle, who now works for Marcia Hermann Design.
The Oakdale Irrigation District pays Marcia Hermann Design $165 an hour to promote OID programs and policies. Lyghtle's press releases appear virtually verbatim and without attribution or disclaimer in the Oakdale Leader. They are also featured in The Pipeline, OID's slick newsletter.
Despite Lyghtle's glowing reports, it now appears the On Farm Conservation Funding Program is no longer on the fast track to approval. Yesterday, OID directors and management received notice that their highly-touted program has failed to observe guidelines established by the California Environmental Quality Act (CEQA).
In a nine page letter from the Remy, Moose, and Manley law partnership, attorney Howard Wilkins notified the OID Board of Directors that,
"it appears that OID does not propose to conduct any environmental review prior to committing to the Individual Landowner Agreements and moving forward with the Project. Neither the Individual Landowner Agreements nor the Project fall within any exemption to CEQA. Therefore…we respectfully request the OID Board of Directors ("Board") refrain from taking any action on Agenda Item No. 15 or any further actions that would commit OID to the Project until CEQA review is complete."
Remy, Moose, and Manley were retained by Oakdale farmer Louis Brichetto, who has long maintained that irrigation district water should not be sold outside the region.
On December 9 of last year, Brichetto urged OID Directors to consider keeping water saved from the On Farm Conservation Funding Program within the district's sphere of influence. Nonetheless, OID has continued to pursue sales to water contractors and districts outside the region.
"No business succeeds by selling its greatest asset," said Brichetto about the CEQA inquiry. "My family has been here since 1850. We just want to see that the land remains as good as it's always been."
Brichetto isn't the only person concerned about water sales outside the region. Stanislaus County Supervisor Terry Withrow has long maintained that "the key to groundwater is surface water." Withrow has urged the OID to seek ways to keep local water local.
During yesterday's OID Board Meeting, there was no indication Board members were yet aware of Mr. Wilkins' letter. Despite Wilkins' request that board members refrain from taking action, Item 15 (the On Farm Conservation Funding Program) was approved with little discussion. Nonetheless, it's almost a certainty OID will be forced to respond with an Environmental Impact Review or face severe consequences. In similar cases, failure to respond has resulted in court injunctions.
Given the severity of our ongoing drought, Valley citizens can only gain from inquiries into water usage. Especially since the imposition of new state rules on groundwater, the implications of water sales have become crucially important. The more light shed on the effects of fallowing land and selling water the better, especially for those who suffer a diminished quality of life when water is commodified.
Next: OID CEQA Review Will Change the Water Game