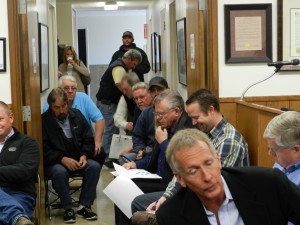 The Oakdale Irrigation District (OID) Board of Directors got a dose of cold water Tuesday and didn't like it. Before a standing room only crowd that spilled into a packed hallway, board members learned that their much-heralded fallowing program had virtually no chance of succeeding this year without a thorough Environmental Impact Report (EIR).
The On Farm Conservation Program devised by OID management was to begin within weeks and had over a hundred participants. The plan involved fallowing farmland and selling "conserved" water outside the region.
OID attorney Tim O'Laughlin delivered the unwelcome news that Oakdale farmer Louis Brichetto's concerns about OID's failure to observe principles established by the California Environmental Quality Act (CEQA) were almost certain to prevail in court.
"I advise you that they're correct," said O'Laughlin. "We need a full-blown EIR."
When board members asked what would happen if they ignored Brichetto's concerns and proceeded with the program, O'Laughlin didn't mince words. He said Brichetto's attorneys would seek a restraining order.
"They would most likely prevail," he said. He added that OID would probably have to pay Brichetto's attorneys' fees as well as their own costs of pursuing litigation.
"If you get into June or July and people haven't irrigated and then you tell them they don't have a program there will be problems," said O'Laughlin. "The timing is perfect from his (Brichetto's) point of view. They'll win. These are good CEQA attorneys. There's a lot of outside interest in this water."
Under conditions established by CEQA, that "outside interest" would have to be considered and evaluated as a list of alternatives to the On Farm Conservation Program. For example, just suppose that water conserved by the On Farm Conservation Program were kept in the region instead of sold down the river. That conserved water might reduce demands for water from Tulloch Lake.
Many Tulloch Lake residents were among Tuesday's overflow crowd. They attended the OID board meeting because they had learned OID directors were considering draining Tulloch Lake to provide irrigation water for their customers.
OID board members blamed state and federal government concerns about fish populations for increased water demands, but avoided the obvious questions that would be raised with an EIR. One such question would surely pinpoint the inconsistency of OID's claim that there's not enough water even while considering sales of "surplus" water outside the region.
While the prospect of a "full-blown EIR" didn't deal the On Farm Conservation Program a mortal blow, it provided a potent dose of reality to people who think water sales shouldn't be monitored.
"We're going to punt this into April," said OID General Manager Steve Knell.
By April, OID directors will have a far better understanding of their legal obligation to consider the consequences of their actions. By then, they may even review alternatives to selling water outside the region.