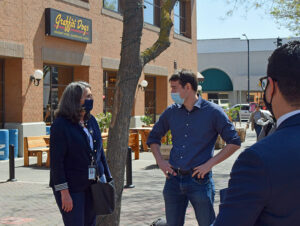 Just after noon on April 6, Modesto Mayor Sue Zwahlen, Stanislaus County Supervisor Vito Chiesa, and Congressman Josh Harder boarded one of Modesto's zero emission buses at 1010 10th Street for a ride out to one of the city's unincorporated "islands" near Hanshaw Middle School, just west of Crows Landing Road in Stanislaus County. They were joined by Modesto City Manager Joe Lopez and several Modesto City and Stanislaus County staff members.
The islands have been a vexing problem for Modesto and Stanislaus County for decades. In 2005, residents claimed the lack of services and infrastructure in unincorporated areas were a form of discrimination; they lost a subsequent lawsuit, but city and county officials have long agreed that infrastructure needs in Crows Landing neighborhoods and nearby rank high among local government's major challenges.
The sticking point for progress has been money. In the past, city officials blamed Stanislaus County for failing to provide funding enough to bring the unincorporated areas up to city standards. County officials responded by saying the city's standards were based on unreasonable expectations for older neighborhoods, most of which lack curbs and sidewalks and rely on septic tanks for sewage disposal.
Assuming President Joe Biden is successful in acquiring funding for much-needed infrastructure throughout the nation, Congressman Harder could become a key player in helping Modesto and Stanislaus County resolve their long-standing financial impasse. Harder has already been effective in directing Covid-relief money to his district, and could be equally efficient in securing dollars for infrastructure.
Sue Zwahlen has a special fondness for the Crows Landing neighborhood.
"One of my uncles came to Crows Landing Road from the Dust Bowl," she said Tuesday. "He only had a third grade education, but he set up a small retail shop and made it work."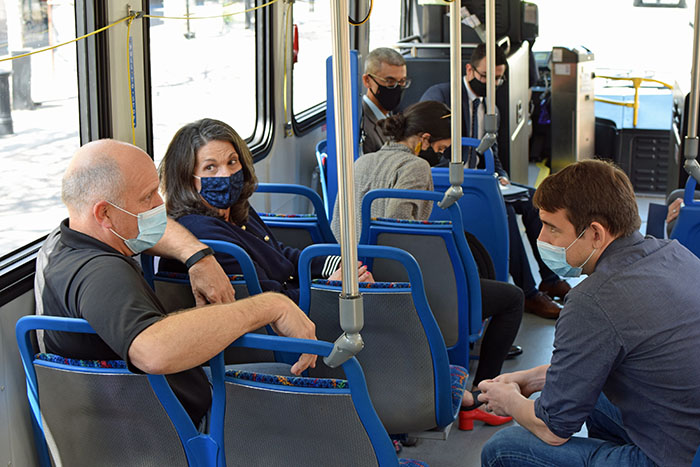 Zwahlen was obviously at home in the Crows Landing environment. While the other officials were looking over streets and dirt walkways, she struck up a conversation with a resident about a magnificent grapefruit tree in the front yard. In a gesture typical of the Valley's country courtesies, she was gifted with a large grapefruit after a leap and grab by the friendly citizen.
Like almost every region in the nation, Modesto and Stanislaus County are emerging from the Covid shutdowns with severe financial challenges. Addressing infrastructure needs would provide a much-needed economic boost.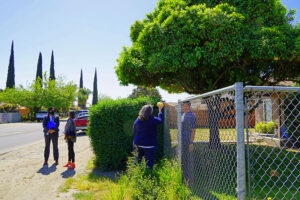 Dwight Eisenhower's Federal-Aid Highway Act of 1956 helped spur an economic boom throughout the nation that lasted decades. On a smaller scale, addressing local infrastructure needs could provide jobs and quality of life benefits that would help move us beyond the woes of Covid and into a new era of prosperity.
Stanislaus County and the City of Modesto have struggled for years to address their unincorporated areas, but last Tuesday was the first time Congressman Josh Harder, Modesto Mayor Sue Zwahlen and Stanislaus County Supervisor Vito Chiesa ever got on a bus going to the same destination. Maybe their short journey will begin a new era of cooperative government and a long-awaited solution to an intractable problem.