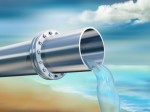 Watching the nightly news in the San Joaquin Valley, one can't help but notice that Iowa, South Dakota, and Minnesota presently have an acute surplus of water. Large areas of those states have been flooded because of torrential rains. Meanwhile, California suffers an epic drought.  Is there some way the Golden State could use the surplus from back east?
The major oil companies have built pipelines all over the United States to carry oil and natural gas. Could a comparable system be built to carry water?  Technologically, the idea is feasible, proven by the existing pipeline systems. This idea has been introduced on a number of occasions and has been discarded due to political as well as cost considerations. Perhaps the idea will resurface as the economic loss to California from drought eventually exceeds the cost of a pipeline system.
Can areas with too much water in a given year export supplies to areas with shortages? With a nationwide pipeline system, water could be shuttled all over the country depending on supply and demand. Such a program would dwarf Governor Jerry Brown's Twin Tunnels project.
Other Options
California could build more storage capacity. The proposal would only work if enough rain falls to fill the storage basins. The added storage would come at substantial environmental cost if current proposals are enacted. Rather than use natural storage areas in the Great Valley, more mountain valleys would be flooded as a result of huge dam construction.
Desalinization is still on the table. Making fresh water remains the least expensive alternative and can be done incrementally as needed.
Government rarely chooses the least expensive option. Instead, it usually chooses what is most beneficial for the political power brokers. This is why we can expect the $11 Billion water bond that will appear on this November's statewide ballot to be nearly useless in providing a solution to current drought woes. Especially for the San Joaquin Valley, the bond will provide zero gallons of additional water. Crazy as it may sound, a pipeline makes more sense.