And Jesus knew their thoughts, and said unto them, every kingdom divided against itself is brought to desolation; and every city or house divided against itself shall not stand
Our New Normal
Just a little over eleven years after George W Bush signed the $700 billion Emergency Economic Stabilization Act to save banks and financial institutions from defaulting on mortgage backed securities, the Trump administration is into a second round of trillion dollar expenditures to prop an economy near ruin from a pandemic that caught the richest nation in the world in a maelstrom of unready ignorance and divisive rancor.
In what has now become a daily reality show, New York Governor Andrew Cuomo and President Donald Trump exchange barbed insults about who should be responsible for the nation's woeful lack of PPE, testing capability, and late reaction to the advice of health care professionals. Meanwhile, the west coast seems to have benefitted immensely from prompt and decisive action by governors like Gavin Newsom and Washington's Jay Inslee.
But even under best-case scenarios, the economic devastation from a nation-wide shutdown will almost certainly persist well after Covid-19 has been subdued. And while a traumatized nation hopes for a return to normal, it would behoove citizens everywhere to reflect on what "normal" has come to mean.
Government has now come to the rescue of our economy in the last three presidential administrations. In every case, the bailout has disproportionately benefitted the wealthiest among us. The last bailout, a combined effort by the Bush and Obama administrations, resulted in a sustained economic expansion that continued unabated into the Trump presidency and contributed to a succession of record highs in the stock market.
Nonetheless, even with low unemployment and a booming stock market, the "normal" for the past decade included rising numbers of homeless people and higher percentages of people a car repair or medical bill away from insolvency. It also included more members of the "precariat," people who lack job and financial security because their work is intermittent/seasonal, dependent on "gig" jobs, or non-essential.
Another, lesser recognized feature of the new "normal" economy has been cities and counties on the verge of bankruptcy. Even during California's booming economy, which featured record production in technology and agricultural sectors, cities like Stockton, Vallejo, and San Bernardino declared bankruptcy, while other cities balance their books only with severe cutbacks in services. City mayors in Stanislaus County have been pushing to reopen business because they fear they will soon be unable to provide basic services.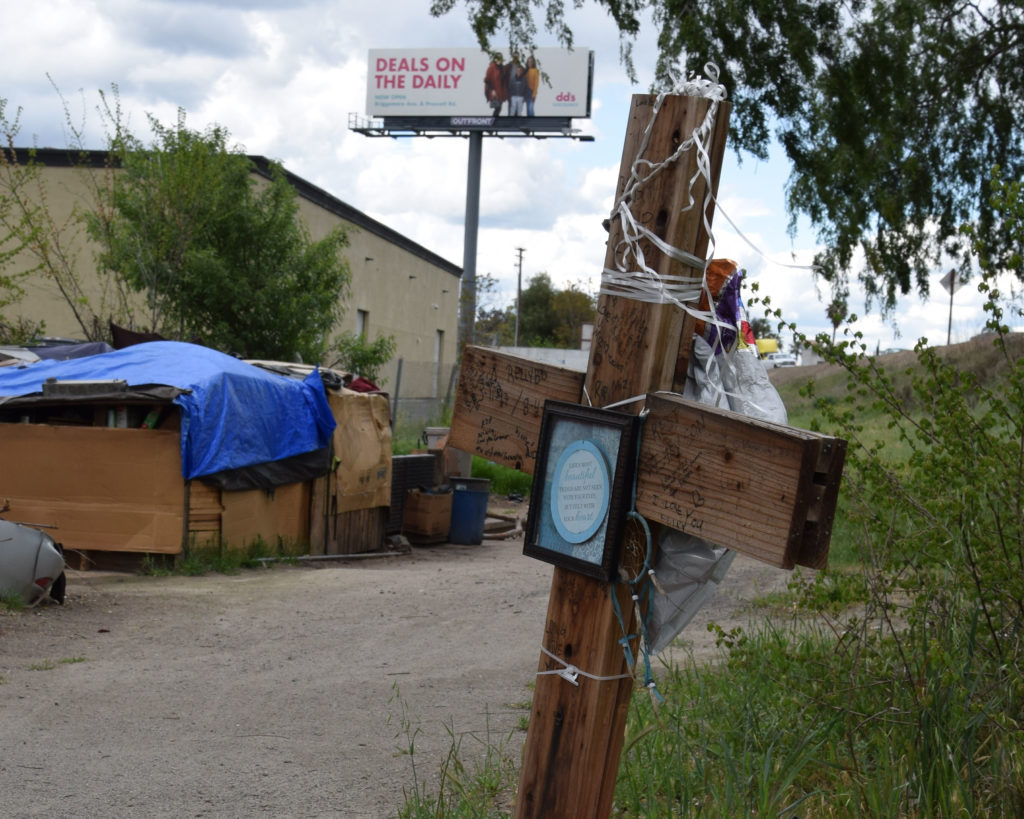 Modesto, a typical San Joaquin Valley town, manages to stay solvent only by maintaining what amounts to a skeleton crew on its police force and by foregoing much-needed maintenance of its urban forest, among other cutbacks. On weekends, especially during the current shutdown, there are as many unsheltered people on its downtown streets as sheltered, and on any given morning sidewalks, doorways and allies are strewn with the slumbering bodies of the destitute.
For Modesto, a return to "normal" would still mean inadequate public services and safety. It would mean resumption of its "accountability" policy for the homeless, a program that shoos homeless people from place to place around the town and county while occasionally issuing tickets and assigning jail time to obstreperous offenders. That program will almost certainly have to be modified by the likelihood of having to deal with viral infections long after a return to business as usual and by an almost certain rise in homeless numbers due to the damaged economy.
Even after California manages to get the most vulnerable homeless people into hotel and motel rooms—a Herculean task that has gotten off to a stumbling start—tens of thousands will remain outside. At best, the state has arranged for approximately 15,000 hotel and motel rooms for a homeless population about ten times that number.
The housing shortfall will be even more critical as more people become homeless, a virtual certainty now that millions have been thrown out of work. Among those millions, stunning numbers were a paycheck or two from inability to pay the rent, even during boom times.
In Stanislaus County, where records have been routinely set for agricultural production over the last ten years, a staggering 40% of households in 2017 were below the United Way's Real Cost Measure, a metric for income enough to meet essential costs such housing, food, transportation and health care. In the aggregate, the billions of state and federal dollars on the way to provide help sound like lots of money, but the people receiving their $1200 dollar checks who are looking at months of unemployment haven't been reassured.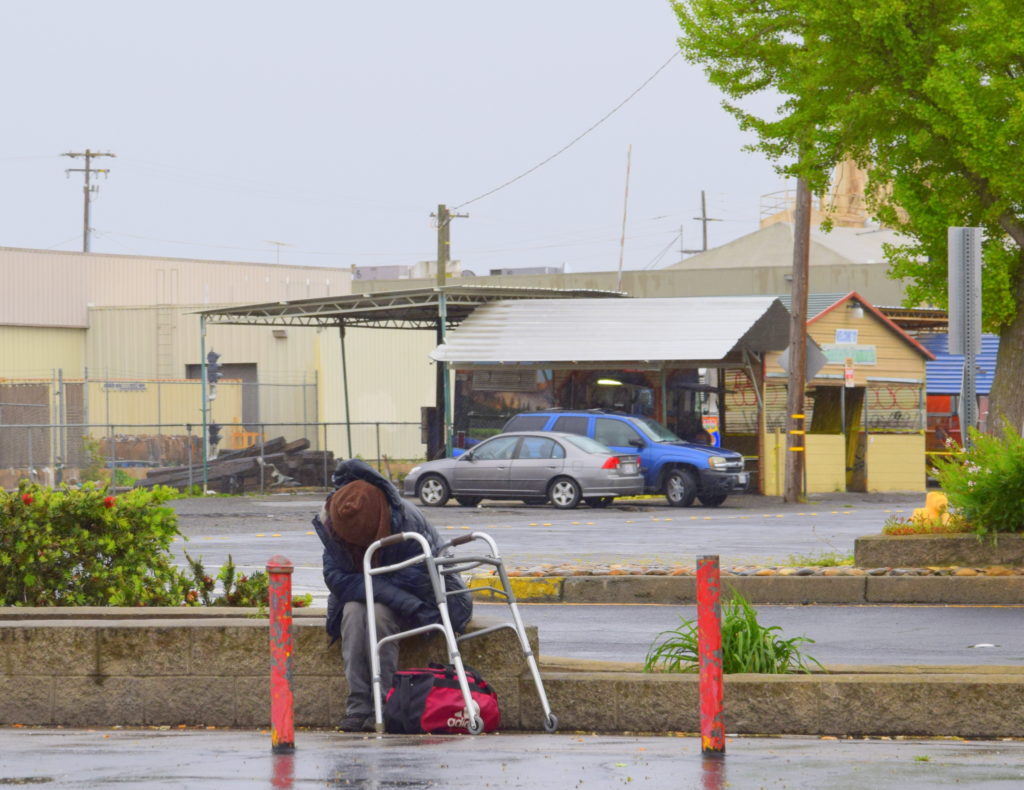 According to a well-established narrative, homelessness and poverty are character flaws resulting from a lack of ambition, sloth, and dependence on government handouts. In fact, 98% of Stanislaus County's households below the Real Cost Measure have at least one working adult. The root problem in Stanislaus County and elsewhere throughout the nation is that even as the real value of wages declined, wealth became concentrated in fewer and fewer hands.
Of the world's industrialized nations, only in the United States does the richest one percent own more than 28% of national wealth. Here, the richest one percent own 42.5% of the nation's wealth. Not surprisingly, people who live in nations with extreme wealth inequality are also less healthy than people in nations with more equal wealth distribution.
Thus infant mortality, life expectancy, and mental illness are worse in the United States than in other countries—except for the very, very wealthy.  Men in the top one percent of wealth distribution can expect to live 15 years longer than those in the bottom one percent; for those in the top five percent versus those in the bottom, the difference is twelve years.
The transference of extreme wealth inequality into grossly unequal health outcomes also means higher demands on health care and social services, but the Corona pandemic has shown that the United States, despite its great wealth, was unprepared for a health care crisis. And even before the arrival of the pandemic, social and health care services throughout the nation were overburdened by multiple demands, including a severe outbreak of addictions to opioids and a growing increase in mental illness.
Californians have become inured to bodies in the streets, encampments along roads and highways and Emergency Rooms full of destitute people. Before Corona, those realities constituted the new "normal" for millions of US citizens, but especially those in regions like the San Joaquin Valley. Is that the normal we wish to bring back?
Do we really wish to restore an economy that crashes and burns every few years, an economy that periodically pushes almost half the country over of a cliff and then tosses people a rope just long enough to pull them halfway back?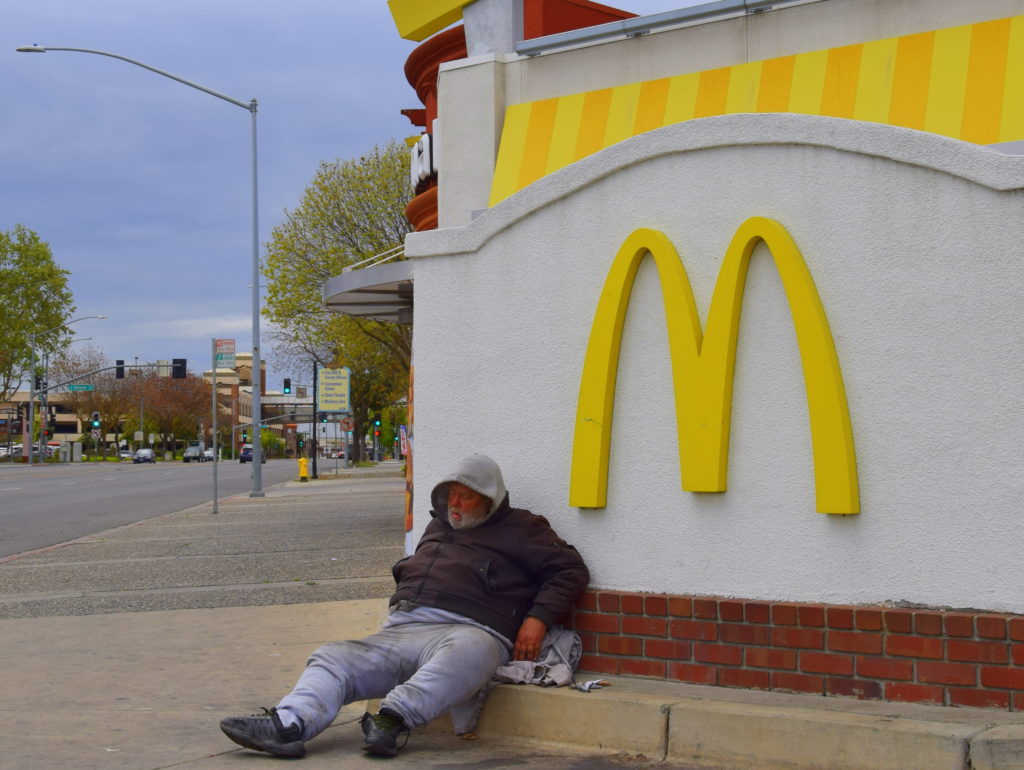 Ties that Bind
As part of the nationwide Coronavirus relief effort, Stanislaus County will receive $96 million dollars in federal funding to help offset the devastating economic effects of the pandemic. Stanislaus County Supervisor Terry Withrow has said, "I trust we will do all we can to put it back into the community to help businesses and industry hurt by the (coronavirus-related) shutdown."
Some of that money will be used to shelter homeless people, but it will done over the complaints of Supervisor Jim DeMartini, who has already questioned expenditures for a hotel that will house homeless people during the Corona crisis:
"I question the assumption that this is needed. There has to be some limits on how much we spend on homeless programs."
While there's no question we need, "to help businesses and industry hurt by the shutdown," and have, "limits on how much we spend on homeless programs," the dollar amount it will take to achieve a semblance of economic stability will be far higher than $96 million. And there is going to be even more homelessness as the economy continues to reel from shutdowns, unemployment, and bankruptcies.
There is no better illustration of the fundamental problems that beset the nation than California and the San Joaquin Valley. Both have had booming economies since the Great Recession. The Valley has benefitted from an agricultural boom, the state from a booming technology industry.
Nonetheless, California leads the nation in total homeless numbers, and the Valley has higher average rates of homelessness and poverty than the state as a whole. Those who think our problems with homelessness and poverty are the result of the state's liberal politics need to account for the poverty in red states, which routinely lead the country in poverty rates per capita.
Red states also receive much more federal assistance than blue states, with Virginia, Kentucky, New Mexico, West Virginia and Alaska in the top five for highest net federal funding per resident. California receives the lowest net federal funding per resident of all fifty states—it's the red states that are most dependent on government handouts, not blue states like California and New York.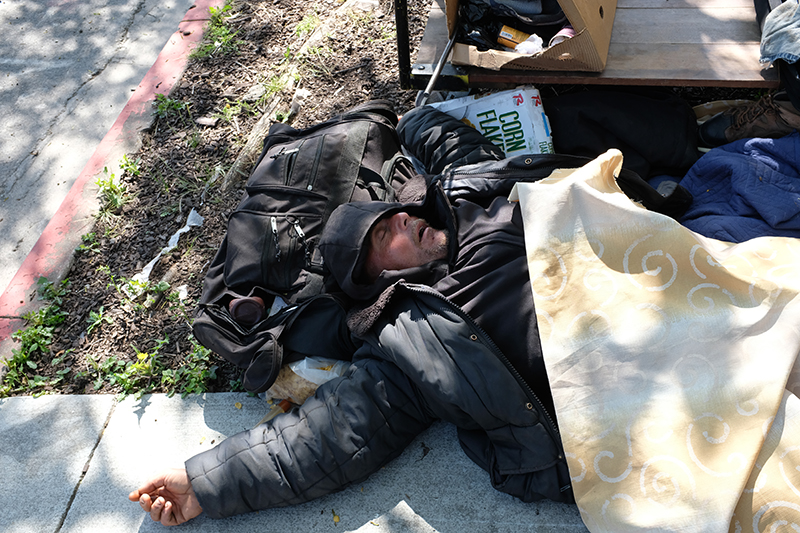 The root problems with poverty throughout the nation aren't due to state politics at all. They begin and end with wealth inequality. The simplest way to understand it is to realize that when more of the nation's wealth ends up in fewer hands, there is less wealth in more hands.
This simple economic reality has been shrouded in a mythology that even today enables us to deny the evidence of our five senses. In a landscape strewn with bodies on our streets, homeless camps under our bridges and along our freeways, long lines for giveaway food, and rising numbers of people living in precarious poverty, too many of us still believe money trickles down and the free market solves all problems.
But nothing signifies the peril that awaits us more than our divisiveness during a crisis that has already taken tens of thousands of lives and could sink the country into an extended economic depression. Instead of the unity that brought us together after 9/11, we have the president pitted against governors, red states versus blue states, and rural America against urban.
The real crisis is our failure to recognize that no matter our politics, religion, or economic status, we still share sidewalks, streets and highways. We share hospitals and Emergency Rooms. We share our schools, parks, sports arenas and airports. We share taxis, subways, supermarkets, convenience stores and gas stations. We share holidays like the 4th of July, Cinco de Mayo, and Memorial Day.
If the pandemic has shown us nothing else, it's revealed a commonality we can't escape. It's shown us that humanity requires connections, community, and coming together. If we can't unite during a pandemic, if our new normal features bitter division, burgeoning inequality, and an ever-expanding vista of dystopian desolation and despair for almost half our citizens, then what is the point of "getting back to normal"?
After 9/11, President George W Bush emphasized American unity when he said, "We do not fight Islam, we fight against evil." The president in those times rejected division, hatred, xenophobia and fear in favor of community, tolerance, and faith.
Today, during another great crisis, we find a nation divided, with the poorest among us facing an even grimmer future ahead. Next year, will we still be dividing our people into haves and have nots? Will we say to the destitute former business people and retail employees that they should have worked harder and saved more, or will we remember our foundational values of hope, unity, and equality?
The people on our streets and sidewalks, under our bridges and along our freeways are part of a catastrophe that began before the pandemic and will be with us after it's gone. If they remain fixtures of our future, America will lose its last claims to greatness and descend into an economic mire we once associated with communism and totalitarian governments.
The test of our progress is not whether we add more to the abundance of those who have much, it is whether we provide enough for those who have little. Franklin Delano Roosevelt