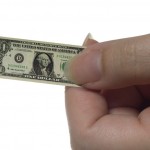 In politics, many laws passed by our state government are under constant attack for being anti-business. One of the most criticized laws is the minimum wage. Everyone knows the argument. The minimum wage costs jobs and has created a large class of unemployable people because their services are not worth minimum wage.
But if one studies the purchasing power of those paid minimum wage, a shocking revelation will occur. Since 1969, the purchasing power of those paid minimum wage has fallen by more than two thirds in California! Does this statement seem credible?
The Evidence
In 1969, the California minimum wage was $1.75 per hour before taxes. A worker would be paid $14 per day in wages for an 8 hour day. In 1969, anyone could buy a U.S dollar containing real silver for $1 at the local bank. Thus the minimum wage in 1969 was 14 silver dollars per day.
In 2012, the California minimum wage is $8 per hour before taxes. Workers are paid $64 per day in wages for 8 hours of work. In 2012, a U.S. dollar containing real silver has a melt value of about $22. Doing the math, today's daily minimum wage labor will buy a little less than 3 silver dollars ($64 daily wage divided by $22 silver melt per coin) compared to 14 silver dollars in 1969. This is a drop of about 78 percent in purchasing power!
If one considers the fact that a large percentage of employers in the Great Valley do not allow their workers to work an 8 hour day because they don't want to pay benefits, the reduction in real purchasing power is even greater. The working poor have a much greater difficulty surviving today than in 1969.
In this discussion, the silver dollar has been used as it represents a constant standard of value. Similar comparisons can be made using the cost of housing, food, clothing, transportation, and health care.
More Evidence
Let us look at the cost of gasoline as another example of diminished purchasing power. In 1969, one could buy gasoline for about 28 cents per gallon. At $14 per day income, a minimum wage worker could buy 50 gallons for a day's pay. In 2012, the $64 per day worker paying $4 per gallon can only buy 16 gallons of gasoline. This represents a 68 percent reduction in purchasing power for the minimum wage employee.
How Far Will Purchasing Power Fall?
One has to wonder how little employers would pay if there were no minimum wage in California. Business people howl about the minimum wage even though the minimum's real purchasing power has dropped over two thirds since 1969. Looking at other countries, Mexico pays as little as 11 cents per hour. Comparable wages are paid in other third world countries. Do we want our working people to live in comparable poverty?
In the Great Valley, the Appalachia of the west, the majority of jobs pay minimum wage or close to it. Over time, poverty has become inevitable for many of those trying to earn an honest living. The days of the Great Depression are returning to the land of milk and honey.