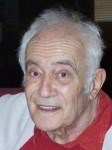 It's only fitting that Fred Herman's last public communication was headlined, "Bring on the revolution." In a region where silence and apathy have always been greater impediments to progress than open opposition, Fred's voice rang loud, clear, and constant.
Fred was the first citizen-contributor to The Valley Citizen. He was always willing to take the point in support of underdogs and complained only when he received credit for his contributions. "It's not about me," he said.
Those who are convinced liberals are anti-American would have a hard time comprehending Fred's wartime service to his country, and an even harder time admitting his many causes were as traditionally American as our love of liberty.
During Fred's career at the Modesto Bee he was one among several leaders at a progressive and courageous newspaper. During the 1980s, Modesto had enlightened leadership with mayors Peggy Mensinger and Carol Whiteside as well as a progressive newspaper. Fred was a leader then and stayed a leader, even through our subsequent era of retrograde motion.
Fred was always proud to say he supported Peggy Mensinger "even though she was a Republican." In those days, issues were more important than partisanship.
If anything, Fred was more active in retirement than while working. He was the major force behind the birth of Stanislaus Connections, and routinely put his mind and body on the line for social justice and fair play.
Even after kidney failure and dialysis, Fred maintained his good humor and spirited commitment to egalitarian values. His sudden departure stunned everyone. Hereabouts, more often than not, it really was about Fred. A bright light is gone.