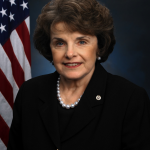 Woody Allen has said, "Paranoia is knowing all the facts," and the more one knows about the Modesto Irrigation District (MID) water sale to San Francisco, the more likely one is to suffer severe attacks of paranoid dementia.
Back in March, we alerted readers to one of the compelling factors behind the water sale—proposed legislation by California Senator Dianne Feinstein that would make water transfers less subject to government scrutiny and regulation.
Feinstein's efforts were widely portrayed as in the interest of "Central Valley Farmers," but that characterization is misleading. The "farmers" who stand to gain most from easier water transfers are corporate moguls like Stewart Resnick, a billionaire resident of Beverly Hills whose Paramount Farms operation amounts to 118,000 acres.
It's no accident that Stanislaus County farmers, supposed beneficiaries of water transfers, have been among the most vocal opponents of the MID "transfer" to San Francisco. Transfers move water from wet places to dry places. They're based on the theory that some places have water to spare. Since Valley farmers are all too familiar with reduced allotments and have seen the summer trickle called the Tuolumne River, they aren't ready to believe we have excess water.
By now, most local citizens know of our farmers' concerns. What many do not know is that Senator Feinstein's plan was as unpopular in her Bay Area home region as the proposed MID water sale was here. Feinstein's fellow Democrat, George Miller of Martinez, said of the proposal, "she's making a decision that jobs in the Bay Area and Northern California and the Peninsula south of San Francisco aren't as important as jobs in the Central Valley."
Bay Area environmentalists were also outraged, as water transfers pose serious threats to fisheries, wetlands, and the fragile San Joaquin Delta ecosystem.
Senator Feinstein's divided loyalties resulted in a modified proposal that quieted the most vocal critics, but she didn't give up on her plan make water transfers less subject to regulation and public scrutiny. Feinstein now realizes that unless she wants to face hailstorms of criticism when she tries to deliver water to the likes of Stewart Resnick, she has to assure San Francisco and the Bay Area of abundant water supplies for the foreseeable future.
It is San Francisco's and the Bay Area's demand for a reliable water future that spurred the MID water sale, and that demand was behind the "first right of refusal" and fifty year commitment terms of the MID contract with the San Francisco Public Utilities Commission. University of the Pacific economist Jeffrey Michaels assailed these portions of the contract as far too favorable to San Francisco, but the whole point of the contract is to assure a long term water supply to Senator Feinstein's home base so she can then return to her project of delivering water to corporate barons in the Central Valley.
In theory, the MID, with its "excess water," would have the dominant position in a water sale, especially given water shortages state wide. But the MID is in dire financial straits and its directors are over a barrel. That's why the initial contract was so favorable to San Francisco.
Not long ago, the water sale would have flown under the radar with hardly a murmur of protest. It had the support of MID Directors and the approval of the Modesto Bee. Supporters of the sale are still trying to portray it as a piddling little 2,000 acre foot trickle to San Francisco, when in fact it was a prelude to a far larger sale. But social media and the Bee's willingness to print commentary by shrewd observers of water issues like Larry Byrd and John Mensinger have changed the game. It will be much harder now to bring the sale off without ironclad concessions to local farmers and urban residents.
Senator Feinstein's scheduled visit to Modesto on August 29, which her staff has tried to downplay, is one more sign of just how big the water sale really is. She's here to roll logs and bang heads. Along with the MID's $415 per hour payout to attorney George Petrulakis for promoting the sale, it's confirmation that local water issues have become a focal point of high stakes political strife that may leave Valley citizens with a very bad bargain. And, given the realities of water shortages state wide, it's more than enough to induce a severe attack of paranoid dementia for those who know all the facts.