When incumbent Stanislaus County Supervisor Terry Withrow brags about his leadership, he likes to compare the county to the City of Modesto. That's what he did during an interview with the Modesto Bee when he said, "Look at how the city is doing and ask if you want that kind of leadership for the county." Withrow is running for office against Tony Madrigal, a current Modesto City Councilmember.
Withrow was basing his comment on the almost certain knowledge he wouldn't be called out for what at best was a disingenuous slur. He was able to gloat about the county's supposed superiority only because most voters are unaware of where their local tax dollars go and how they are (not) spent.
Withrow conveniently ignored the egregious and punishing reality of the distribution of local tax dollars, over two-thirds of which go to the county, leaving the cities with less than a third of the remainder. Yes, that's right; cities, where the vast majority of the population is located, receive far fewer local tax dollars than the county, which is less populated by magnitudes.
What this means, and especially so in the case of the City of Modesto, is an ongoing severe deficit of services, even services so elemental as tree trimming and traffic control. In fact, "The California Office of Traffic Safety ranked Modesto worst among its peer cities for traffic crashes." Budget cuts over the years have reduced Modesto's traffic safety personnel from 21 members to five.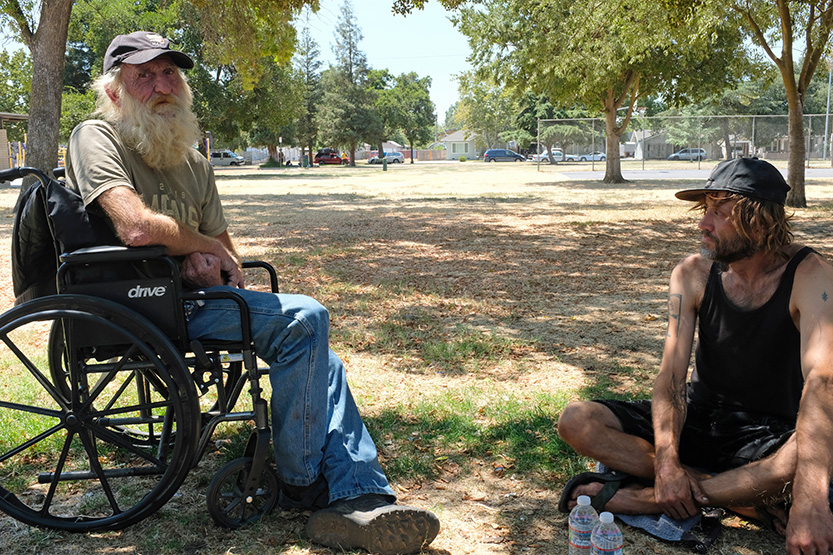 Why the budget cuts? Lack of tax revenue. But traffic safety is only one among many of the cities' severe problems.
Many city residents were puzzled when former Modesto Mayor Ted Brandvold regularly responded to questions about homelessness with the comment that, "Homelessness is not the city's problem." Notorious for poor communication skills, Brandvold was almost certainly trying — and failing — to point out the county's fiduciary duty to deal with homelessness within its boundaries. Yes, despite Supervisor Withrow's attempts to separate the two, the City of Modesto is indeed within Stanislaus County.
While Modesto struggles to pay for basic services, and while homes and businesses suffer an ever-growing population of homeless people in the streets, parks, and downtown alleys and doorways, Stanislaus County hoards a budget surplus of over a quarter billion dollars. Rather than serve the needs of the people, Stanislaus County Supervisors prefer to hoard money so they can brag about their "leadership" while campaigning.
Withrow's much-touted Focus on Prevention program for homelessness offers a clear example of the county's misdirected priorities. Since the program launched in 2015, homeless numbers in Stanislaus County have doubled.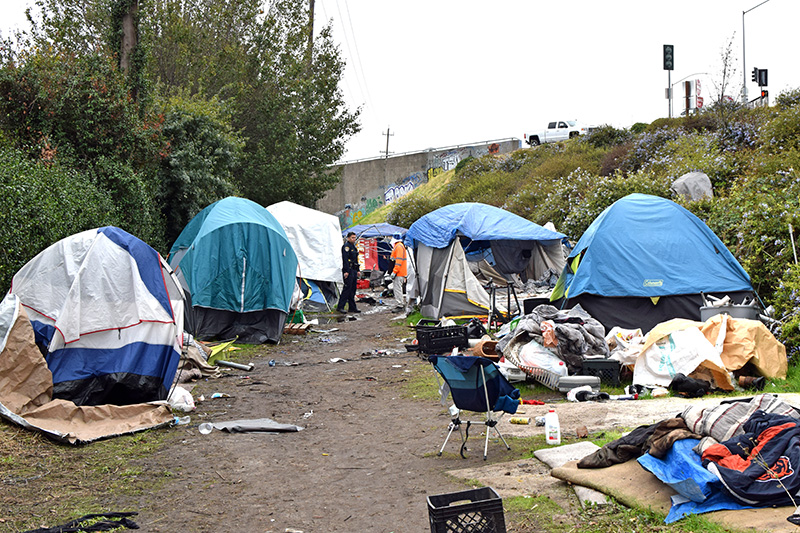 Part of the reason is that Focus on Prevention was never intended to address current problems with homelessness. Rather, it was an offshoot of the Focus on Family approach to extreme poverty, a touting of family values as the remedy for extreme poverty in order to deflect attention from issues like severe housing shortages, escalating costs of living, closures of mental institutions, and a breakdown of systems of care for the mentally and physically disabled.
Ironically, in 2018, when the 9th Circuit Court of Appeals ruled that homeless people couldn't be punished for sleeping in the rough when no other options were available, Stanislaus County and the City of Modesto acted expeditiously to permit camping, first in Modesto's Beard Brook Park, then in the Modesto Outdoor Emergency Shelter (MOES) at a site nearby.
While MOES grew to a population of nearly 500 residents, the City of Modesto noticed a significant drop in quality of life crimes like trespassing and petty theft. At estimated costs of $13 per person per day, the vast majority of city residents thought the expense was a bargain, especially as their streets, parks, homes and businesses featured fewer homeless people sleeping, camping, and defecating in public.
By the fall of 2019, Withrow himself was convinced that, "it is much more expensive to let people live on the streets." Nonetheless, and despite the evidence that permitted camping is less expensive, more compassionate and safer than other alternatives, MOES was closed when the county opened a low barrier shelter early in 2020. With a capacity of 182 beds, the shelter was far too small to admit the nearly 500 people who had eventually congregated at MOES.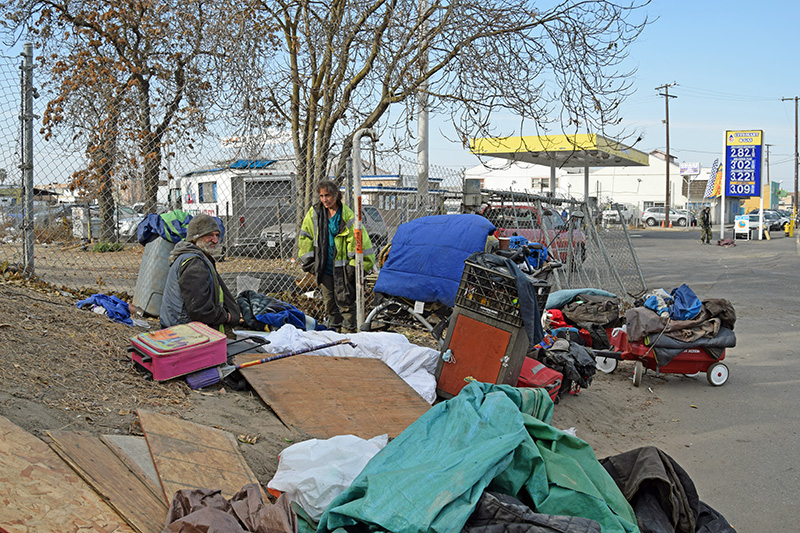 Since then, Withrow and his fellow supervisors have seemed content with a numbers deficit as long as it applies to homelessness. Instead of using their huge budget surpluses to help the City of Modesto deal with the expenses of letting people "live on the streets," the county has preferred to tout its prudent fiscal management, maybe because too many board members disparage the responsibilities of government in favor of bloated bottom budget lines.
Thus far, Stanislaus County Supervisors have not only been content to pass on the expenses of dealing with homeless to homeowners, businesses and strapped cities, they've taken to campaigning on their failures to govern. Maybe the numbers have confused them, just as they were confused when a 182-bed shelter could hold fewer than half the people in immediate need. Maybe the numbers represent for county supervisors a more compelling reality than the one city residents encounter every day on their streets, in their parks, on the sidewalks, and in doorways and alleys downtown.
Most likely because they've become bedazzled by numbers on a bottom line, Stanislaus County Supervisors seem content to maintain the fiction that the City of Modesto is a separate island from the county, an island suffering from incompetent government. They need to be reminded that a county isn't a set of numbers on a spreadsheet.
A county is homes, and businesses, and people, most of all people. Some of the people in any given county will be people in need, including the physically and mentally disabled, the mentally ill, and those displaced by crises like Covid, job loss and escalating rents.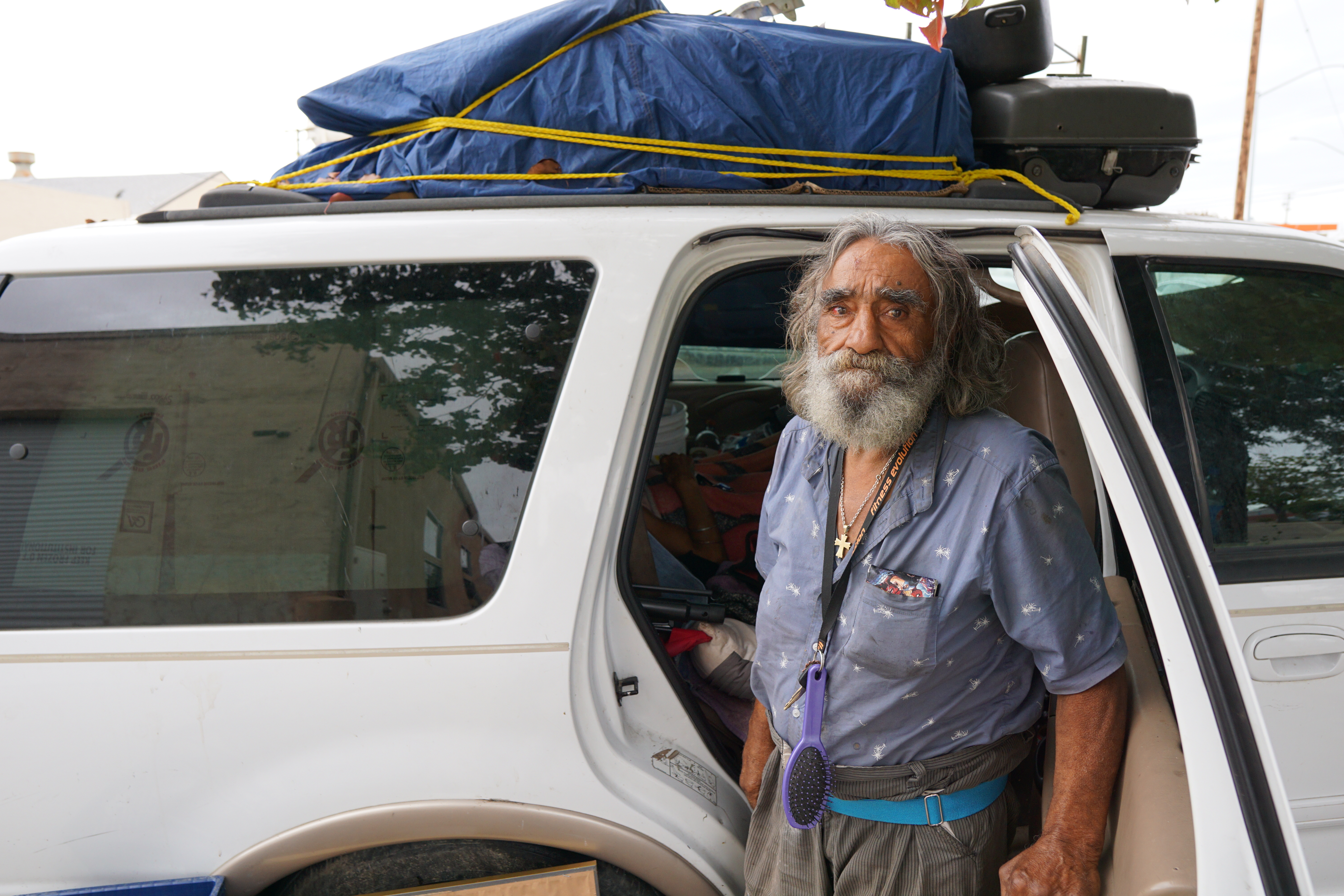 Yes, many of these people in need represent costs of care, but the costs don't go away when we push such people into the streets. Instead, the costs are passed down to the homes, businesses and people that constitute the county. They're reflected in depreciated property values, lost business, and a declining quality of life.
More than anything else, the failure to provide even minimal comfort for those among us suffering from trauma, disability, sickness and misfortune, represents a failure not just of responsible government, but also of the human heart. When there's money enough, humanity dictates we permit people a place to lay their heads, most especially the ill, the disabled, and the destitute. Doing anything less isn't just costly, it's cruel. In Stanislaus County, there's more than enough money.