As homeless numbers continue to grow throughout California, the disconnect between people on the ground and state and local leaders also continues to grow. That widening gap between those who work almost daily with homeless people and those who set policy was starkly evident during a meeting of the Modesto City Council on May 9.
With a progress report on the city's efforts to abate homelessness on the agenda, the meeting attracted numerous citizens with long histories of involvement with homeless people. Most were volunteers or close observers; some were members of local non-profits.
Featuring Modesto City Manager Joe Lopez and city staff, the report on homelessness turned out to be more directed to plans for affordable housing than to managing homelessness, though it did include plans to open a day center that would offer services to homeless people during daylight hours.  At the end of the meeting, the City of Modesto still lacked a homeless management plan.
A constant theme from members of the public was the need to act now to provide the sick, the disabled, the elderly and infirm the services they need just to survive what local citizen James Costello called a "humanitarian crisis." Costello added that homelessness is an "emergency" that needs to be managed now. Another speaker, Ramon Rodriguez, added that even affordable housing is, "out of reach for many."
In response to resistance from city officials to permitted camping, Modesto resident Derrick Castle said, "It's not a matter of should we have a homeless camp; we already have camping." Castle, who lives near two of Modesto's most attractive neighborhood parks said that homeless people camp around town at night and spend their days on the streets and at local parks.
"The greater question," said Castle, "is whether we have Graceada and Enslen [local parks] as a homeless camp or somewhere where there's less collateral damage."
Castle's point was echoed by other speakers who pointed out that so-called "affordable" housing is prohibitively expensive and often takes years to build.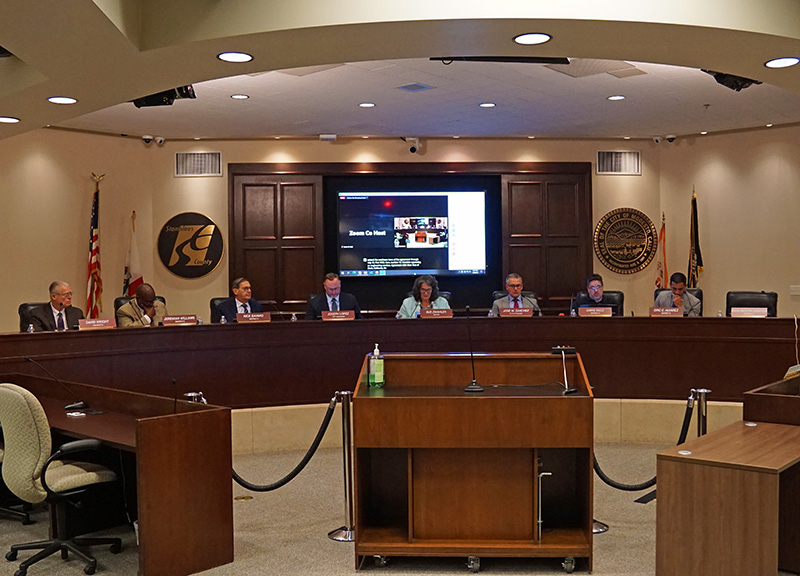 In one odd disconnect from the general consensus, Modesto resident Brad Hawn spoke and said, "In Stanislaus County, we believe people need to change, and they won't change with free stuff." Though he sits on numerous county committees and boards, some directed to housing issues, Hawn does not hold elective office. Some people wondered why he seemed to think he was speaking for the entire county.
Also, Hawn seemed not to understand that testimony by people like Modesto resident Lynelle  Solomon was about sick and elderly homeless people and the widespread policy of "treat and street" that is the rule for sick people with nowhere to go.
"We are failing our elderly," said Solomon.
In fact, according to Cal Matters, the fastest growing segment of California's homeless population is the elderly, many of whom are disabled. Asking the disabled, the elderly, the sick and traumatized who comprise a large segment of the homeless population to change before receiving "free stuff" is like asking a drowning person to reform bad habits before tossing her a life preserver. Assuming that disability or distress is due to bad behavior is not just prejudicial, it's cruel.
Hawn may have been channeling a long-discredited meme about homeless people "choosing" to be homeless because they are lazy or prefer drug addiction and sloth to honest work. In fact, the chief factor in California's homelessness is a statewide housing shortage.
By definition, "housing shortage" means there are more people who want and need housing than there is housing to serve them. Most experts argue that California needs to build at least 180,000 housing units per year just to meet demand, with a significant percentage of those units meeting the "affordable" criteria. Overall, Governor Gavin Newsom has announced we need to build 3.5 million total units of housing as soon as possible; we're not even coming close.
In addition to failing to help elderly and disabled people during the homelessness crisis, we're also failing the mentally ill who make up another large segment of the homeless population. People do not choose to be mentally ill nor is mental illness caused by bad behavior. One Modesto resident spoke about repeated failures by law enforcement and local behavioral health services to help her mentally ill son.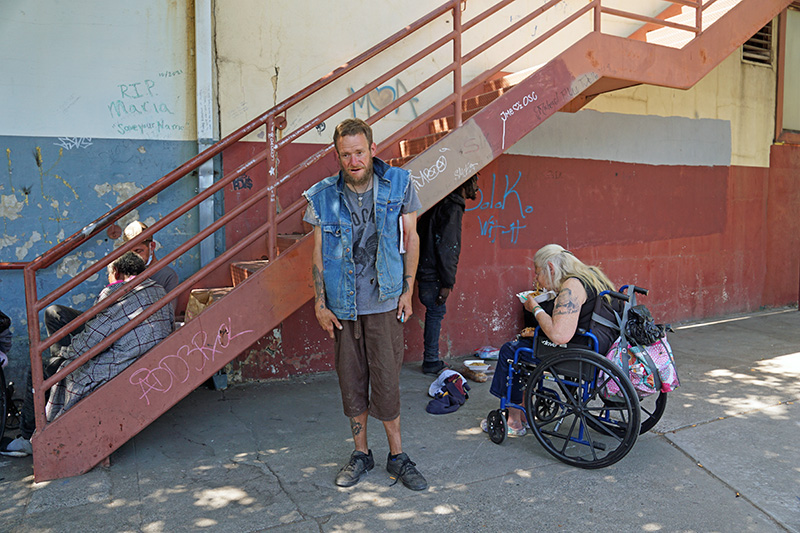 Modesto Police Chief Brandon Gillespie argued that safe sleeping sites "don't reduce homelessness" and attract people from out of town. That was another puzzling statement, especially since local homeless people are all well known to outreach workers. Outsiders are easily recognized, if not by outreach workers and police officers, then by the homeless people themselves.
There can't be a reduction in homeless numbers until we have enough housing, and there will not be enough housing for years. The best cities and counties can do now is manage homelessness with transitional shelter options like safe sleeping areas and pallet villages.
Like many who've worked closely with homeless people, housing advocates agree that homelessness is a humanitarian crisis, not a matter of bad habits or choices:
"We need government to treat this the way we treat a natural disaster, because that's how it's impacting people's lives," said Chione Lucina Muñoz Flegal, executive director of Housing California, a housing advocacy organization. "And that's not what we see happening."
While many of Modesto's leaders and authorities still seem content to chase homeless people from place to place around town, some may at last be willing to deal with the stark realities of the statewide housing shortage.
In a moving concluding statement, Councilmember Chris Ricci said,
"Being poor isn't a crime. We need less cruelty and we need more empathy. We need to learn the lessons of MOES (Modesto Outdoor Emergency Shelter, a permitted campsite) and provide limited safe camping and put an end to 'treat and street' tactics."
Ricci added that sweeps just move homeless people from one place to another, citing a recent sweep that pushed homeless people from outside city limits into another councilmember's district.
"Less cruelty and more empathy" might also mean recognizing that if every homeless person in California were to "change" tomorrow — whatever "change" may mean — they would still be homeless and there would still be a housing shortage.