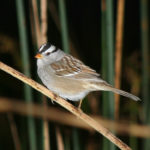 When learning our last target bird, Nuttall's Woodpecker, we discovered that in learning one bird, we can often actually learn three—a birding trifecta. The trifecta is also possible with our next bird, but finding the third bird in this trifecta is more difficult than it was in the woodpecker trifecta, which featured Nuttall's, Acorn and Downy Woodpeckers.
For many birders and nature lovers, the most welcome sign of the fall season is the return of the White-crowned Sparrows, usually around mid-September. These little denizens of parks, yards and farm fields winter in the San Joaquin Valley until around mid-May, when they depart for higher altitudes and more northerly regions.
Adult White-crowned Sparrows are easily distinguished from other birds by the black-bordered white stripes on their heads. Immature White-crowned Sparrows are like sparrows in general: They fall into the category of LBB's (little brown birds) and can  be difficult to identify until you gain experience. Remember though, those LBB's with the adult White-crowned Sparrows are most likely immature White-crowned Sparrows.
White-crowned Sparrows associate in small flocks, unless out in farm fields or along hedge rows, when they can be among large flocks that include other species. Once you've studied White-crowned Sparrows in your field guide, (as recommended in "How to Really Learn the Birds") study the Golden-crowned Sparrow as well. Again, don't worry overmuch about the immature Golden-crowned Sparrows. Focus on the adults as you prepare to "Target" both White- and Golden-crowned Sparrows on your next outing.
Once you're confident you can recognize both White- and Golden-crowned Sparrows in the field, have a quick look at your guide's illustration of the White-throated Sparrow. While the White- and Golden-crowned Sparrows are common, the White-throated Sparrow is uncommon to rare here in the Northern San Joaquin Valley.
While studying the White-throated Sparrow, keep in mind that it's a mistake to focus on the white throat. Some Golden-crowned Sparrows have whitish throats and can confuse even experienced birders. Remember, the best marks for White-throated Sparrows are the rusty back and wings and the yellow spot at the "lores," or base of the bill.
Habitat can often offer clues to a bird's whereabouts and identity. White-crowned Sparrows tend to frequent more open spaces than Golden-crowned; they're likely to be farther out on the grass or dirt, while Golden-crowned Sparrows are more likely to be in or under shrubs and brush. And the rare White-throated Sparrow is almost always either solitary or in the company of Golden-crowned Sparrows. So when you're scanning those Golden-crowned Sparrows, be aware of the possibility that the rusty bird with the white throat will be among them. One day it will be.
And that's the sparrow trifecta: Study White-crowned, Golden-crowned and White-throated Sparrows in your guide. Then, using the "Target" method, go out and look for them. There's a good chance White- and/or Golden-crowned Sparrows will be as close as your yard or bird feeder. And remember, on the way to learning the common birds around you, there's always the possibility that one day you'll have a sparrow trifecta to go along with your woodpecker trifecta.
Good birding.