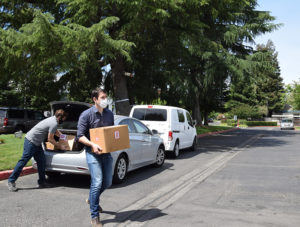 Republican Candidate for Congress Ted Howze is starting to look more and more like Donald Trump, the flailing President whose every move reveals desperation and incompetence.
Howze's latest move must have sounded good at first. In a campaign ad, he juxtaposed a photo of incumbent Congressman Josh Harder and his wife Pam kneeling with masks on next to one of Nancy Pelosi, also kneeling while wearing a mask.
Like Jeff Denham before him, Ted Howze wants people to believe that Josh Harder is a pawn in Nancy Pelosi's evil plan to socialize America. The problem is that Pelosi has no such plan, and even if she did, the likelihood that a Stanford- and Harvard-educated businessman almost fifty years her junior would buy into such a plan is ludicrous. Trying to tie Josh Harder to Nancy Pelosi didn't work for Jeff Denham when he tried it in 2018, and it won't work for Ted Howze.  It's too big a stretch.
Howze's timing was off too. He was trying to associate kneeling with disrespect for the flag and law enforcement. Problem is, the photo of Harder and his wife was taken at Modesto's candlelight vigil for George Floyd, and if the photo had been taken with a wider angle, it would have shown Modesto Police Chief Galen Carroll and Assistant Chief Brandon Gillespie also kneeling. In fact, law enforcement officers around the world have knelt as a way of acknowledging the injustice of George Floyd's death.
Even worse for Howze, masks aren't the symbols of weakness and capitulation he and Donald Trump wishes they were. Harder, who's been wearing a mask for months, did so because science and reason told him the quickest way to get the virus under control and bring the economy back was by wearing a mask and practicing social distancing.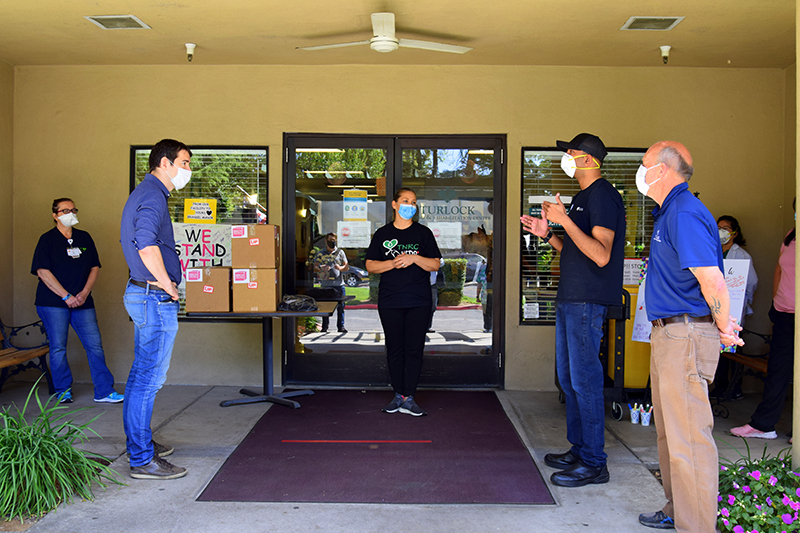 Ted Howze, on the other hand, followed the lead of Donald Trump, and proudly appeared without a mask everywhere he went, including at a recent demonstration in Turlock. He wasn't the only one who followed Trump's lead. Republican Governors in Arizona, Texas, and Florida also downplayed the dangers of the virus while ignoring recommendations for masks and social distancing.
Then, as Covid-19 began burning through their states like the fires of hell, the governors who had mocked science and expert opinion began locking down and begging their residents to wear masks and practice social distancing. July 2, Texas Governor Greg Abbott ordered residents of most counties in the state to begin wearing masks.
"We are now at a point where the virus is spreading so fast there is little margin for error,"said Abbott.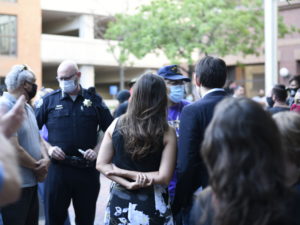 Most anyone might have pointed out that Abbott and his fellow Republican Governors might have saved lives and been able to open businesses much earlier had they followed science, but like Ted Howze and friends, they scoffed at science and are now facing the fire.
Ted Howze has shown again and again that he's a slavish follower of Donald Trump, a President who scorns reason, law and science, even while he steers the ship of state into a firestorm of disease and economic ruin. Meanwhile, Congressman Josh Harder has been proactive by following science, delivering PPE to outlets in his districts, and providing constituents with regular Coronavirus updates.
While the candidate follows a false prophet into the flames, the Congressman leads the way forward to recovery. Voters are taking note.