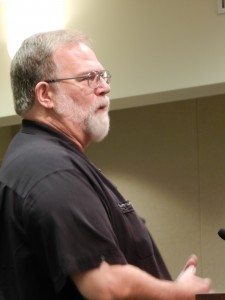 Emerson Drake caused a minor sensation recently when he reported contents of an email from Bruce Frohman to Modesto Mayor Garrad Marsh. In the email, Frohman offered to write an opposition argument to the Stamp Out Sprawl (SOS) ballot initiative.
Drake claimed the email was evidence Frohman had gone over to the "Dark Side." Given the context, "Dark Side" most likely meant "pro-development."
Since Frohman and I communicate frequently, I asked him about the email. Bruce said the email represented a qualified position which he offered to explain in a series of articles for The Valley Citizen. He then sent me the first of a four-part series.
In Part III of the series, I appended a footnote to Bruce's comment. The note referred to a Modesto Bee article that cited the Goodwin Study. The Goodwin Study was commissioned to review potential costs of annexing Salida to the City of Modesto. It had reported that the costs to Stanislaus County for providing services to Salida were $2.6 million.
Anyone who's ever dealt publicly with the issue of Salida annexation can expect a frenzy of criticism, and Bruce's reports caused one. In addition to the comments at The Valley Citizen, I received a string of rebukes via Facebook communications.
A key point of the critics was my footnote. Emerson Drake and Katherine Borges claimed the Goodwin Report had long ago been exposed as bogus. They went on to accuse Bruce and me of failure to research.
After I inquired where and when the Goodwin Report had been "exposed," I was told that Drake and Borges had discovered errors in the report. Borges wrote the following,
I have vetted the numbers and I have the documents from the county that shows (sic) the expenses attributed to Salida in the Goodwin Study are erroneous. Emerson already gave you the two biggest figures which puts (sic) Salida in the black. The Goodwin Study is a "cooked book" to make Salida look bad to justify annexation. You never hear it brought up anymore (except by Frohman) because the errors have been exposed and its (sic) a moot point now. Eric, I have to agree with Emerson, I don't know how you can print such tripe on your blog that hasn't even been researched and has been exposed as false. How can a college professor allow something like that and stake your name and reputation on it?
Bruce Frohman follows local news closely, and so do I. I wondered how we'd both missed the exposure of the Goodwin Report as "erroneous." After further investigation, I discovered the only place the Goodwin Report had been "exposed" was Emerson Drake's Eye on Modesto blog.
Since the issue was costs of services to Salida by Stanislaus County, I decided to ask my county supervisor where I could find the appropriate budget items. My supervisor is Dick Monteith. His office replied promptly, saying the following,
Mr. Caine,

Attached an excerpt from the 2013 Goodwin Report that showed gross costs for all County Services at $8 million offset by $5.4 in gross revenues for a net deficit of $2.6 million.  The differences in costs/revenue can be attributed to the Goodwin Report factoring in all services and revenue sources while the earlier staff analysis just looked at the Board's use of discretionary revenue sources.  The Goodwin Report was more comprehensive and up to date and is probably the better indicator.

Hope this is helpful.  Please let me know if you have any questions or need anything else.

Thanks,

Kacey
Shortly after receiving the message from Supervisor Monteith, I found myself conversing with Stanislaus County Supervisor Jim DeMartini on another subject. Supervisor DeMartini has a wide and current command of county issues, so I casually inquired about how much it costs Stanislaus County to serve Salida.
"It's around $3 million," said Demartini.
When I told Supervisor DeMartini some people had claimed Salida was "in the black" he seemed surprised.
"The cost is around $3 million," he said. "I'll stand behind those figures."
Bruce Frohman, Dick Monteith, and Jim DeMartini are men of impeccable character. All, of course are capable of mistakes. Nonetheless, I trust their "research" far more than I trust the claims of Katherine Borges and Emerson Drake.
It's possible, of course, that Ms. Borges and Mr. Drake know better than the rest of us. I'm always happy to learn.