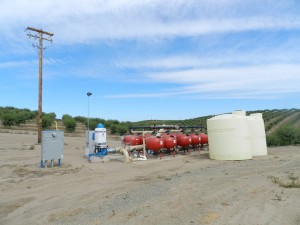 Especially since the state of California required local authorities to achieve groundwater sustainability, Stanislaus County Supervisors have been under growing pressure to address the fact that pumping groundwater for over 30,000 acres of nut trees on the county's east side is unsustainable.
The Supervisors and the committee they appointed to deal with the problem, the Stanislaus Water Advisory Committee (WAC), have repeatedly cited the need for more information. Almost in unison, the General Manager for the Oakdale Irrigation District just recently argued there's no groundwater emergency and cited the need for more information, claiming there's no need for, "sweeping regulations that could limit pumping."
These two themes, the need for more information and the fact pumping enough groundwater to serve tens of thousands of acres of almond orchards is unsustainable, "on the face of it," have dominated groundwater dialog for months.
According to the Modesto Bee, one consortium of investors in almond orchards in eastern Stanislaus County has invested over $100 million thus far. What's the possibility that much money is based on the need for more knowledge about groundwater? It's far more likely investors in east side almond orchards know there's enough water to make money even if pumping is unsustainable beyond a few decades.
In fact, there's a wealth of available knowledge about groundwater. Farmers in the foothills have been pumping tens of thousands of acre feet of water per year and are adding more nut trees as fast as they can plant them. They're sure there's water enough to show profits, even if it means depleting one of the last viable aquifers in the San Joaquin Valley.
They're Taking Your Water
Hydrologists and geologists have long known that rivers, lakes, and reservoirs are important contributors to groundwater recharge. In the recent Scott River court case, attorneys argued pumping groundwater affected the public trust because it reduced flows in the Scott River.
In a study titled, "Overdraft of the Central Valley Aquifer," Nate Holdsworth noted,
"Reverse of groundwater flow because of aquifer overdraft causes rivers and lakes to sink into unconfined aquifers in areas where the water table has been lowered by pumping."
Ironically, the East Side Water District did a study in 2003 that showed much of the groundwater in that district came from the Merced and Tuolumne Rivers. Board Chairman Jim Crecelius said the following:
"The consultant who performed the studies advised that additional water flowed into the aquifer from the Tuolumne and Merced rivers and from the irrigation water applied in the Turlock Irrigation District (TID). He further advised that so long as the existing conditions of groundwater pumping and water levels in the rivers and irrigation within TID remain unchanged the levels would remain at generally the existing levels with some minor fluctuation on a year-to-year basis as a result of varying precipitation."
Since the East Side Water District study, "existing conditions" have changed drastically. Considering that foothills almond orchards are bordered by the Stanislaus and Tuolumne Rivers and surround Modesto Reservoir, there's no question the tremendous amount of water they're pumping is in part supplied by surface water belonging to residents of Modesto, Valley farmers, and others. Foothills farmers do not pay for this water.
How Much Water Are They Pumping?
When water is discussed in terms of acre feet, it's difficult to get a sense of scale. Think of it this way: Modesto Reservoir, which stores water for the City of Modesto, holds 29,000 acre feet of water at full capacity. Modesto itself uses around 70,000 acre feet of water a year.
Albert Rossini, general manager of the East Side Water District, reported at a WAC meeting that he estimates pumping volume by what "they've got on the ground." Rossini said the estimate for water use by almond orchards on the east side was forty-two inches, or three and a half acre feet per year. Since the East Side Water District is near the foothills farmers' new orchards, those numbers are probably fairly accurate for new orchards on the east side.
Rossini's numbers and other reliable sources confirm that foothills farmers are pumping approximately 120,000 acre feet of water a year, with almost no recharge of the aquifer. That's well over one and a half times the water needs for the City of Modesto over the same year.
For more than most of us would ever want to know about crop water needs look here. UC Davis has a comparison of water usage by various crops here.
How Deep is It?
Anyone willing to invest tens of millions of dollars in a project solely dependent on groundwater isn't likely to be ignorant about how much water is available. Most likely investors in east side almond orchards made use of the wealth of U.S. Geological Survey data available online. One such study graphs aquifers throughout the Central Valley. Read it and find depths of aquifers at figure 98 here.   
How Low Can it Go?
Today, expert knowledge is widely available online. Many places are also blessed with local experts. The Stanislaus County Geologist, for example, is Dr. Horacio Ferriz. He's a full professor at California State University Stanislaus and Chairman of the Geology Department. He's also a highly-regarded consultant on groundwater who's published a study of groundwater in California's Central Valley.
Recently, Dr. Ferriz said that pumping groundwater for almond orchards in the foothills of eastern Stanislaus County should lower the water table thirty feet a year. Naturally, that figure is an average. Exceptions will occur.
It's Not an Emergency Situation?
Groundwater levels throughout the United States are precariously low, especially in the San Joaquin Valley. Nonetheless, there are always people who will claim media have overreacted. Want to know how bad it is? Here are some maps that show groundwater depletion levels in California, including the San Joaquin Valley. Yes, there are some specific sites that appear to be doing well. Qualified experts can explain why those sites represent the exception, not the rule.