San Joaquin County Supervisor Tom Patti is running for Congress in California Congressional District 9. His opponent is Congressman Josh Harder. When Patti refused to answer questions from the San Jose Mercury News, it piqued our interest. What was it a candidate for Congress didn't want to talk about? Turns out, there's an awful lot.
Tom Patti has a long history of financial improprieties, voting to raise taxes, crashing cars, and double standards, and that's just for openers.
Financial Improprieties
In a letter to the Department of Justice, Criminal Division, dated July 13, 2022, Tiffany Muller, President of End Citizens United, has asked the Department of Justice, "to investigate Mr. Patti for his ongoing violation of federal law by failing to file a timely, complete, and accurate Financial Disclosure Statement, as required by the amended Ethics in Government Act of 1978 (the "Act")."
In her letter, Muller claims that Patti has violated several federal requirements, most especially by failing to report sources of income from his business, Delta Cranes, from San Joaquin County, and from his profession as a boxing trainer. Patti's income statements were due shortly after he became a candidate for Congress.
Among the more startling figures in the documents Patti did file is a disclosure that Patti has $25 to $50 million in liabilities "as a result of a car loan." No surprise Muller writes that, "the amount of the liability suggests that his liabilities may stretch beyond a single car loan."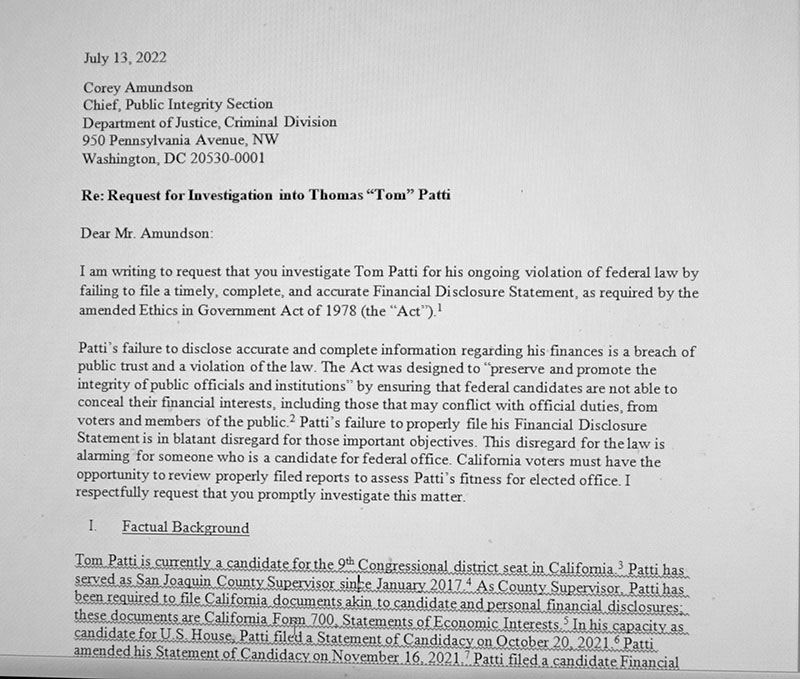 Patti Voted to Raise Taxes and Costs for Health Care and Camping
In 2017, Tom Patti voted to raise the California State Gas Tax by 12 cents per gallon, from $0.278 Per Gallon To $0.398, a 43 percent increase. In 2019, he voted to increase the costs of tent and RV camping in San Joaquin County; the increases ranged from 25% to 45% over previous levels.
In June of 2020, Patti voted to increase health care costs at San Joaquin General Hospital. The cost of mental health care went up by 20%.  Room rates increased by 4.2% in 2020. He voted to raise the cost of prescription drugs by 3%.
Patti Took Paycheck Protection but Voted Against Help for Small Businesses
In August of 2021, Tom Patti was the only San Joaquin County Supervisor to vote against the allocation of $33.7 million from the American Rescue Plan for relief to small businesses and families. However, he took a $31,722 loan from the Paycheck Protection Program in April of 2020, and another $5,000 in Economic Injury Disaster Loans that same month and year. Both were for his Delta Cranes business.
Tom Patti's Ethics and Behavior
In 2018, Patti was arrested for a DUI after a multiple car accident. He pleaded no contest to a charge of reckless driving. Later, he claimed tests showed no alcohol in his system and attributed his erratic driving to side effects from prescription drugs.
In 2009, Patti sued Target for almost $5,000 for "Irresponsible Placement of Parking Lot Obstruction" after a collision in the Target parking lot. A judge later ruled Target did not owe Patti any money.
In 2019, Patti tried to rescind San Joaquin County's Code of Ethics after he avoided censure for possible ethics violations. At the same time, he tried to add a monthly stipend to the County Supervisors' six figure salaries while arguing for an additional one-time "discretionary fund."
Fellow Supervisor Kathy Miller said that Patti wants, "a budget to pay for Supervisors to attend community events; to create a slush fund for each Supervisor; and to rescind the Code of Ethics, adopted in 2015!" She added that Patti's ideas, "should be of great concern to everyone who values open and transparent government."
Patti's refusal to interview with the Mercury News may also be related to Miller's concerns about his views on "open and transparent government." As Board Chairman in 2021, Patti made the unilateral decision to lower word counts for public comments to 100 words. The previous limit was 250 words.
Supervisor Chuck Winn disagreed with Patti's decision, arguing that, "Anytime that we restrict input from the public is not a good sign," Winn said, noting that current issues on the board's radar are big-ticket items like the COVID-19 pandemic and contract negotiations. "I just don't think it's appropriate at this time to make any modifications to the amount of time that our residents can speak their mind and certainly share their concerns."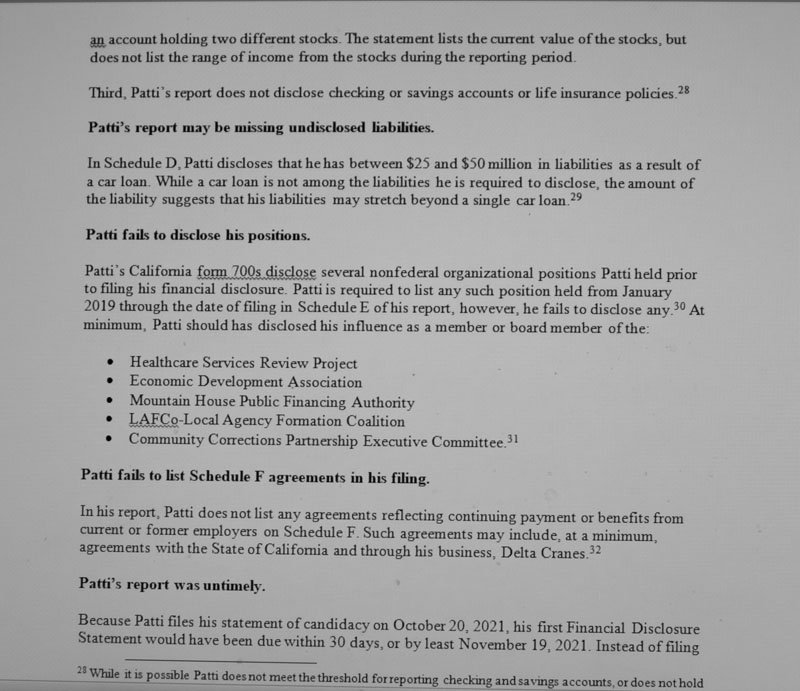 Supervisor Kathy Miller agreed with Winn. "Hearing from our residents IS our job," she said. "Sometimes it's uncomfortable and sometimes it takes guts. I sincerely hope Chair reverses this decision."
Probably the most bizarre example of Patti's tendency to restrict public comment is the case involving an alleged threat to, "knock your teeth so far down your throat you'll be chewing bubblegum out of your asshole." According to Wayne Adler, Patti made the threat during a 10-minute telephone tirade after Adler asked Patti to rescind his endorsement of Ted Howze in June of 2020.
A former boxer and longtime friend of Mike Tyson, threats from Tom Patti carry more weight than they might from the typical public official. Adler was shaken enough that he requested a restraining order. The court case was "disposed" when Adler's pro bono attorneys dropped out due to Covid issues and a cancer diagnosis.
Hopeless on Homelessness
In a state where almost every leader fails on homelessness, Patti stands out as even worse than most. Though traditional congregate shelter options have been shown to fail again and again in keeping homeless people off the streets, shelters are still Patti's first choice for dealing with homelessness. In January, 2021, homeless advocates united against Patti's plan to use Covid Cares Act funds for a mega-shelter in downtown Stockton; they were especially concerned that the shelter option would increase risk factors for Covid contagion.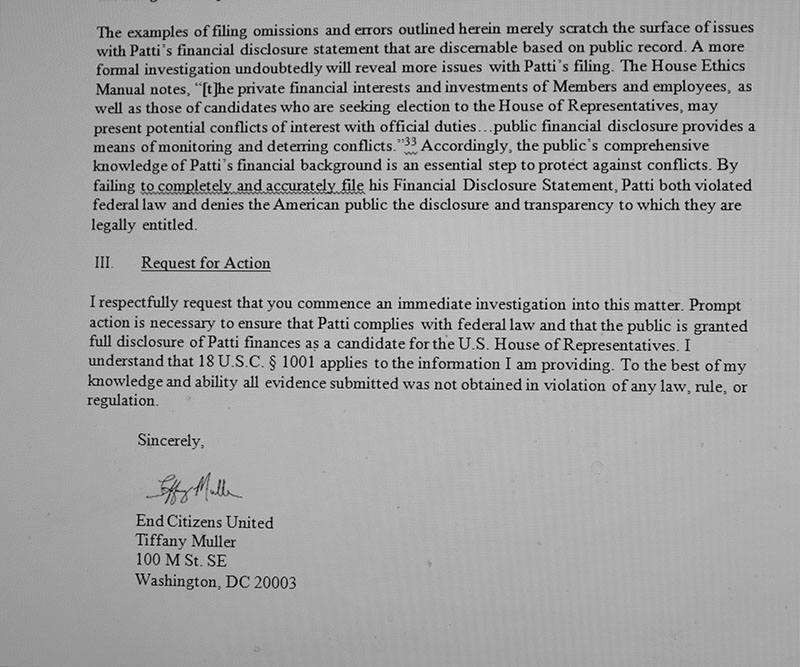 There's a Lot More, Too Much
We haven't mentioned incidents like authorizing payments of $150,000 to Wohlford Consulting for advice on how to raise fees on everything from business licenses to property improvements like patio covers and new roofs. Patti also voted to raise fees on restaurants and other food establishments.
If there's any consistency at all in Tom Patti's actions as a San Joaquin County Supervisor, it's a willingness to stick it to the little guy with support for increased fees, higher taxes on gas, costlier health care and double standards that favor wealth and power over small business and labor. Speaking of labor, did we mention Patti called International Workers' Day a, "Communist and Socialist celebration"?
When we started out wondering why Tom Patti didn't want to talk to the San Jose Mercury News, we had no idea how much there was in his past that he'd rather not talk about. When we began digging, the sheer volume of things was overwhelming. It still is.
No wonder Tom Patti doesn't want to talk.