Former Modesto City Councilmember Bruce Frohman always offers thoughtful analysis on issues involving local government. Below, he argues against Measure H, Modesto's proposed sales tax increase. Following Bruce's argument, The Valley Citizen presents its own argument in favor of Measure H.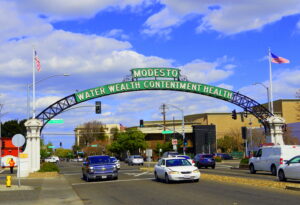 Ever since Proposition 13 passed in 1978, cities throughout California have seen their budgets shrink via inflation.
While total dollars in Modesto's annual budget have swelled from about $200 million in year 2000 to $500 million now, the rate of inflation and increase in operating costs have been greater than the rate of annual budget increases.
Thus, no one should doubt that Modesto can use the proposed increase in the sales tax. The funds are needed to replace tax revenue lost as a consequence of the State of California and Stanislaus County diverting tax revenue away from the cities. An alternative is to continue cutting services, which has already occurred to a substantial extent.
So why oppose the sales tax revenue increase?
Harm to Low-Income Citizens
Modesto has a large population of low-income citizens who will be hurt more by the sales tax increase than by the cut in services. How many have delinquent utility bills? How many live paycheck to paycheck and can barely pay rent or put food on the table?
A one percent increase in the sales tax will hurt minimum wage workers and deprive them of necessities. If the annual sales tax adds $150 a year to the cost of goods, ten hours of extra labor will be needed by the worker just to cover the tax increase.
Fact: The sales tax is the most regressive form of taxation because it adversely affects low-income citizens the most.
Lost Proposition 13 Revenue has been Replaced
While Proposition 13 reduced future property tax collections, other taxes and fees within the State of California have more than made up for revenue not collected due to Proposition 13. In every tax and fee increase, Proposition 13 has been blamed and used as the justification.
The dishonest aspect of the entire tax collection system is the State of California and Stanislaus County have retained the lion's share of tax and fee increases while letting the cities starve for money. Then, when cities cut services, the higher-level governments justify more taxes using the bogus excuse of service deficiencies as caused by Proposition 13.
We can discuss at length how Caltrans wastes billions of dollars with ineffective and inefficient road construction projects while Modesto cannot even afford to repair and repave all its streets. If Cal Trans were abolished and all the money were given to the cities, we would see enormous improvements in services statewide.
Other state agencies, like the unemployment department, also waste taxpayer money by using inefficient and obsolete computer operating systems.
Since Proposition 13 passed in 1978, the sales tax has risen from 6 percent to the current 7.785 percent in Modesto, up to 10 percent in some Bay Area Counties, the gasoline tax has increased, vehicle registration fees are up, income from property tax due to inflation and capital gains tax revenues are up, and property tax reassessments due to resales have increased total revenue state wide to the point where California had a budget surplus of $97.5 billion dollars last fiscal year.
So, with so much tax revenue at the state level, why aren't the cities getting more help? Why should we vote ourselves higher taxes when the total tax revenue within the state is enough money to accomplish the mission?
Money equals power. The politicians running the state are intoxicated with power and do not see what needs to be done. They are insensitive and do not exercise the responsibility and duties of the offices they hold.
This year's state tax rebate is a travesty when cities have so many unmet needs.  The rebate is a blatant political tactic to buy votes and is not responsible government.
Dubious Modesto City Budget
As a former Modesto City Council Member, I am reluctant to criticize the present Council. I am sure that they believe they are doing the best possible job with their half a billion dollar annual budget.
A previous City Council reinstated infrastructure subsidies to the single-family residential housing industry. The city is subsidizing growth in housing that is sold to out of area buyers, not to the multi-family unit buildings needed in the community.
The Centre Plaza convention center continues to be a drag on the annual budget.  It has never showed a profit or ever generated the promised economic benefit. Either it should be a moneymaker or it should be sold. Now.
In spending money on homeless programs, the City has taken over responsibility for programs historically run for the homeless by Stanislaus County and for the mentally ill by the State of California. While it is ok for the city to manage the programs, the higher levels of government need to reimburse Modesto for the operating costs. It is not ok to cut essential services to fund non-traditional programs.
Modesto needs to join other cities in an all-out effort to obtain a greater share of state and county tax revenues.  The present distribution system is beyond unfair — it is intolerable.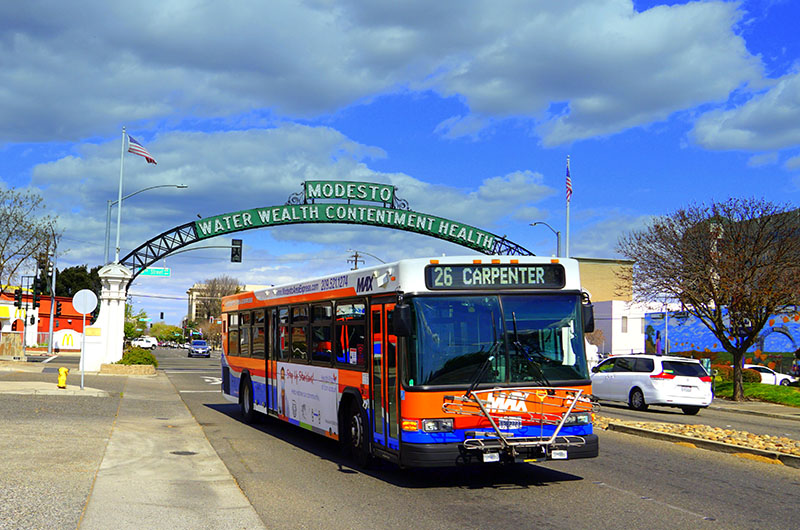 Until tax revenues are reallocated within the various levels of government inside the state and wasteful expenditures at the state level are eliminated,
support of any local tax increase is like throwing money down the drain. In the short term, local services will be covered. In the long term, financial shortfalls will return and another sales tax increase will be in our future. The problem will be kicked down the road when it should be addressed. NOW.
The Valley Citizen Supports Measure H, by Eric Caine
Few Modesto residents today remember former Mayor Ted Brandvold's 100 Day Review of the city budget. Conducted in 2016, the review was going to expose waste and find money to hire more firefighters and police officers. What it found was what the previous Mayor Garrad Marsh had been telling voters all along: there was little, if any, waste in the Modesto City Budget.
Grandstanding about government waste has been a tried and true campaign tactic for as long as anyone can remember, but Ted Brandvold soon learned the hard lesson that most Valley cities realized long ago: You can't pinch pennies when there aren't any pennies to pinch.
Modesto has been de facto bankrupt for years. It's avoided the formality of declaring its dire financial status only through severe cuts to public safety and deferred maintenance on infrastructure and the city's urban forest.
We agree with many of Bruce Frohman's points about the City of Modesto Budget and urban funding in California in general. Yes, the State of California and Stanislaus County shortchange cities with inequitable funding and distribution of resources. Like Bruce, we're also against the punitive effects of regressive taxation. However, when the patient is on life support in the Emergency Room, arguing about causes and distant remedies only worsens an already grave situation.
Modesto is ranked the worst of all cities of comparable size in traffic accidents per capita. Bruce argues that the sales tax proposed in Measure E will hurt low-income residents, but so do car crashes and pedestrian injuries resulting from insufficient traffic control. In fact, the poor suffer disproportionately when funds for public safety are cut and cut again.
Lower income residents tend to live in high crime neighborhoods where there's a greater need for police services. They're less likely to have comprehensive insurance coverage when involved in an auto accident, for both health care and their vehicles.
Poor roads are more damaging to the older vehicles driven by low-income residents, and the presence of homeless people and trash in public parks too often deprives low-income residents of one of the few inexpensive choices they have for recreation. Closed restrooms and the harmful effects of public defecation affect low-income people to a far greater degree than those with enough money to afford entertainment venues like the Gallo Theater for the Arts.
We agree with Bruce Frohman that Caltrans dollars are too often ill-advisedly spent, but any changes there are years away. Bruce's proposal to abolish Caltrans altogether will never happen.
Modesto needs help now. Deferred maintenance of Modesto's roads, sidewalks and urban forest only means an almost daily cost increase in the form of more expensive repairs when repairs finally come. Deterioration accelerates as time passes.
Bruce has mentioned past city councils and things they might have done better, but no city council in Modesto history ever had to endure the devastating effects of a pandemic that killed over a million American citizens and devastated small businesses everywhere.  With Nick Bavaro joining the Council after next election, there will be three Councilmembers who have been successful local businesspersons. Bavaro will join Chris Ricci and David Wright on a council that offers in-house experience getting the greatest return from every investment dollar.
San Joaquin Valley towns like Modesto are inordinately dependent on sales tax revenues from restaurants, retail stores and other vendors hard hit by lockdowns. The turn to online shopping when many shoppers thought it too perilous to venture into traditional shopping venues was yet another hit.
Bruce concludes that budget deficits need to be addressed now, but proposed solutions like selling Centre Plaza and upgrading computer systems at the unemployment department are most likely years away; selling Centre Plaza may never happen.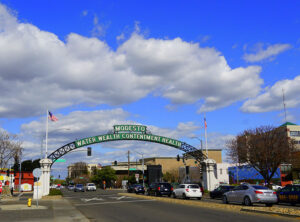 We agree that Stanislaus County must do its part in addressing homelessness in Modesto, especially the manifold problems with mentally ill homeless people. However, unless Modesto Mayor Sue Zwahlen and Stanislaus County Supervisor Mani Grewal act more aggressively on behalf of their constituents, the county will continue its long history of neglect. Even in the unlikely event that Zwahlen and Grewal step up, money for homelessness will not address public safety, infrastructure, urban forest and other urgent needs. These needs are critical and immediate.
Modesto's Measure H sales tax proposal exempts groceries and prescription drugs. These exemptions will lighten the tax burden on low-income families. Those same low-income families will benefit greatly from enhanced public safety and improved infrastructure.
The City of Modesto has had decades of cuts to law enforcement and deferred maintenance for roads, sidewalks, parks and its urban forest. Its sales tax is lower than most surrounding cities'. Modesto can't survive more cuts and consequent declines in public safety and quality of life. Modesto needs Measure H now.