Republicans are still favored to become the majority in the House of Representatives, but Democrats nationwide have performed better than expected, leaving a narrow possibility they could maintain their current House advantage. Three Valley races could tip the balance.
With half the total votes left to count in the race for newly drawn California Congressional District 13, Republican John Duarte leads Adam Gray by 203 votes. In District 9, Josh Harder's lead of just under 10,000 votes over Republican Tom Patti is expected to hold up, even though only 43% of the total vote had been counted at the end of the day on November 9.
Farther south, Republican David Valadao's lead of almost 3500 votes over Democrat Rudy Salas could change significantly with only 39% of the votes counted in a district where voter registration favors Democrats. However, low turnout throughout the Valley generally trends against Democrats, and turnout at most locations has been low, typical of off-year elections when the lack of presidential candidates dampens voter enthusiasm.
Most polls rated the race between Duarte and Gray a tossup, and early returns have shown those predictions were justified. Though he's received strong backing from Bakersfield Congressman Kevin McCarthy, a leading candidate for Speaker of the House should Republicans prevail, Duarte chose not to promote Donald Trump's "Big Lie" about a stolen election in 2020. Tom Patti also made it a point to distance himself from Trump by claiming on the campaign trail that, "I am not a Trump Republican."
Valadao may have been smarter than most observers thought when he joined nine other House Republicans in the vote to impeach Trump for his role in the January 6 Insurrection of 2021. With his new district favoring Democrats by registration numbers, Valadao may benefit from the impeachment vote. He is one of only two remaining Republican House members who voted to impeach. The eight others bit the dust.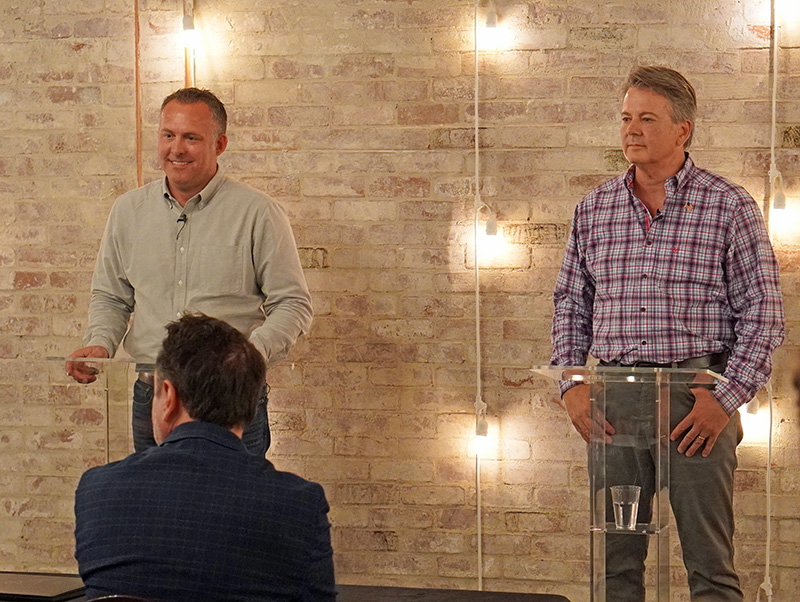 Harder's formidable ground game was likely the key to his 2018 upset of Republican incumbent Jeff Denham, and the Congressman from Turlock said on Election Day that his current campaign didn't differ dramatically from the that one:
This race is actually pretty similar to 2018 in that we're still talking about the same issues that were top priority to families in 2018: access to health care folks can afford, good paying jobs close to home, enough water for our farmers and our ag industry. Just like the 2018 race, we've knocked on tens of thousands of doors in every corner of our community, ensuring everyone makes their voice heard.
By far the closest of the three races, Gray's may take weeks to decide. At this stage of the vote count, Duarte appears to have neutralized Gray's advantages from having served several terms in the 21st California State Assembly District, where the voter demographic is similar to Congressional District 13.
With Democrats still having a slim chance to maintain power in the House of Representatives, the race between Duarte and Gray offers a strong object lesson in the value of the vote. Valley citizens could be the key to political power nationwide, reason enough to encourage better turnout in the  future.