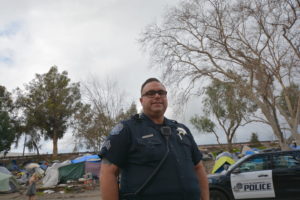 One day a few weeks ago, volunteer homeless worker Jeri Lynn Matoza was watching Modesto Police Sergeant Mike Hammond cruise slowly through Beard Brook Village, Modesto' s permitted homeless encampment. Every few yards, Hammond had to stop because someone wanted to talk.
"Look at that," said Matoza, "How often do you see homeless people voluntarily approach a cop? That's the sign of a good cop."
Hammond says he wanted to be a cop since he was in high school and as soon as he qualified he became a community service officer in the Bay Area. Counting that service, he's been maintaining law and order for twenty years.
Hammond won't go so far as to say he makes friends with homeless people, but he does say, "It helps to make a connection. My goal is to be firm but fair. And if I have to arrest a homeless person, I let them know it's not personal, it's business. I enforce the law."
Oftentimes the first connection he makes is by learning a person's name. Despite the presence of over four-hundred people in Beard Brook Village, Hammond seems able to greet most of them by name. Many approach him asking for advice about legal or family matters.
"Hey, Tonya, how you doing," he will say to a woman who wants to talk. "Hi Chris, what's up," he says to a passerby.
Hammond says there are some common misconceptions about homelessness, beginning with the view that it begins with drug use.
"It's a mistake to assume homelessness is all about drugs," he says. "Drugs are a piece of the puzzle, but they're not the only piece. There's no really typical homeless person; everyone out here has a different story."
Advocates for the homeless argue that a significant percentage of homeless people are mentally ill; some say the number is as high as forty percent. Another segment of people receive disability payments but not enough to afford housing.
"Gee, that's a tough question," says Hammond when asked how many homeless people he thinks are mentally ill or disabled. "There are a lot of them. It's hard to tell sometimes because we don't see all of them. One thing I do know, if people need help it's hard to navigate the system. It's even hard for me to navigate the system. For people without transportation or resources, it's almost impossible."
Those who advocate homeless encampments argue that it's much easier to connect services to homeless people than it is to connect homeless people to services. That's especially so if someone has a tent they use daily, rather than a hiding place.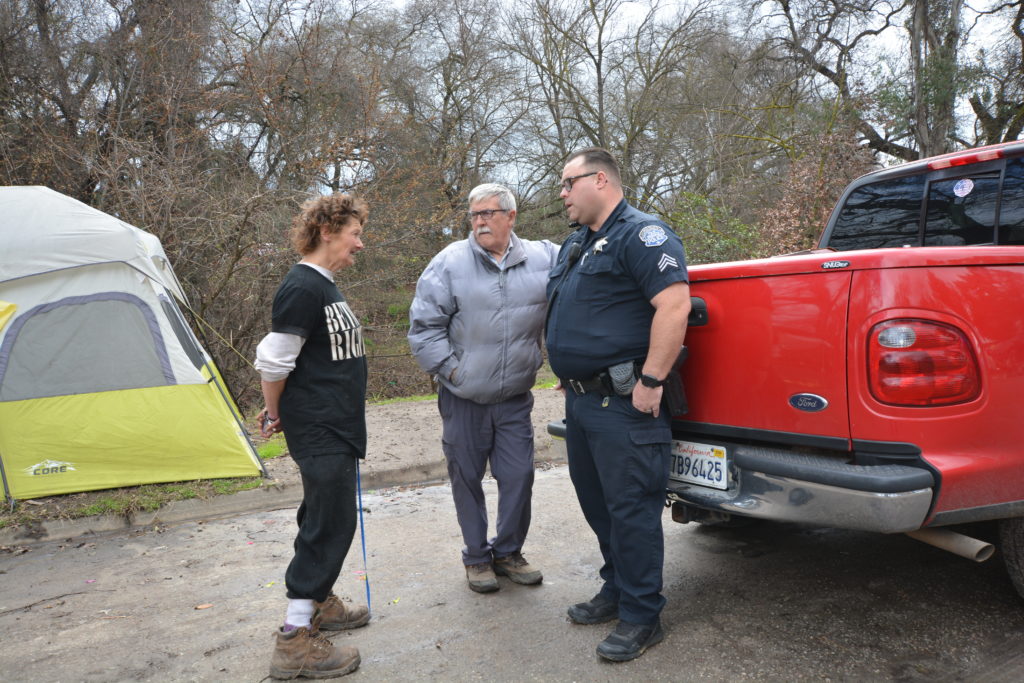 County outreach workers visit Beard Brook Village on a regular basis. As a result, they've been able to develop more effective relationships and help more people.
When asked how he learned to deal with homeless people, Hammond says,
"Homelessness is our number one issue as police officers. We deal with it all the time; most of the calls are service calls instead of actual crimes, but we still have to respond in an appropriate way. This badge and uniform represent different things to different people. We always have to keep that in mind."
Hammond says one of the problems for police officers when on a homeless service call is they never know when someone is high on drugs or mentally ill. Most homeless people aren't dangerous, but police officers are always extra attentive when on a call.
"You can go in on high alert and then dial it down," he says about responding to a call for service. "But you learn you can't reason with irrational people; then it depends on whether you're dealing with mental health, or withdrawal, or something else."
Hammond thinks the encampment at Beard Brook Village has been a success, "from a legal standpoint."
"We drew lines and asked a difficult population of people to stay within those boundaries and they've done that, for the most part. And when people go outside those boundaries and we tell them to get back in, most of them obey us."
Hammond says that the crime rate is no higher at Beard Brook Village than most other places in Modesto, but there are obviously things that go unreported.
"There aren't any needles or pipes lying around, but I'm not naïve enough to think there's no drug use. But for the most part, people have been obedient like in any neighborhood. We have to remember, though, that homeless people are less likely to call us out. When they do call, it's serious. It's a real emergency."
Some residents at Beard Brook get special treatment and are asked to set up tents outside the boundaries of the village.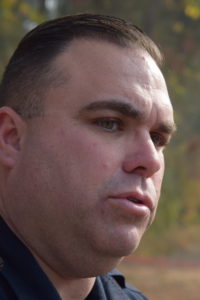 "We have a few people who shout and scream at people who aren't there, any hour of the day or night. They cause so many disturbances that they are in danger of getting beaten up, so we put them outside the boundaries for their safety. When I explain it to people, they understand why we make exceptions. Some people just can't be around others."
Service calls about problems with homeless people have diminished along Modesto's McHenry Avenue, in city parks, and downtown. Those numbers support Hammond's claim that Beard Brook Village has worked from a legal standpoint.
When he's asked whether there's a way of looking at the encampment other than from a legal standpoint, Hammond says, "You can look at it as a brother, or a father, or a husband. There's a humanitarian standpoint. You can look at it that way."
From all appearances, sometimes Mike Hammond does look at it that way—at least whenever he can.