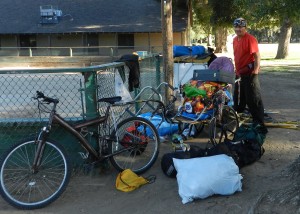 Modesto under siege
Summer of 2015 they appeared like an alien fungus, some pale, wan, jaundice-tinged, others large, dark, and gnarly. They plopped down in our parks and along the canals, raising levels of alarm and loathing to dangerous heights.
For a long while, their eccentric orbits had been confined to a peripheral loop skirting the edges of downtown Modesto— the Empowerment Center on Olive Avenue to the north west, south to Salvation Army Headquarters, south again to the Haig Berberian building at Ninth and D Streets, and then east to the Gospel Mission on Yosemite Boulevard. Then, suddenly, for reasons that can only be speculative, they attained escape velocity and landed in plain sight. And there were more of them—a lot more—dozens upon dozens!
They had emerged all at once from sheltered riverbanks, hidden land-coves, and seldom trodden alleyways, and appeared before us like a vision from the Inferno. God forbid, they were even sleeping behind our houses!
Some travelled light. Others showed up with elaborate conveyances that took found materials and human ingenuity in new directions. Okie-rigged contraptions powered by bicycles and human sweat, trailing containers comprised of anything from wooden carts and baby carriers to plywood slabs riding on skateboards, to wheelchairs. Shopping carts were for the old and infirm, none of whom seemed to last too long in the shimmering summer heat.
The screamers and stompers were every bit as scary as creatures from the Zombie Apocalypse. Those in the know claimed it was bad dope that had put the otherwise passive user population into a maddened frenzy. Whatever the cause, it wasn't unusual for residents near downtown and surrounding parks to come upon the horrid sight of a howling lunatic lurching down the middle of the street screaming epithets and brandishing knobby fists on stalky forearms, braving oncoming traffic head-on.
The collapsed cheeks of the speed freaks with their noses tipping ever closer to the ends of their chins, the bloated red faces of the alkies, and the rising stench of soiled clothing, unwashed bodies, spoiled food, and things we'd rather not know about all added up an unqualified compulsion to, "Get them the hell out of here!"
The loudest complaints came from the tony La Loma neighbourhood. Long-plagued by its proximity to the airport district, the Gospel Mission, and a section of seedy industrial blight along Yosemite Boulevard, La Loma residents stayed wary and alert most of the time, but this summer's tsunami of wrecked humanity caught them off guard. Those who'd purchased houses along Dry Creek and near Kewin Park suddenly saw their idyllic surroundings infested by red-eyed creatures with hard, matted hair, who stunk worse than high traffic cat boxes.
There were stories of hypodermic needles littering the ground, public fornication, and random piles of human excrement. The homeless commandeered picnic tables, trashed public restrooms, started fires, and left slime trails of rotting garbage wherever they went.
Just when the problem seemed to be reaching critical mass, some of Modesto's finest citizens came before the City Council with their tales of horror. And, in a show of what government can do when it really wants to, the filthy hordes had vanished within days. Mostly.
There was still the odd sleeping human form or two out there on the park lawn, but without approaching more closely, who could be sure it really was one of the homeless? Maybe it was merely a napping citizen—someone who actually had a right to be there. As long as there were no piles of bulging plastic bags atop baby carriages and shopping carts, as long as there were no bottles strewn about, it was hard to tell.
And it only took a moment's reflection to realize they weren't gone, really. Out of sight? Yes. But not gone, not really gone as in, "gone for good." But as long as they stayed away, maybe it really didn't matter. Out of sight for most good people was as good as gone—unless they came back.
Next: Part II: What would Jesus do?