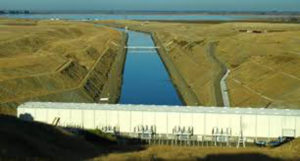 Ordinarily, a Beverly Hills billionaire, a Sacramento attorney, and an Oakdale farmer wouldn't have much in common, but politics, water, and money are the ties that bind Stewart Resnick, Tim O'Laughlin, and John Brichetto to Congressman Jeff Denham.
Brichetto is the only one of the three who lives in Denham's district (CA-10), but as one of the largest independent landowners within the Oakdale Irrigation District (OID), Brichetto provides the loudest and strongest voice for selling OID water to buyers south of the San Joaquin Delta—water sales cover OID's overhead and enable Brichetto and his friends in the district to get their own water at well below the cost of delivery.
Sacramento resident Tim O'Laughlin is OID's water attorney. It's his job to figure out how to peddle OID water without performing required Environmental Impact Reports. Lately, O'Laughlin's solution has been to abandon OID's water rights, release the water down the Stanislaus River to the San Joaquin Delta, have it pumped south, and "allow" Westlands Water District to pick up the water—for a fee of course.
Stewart Resnick is perhaps most famous for pomegranates. He and his wife Lynda are the masterminds behind, "POM Wonderful," the popular and much touted pomegranate juice. But Resnick is also the owner of over 180,00 acres of orchards, mostly pistachios, in the southern San Joaquin Valley. His thirsty trees consume over 400,00 acre feet of water a year, and much of that water comes from northern California via the San Joaquin Delta.
Though far out of Resnick's congressional district, Jeff Denham is among the top ten recipients of donations from Stewart Resnick, and Resnick's generous offerings are almost equally matched by  Brichetto and O'Laughlin. And though most northern California farmers would agree that sending water south from the San Joaquin Delta has caused environmental harm and threatened their own water rights, Jeff Denham himself is on record as saying water shipped from the Delta helps farmers in his own district.
In a recent Twitter exchange with Josh Harder, Denham claimed water pumped from the Delta, "goes to district farmers." While technically true, the only CA-10 farmers who benefit from Delta water are those within the Del Puerto Water District and smaller districts nearby, which encompass a narrow swath along Highway Five in western Stanislaus County. And even in those cases, the water is apportioned according to prior water rights—Del Puerto's rights are far down the list.

The vast majority of farmers in Denham's Congressional District 10 get their water from three of the oldest and strongest water districts in the west—the Modesto Irrigation District, the Turlock Irrigation District, and OID itself. These districts not only don't get water from the San Joaquin Delta, they don't need it. They have some of the most senior water rights in the state.
Nonetheless, Jeff Denham's support for sending water south isn't just registered in a misleading but revealing Twitter remark. Only recently, Denham voted in favor of legislation that would prohibit lawsuits against the Delta Twin Tunnels (Bay Delta Conservation Plan), a multi-billion dollar project that would make it easier to deliver northern California water south through the San Joaquin Delta.
Here's the exact language from the rider to H.R. 6147:
Sec. 437. Nothwithstanding any other provision of law, the Final Environmental Impact Statement for the Bay Delta Conservation Plan/California Water Fix (81 Fed.Reg. 96485 (Dec. 30, 2016)) and any resulting agency decision, record of decision, or similar determination shall hereafter not be subject to judicial review under and Federal or State law.
Jeff Denham voted "yea."
In fact, it would be a surprise if Jeff Denham ever voted anything other than "yea" for a bill or rider sponsored by a fellow Republican. Jeff Denham votes with his president and party 97.8% of the time, whether it hurts his constituents or not.
And Denham has been working for years with fellow congressmen David Valadao and Devin Nunes, who like to say they favor water for, "Central Valley farmers," when in fact they favor water for farmers in the southern San Joaquin Valley. The Trump administration's recent demand for increased pumping from the San Joaquin Delta also refers to the "Central Valley Project," but the term is again misleading.
Used accurately, the term, "Central Valley," refers to the area stretching from Redding in the north to Bakersfield in the south of what is also known as the "Great Valley." Valley lands north of Stockton and on to Redding are known as the, "Sacramento Valley," and the region from Stockton south to Bakersfield is called the, "San Joaquin Valley."
Ordinarily, the distinctions don't make much difference, but when people hear the words, "Delta water for Central Valley farmers," coming from the lips of politicians, they need to realize that in that case "Central Valley" really means, "southern San Joaquin Valley."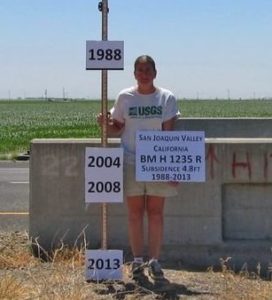 Farmers in the southern San Joaquin Valley long ago used up their own water. They pumped so much groundwater by the mid-twentieth century that the land in some places sank almost thirty feet. Some farmers are still pumping and the land is still sinking. They also used so much water from the San Joaquin River that a sixty-mile span dried up every summer.
Ever since the almond and pistachio boom, those same farmers have wanted even more water, but the only source available is from northern California. A good businessperson would think that shipping priceless water from a region where it is plentiful, inexpensive, and nearby, to a place where it is scarce, expensive, and distant, doesn't make sense, but selling water isn't about making sense, it's about making money over the short term.
Stress on the San Joaquin Delta is a major factor in reduced water allocations for northern California farmers, and if the Delta Tunnels get approved, even more northern California water will go south. Jeff Denham voted to prohibit lawsuits against the tunnels and says water shipments south help, "district farmers." He couldn't be more wrong.
Sending water south is both environmentally and economically unsound and it hurts all but a few District 10 farmers by creating demand for water to reduce environmental stress on the Delta. Jeff Denham doesn't care. Instead, he supports the Trump administration's plan for pumping more Delta water south. For Jeff Denham, as for most career politicians, when it comes to water, it's always, "donors first."