Sometimes the Valley's science-deniers get to be too much for Dr. Richard Anderson, a retired Professor of Biology formerly at Modesto Junior College. With a PhD in plant cell structure and a master's degree in in marine biology, along with decades of further study, Anderson offers clear explanations of climate change basics. Like all great teachers, he has a special gift for making complex issues clear. Here's his response to those who deny or don't understand the science behind climate change.
A dominant problem blocking many people from recognizing that human CO2 emissions are overheating the Earth is that they know Earth's climate has drastically changed in the past. They then reason that present-day warming is just another natural swing of the thermometer.
A couple days ago, a friend asked me, "How do I know this global warming thing isn't just another cycle that has happened for thousands of years?"
In 2009, a CSU Stanislaus professor presented a Science Colloquium talk at MJC, "Climate Has Changed for 3 ½ Billion Years; Why Should it Stop Now?" Check out: https://vimeo.com/647014371.
Just this November, an MJC philosophy professor railed at me in an email,
"I am AMAZED that you can swallow this "Climate Change" garbage you are selling, after reviewing just a bit of the Geological history of earth. Of COURSE the climate changes back and forth.

"There have been VAST swings in temperature and CO2 levels over the past 4 and a half billion years on earth.  The "burning" question here is whether or not the CO2 levels are the main driver of Climate change, and whether present CO2 levels threaten to burn us all up.  The answer to these questions appears to be a resounding NO."  
In 2013, Dr. John Holdren, Barack Obama's science advisor, was grilled by Rep. Wayne Stockman of Texas during a Republican-led inquiry to find the truth about current global warming. Check this out: https://youtu.be/nVqKZqgx3W4.
Holdren points out that current science shows that the ~100,000 year Milankovitch cycles start and end the recent ice ages. The temperature of Earth starts rising at the end of an ice age, causing the release of CO2. This comes from the warming oceans and the release of coastal methane hydrates, release of methane from soils like tundra and peat bogs, and more. The CO2 rise is a positive feedback mechanism result, not the first cause of the warming. All of these are operating right now.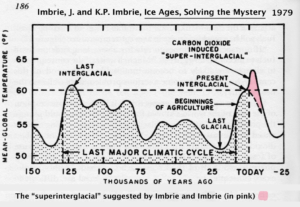 Orbital cycles as the cause of ice ages is not a new idea.
Check out this graph showing the extra warming of our Earth that was predicted by earth/climate scientists as early as 1979, by J. and K. Imbrie, authors of, Ice Ages, Solving the Mystery.
Spend a few moments pondering this graph. It shows that we presently are in an expected cooling period, leading into the next ice age.
But Earth has NOT started to cool down. Why? It's not a secret: Anthropogenic global warming. The Imbries say we are now in a "Super-Interglacial."
Climate scientists don't just make this stuff up. Here is a graph of data from the Russian ice core drilled above Vostok Lake. Note in the upper right, the CO2 is now 414.57 parts per million on 11/15/21, and rising.)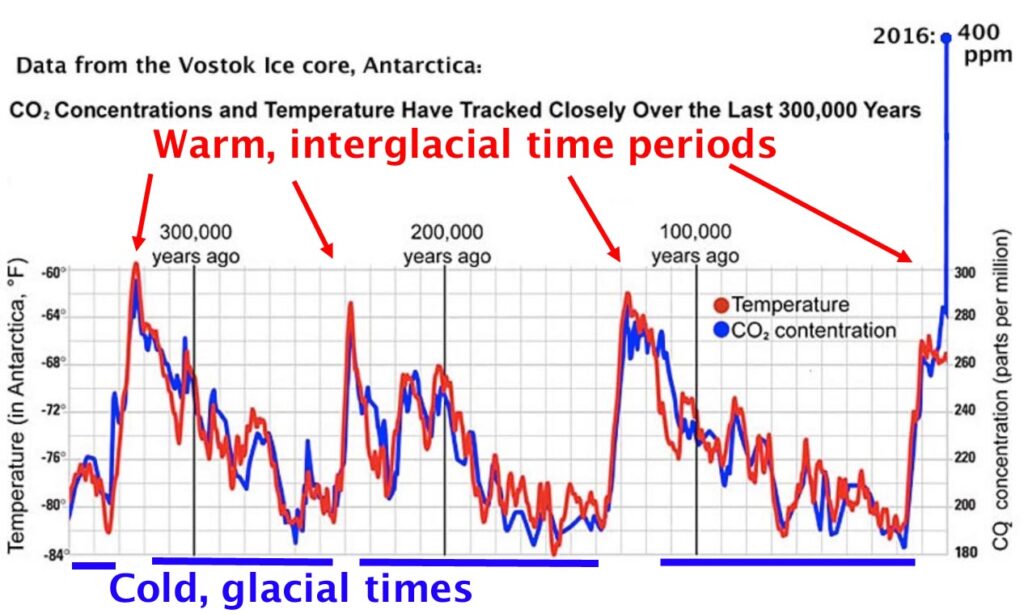 Readers may be familiar with this graph. Temperature is the red line; the CO2  concentration is the blue line. There are people who discount CO2's importance because at the start of a glacial period, the temperature may rise a bit BEFORE the CO2 rises. Some erroneously conclude, "Therefore CO2 isn't the cause of ice age temperature swings."
The reality is that CO2 is not the primary cause of the warming. It is an amplifier of the orbital cycle effects. Until we can distinguish between these two forces — causes versus amplifiers — we'll continue to misunderstand climate change. Even worse, we'll continue failing to address one of the greatest natural calamities humankind has ever faced.
That is, as we humans add over 30 billion tons of CO2  annually to our air, this warms the Earth, makes our oceans more acidic, causes the oceans' volume to expand and sea levels to rise, and exacerbates so many climate and ecosystem disruptions that we are enduring a growing assault on the future security of people everywhere.