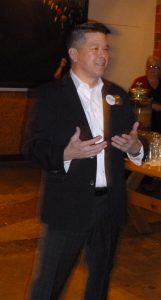 TJ Cox doesn't enter a room, he explodes into it, hurled by some mighty force of nature. His arrival is usually accompanied by a loud, "Hey," uttered when he recognizes someone he knows. Cox was especially buoyant at Wednesday night's meet-and-greet at Modesto's Camp 4 Restaurant, where he seemed to know everyone.
Cox may be shorter than average, but his positive presence is almost larger than life. He's both high energy and an energizing force, and he's booming along the California District 10 campaign trail like a Valley version of the Wabash Cannonball.
Cox emerged from the first two debates among contenders for Jeff Denham's congressional seat with narrow polling victories, and seems to be gaining momentum almost daily. Though most people think it's too early to back anyone in a race with so many excellent candidates, Cox recently received an endorsement from Stanislaus Resistance, a Facebook group with over a thousand members.
Modesto impresario Chris Ricci, in recovery from a former life as a Republican, has become one of Cox's most enthusiastic supporters.
"TJ's already done the things we need most from a representative," said Ricci recently. "He's created jobs, he's gotten federal and private funding for successful business projects, and he's helped train people to succeed and be self-sufficient."
Cox's résumé does indeed seem tailored to many of the Valley's most urgent needs. He's helped create over 1500 jobs in a Valley full of people starved for employment. He's helped fund five community clinics that deliver health care for over 26,000 Valley residents. He's also hard at work helping people who need it most to obtain affordable housing.
Though Cox is vying for a win against the strongest field of Democratic candidates in anyone's memory, he's already demonstrated a couple of key advantages, one of which is the ability to raise money. His debating skills have also become increasingly evident, and so has his poise under pressure.
Savvy Democrats know that in order to prevail against Jeff Denham they'll have to field a candidate who can stand toe-to-toe against the Republican heavyweight and take him out. At first glance, Cox would appear to be overmatched. But after seeing him in action, it's easy to imagine TJ Cox replacing Jeff Denham's old and tired "local farmer" act with an action adventure into a new world of hope and promise for Valley citizens.
Cox says that when he was in school, his sport was wrestling. Lately though, he's starting to look more like a scatback—one of those diminutive football players who disappears into a tangle of bodies at the line of scrimmage and then bursts free, with only one or two tacklers in front of him. And this much is certain: Once Cox does burst free, no one's going to catch him; he's too quick, too smart, and too committed to making things better for everyone, not just the favored few.