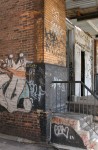 For over 30 years, various political groups and private citizens have worked for the preservation of farm land for future generations. With the current proposal by the City of Modesto to appropriate Wood Colony for an industrial park, now is a good time to look at the big picture of Stanislaus County's economic development.
The Economic Goal of Urban Developers
The primary goal is to entirely destroy agriculture and replace it with urban development. Former Stanislaus County Supervisor Jeff Grover once told this writer that he would like to see urban development built out to the County line. He said that local agriculture has little value in food production because only "luxury crops" like almonds are grown here. This same refrain has been repeated countless times by real estate brokers, home builders, and politicians (only when speaking to certain groups).
To the urban development industry, the fact that local agriculture generates income of over $3 billion yearly in Stanislaus County doesn't matter. Nor does it matter that agriculture and related businesses employ more citizens than any other industry. According to urban developers, more money is to be made in subdividing property and building new buildings for the coming masses of people. They say that urban development will provide more high paying jobs and full employment.
The Local Economic Reality
Flying in the face of the developer creed are the facts that Modesto's population increase has been minimal for the past 10 years, with numerous vacancies, abandoned houses, and empty stores, warehouses and manufacturing buildings scattered throughout the city and Stanislaus County.
Urban developers ignore the realities and limitations for development in the Great Valley, declaring that the people who want to save farm land are responsible for the decline of the community. They say that if only developers could build whatever they want wherever they want, there would be more than enough jobs and prosperity.
Even though land is available for development in hundreds of communities throughout the Great Valley, economic depression and unemployment are pervasive. Rather than develop on lesser soils, developers insist they need to take the productive farm land that actually contributes to local prosperity.
Developers presently want Wood Colony. If they can't have Wood Colony, they may offer to "compromise" by taking farm land elsewhere. Urban developers will never be satisfied until all of the farm land is gone.
A Forgotten Agreement
Those who have participated in Modesto's local politics for many years may remember when an agreement was reached for Modesto to develop west of Carpenter Road. The outside boundary of the general plan was to end at Morse Road on the west.  Once the line was reached, Modesto's build out to the west would be complete.
Thirty years later, everyone who participated in the agreement is gone. No one remembers the agreement, so developers started negotiations over as if no agreement was ever made. Thus, city boundaries will be pushed out in perpetuity, with each "compromise" only a temporary agreement favoring urban developers.
Development in the Last 30 Years
If one looks at the urban development in each city of Stanislaus County just 30 years ago and compares it to what has been developed as of today, one would be shocked by the cumulative effect of all the "compromises" between farm land preservationists and urban developers.
One would notice the rampant sprawl of housing subdivisions. One would be surprised by the number of shopping centers and wonder how they all stay in business, especially considering the lack of progress in attracting high paying jobs to the area.
Where Will The Eventual Urban Boundaries Be Set?
If one asks a developer, the boundaries should be the Stanislaus County Line. If one asks a farm land preservationist, one will get responses ranging from wherever the present General Plan of each community says buildout should end to existing urban development.
Perhaps, the inability of the farm land preservationists to take a hard line stand has enabled urban developers to capture city councils in every community and use land as they please.
Non-Political Limits To Urban Development
Regardless of the arbitrary map lines or the purported economic necessity to add land for urban use, Stanislaus County has not yet awakened to the real limitations for urban development.
The current drought is one reality check. Modesto's residential areas have been on water rationing for over 20 years. Outside watering has been allowed only 3 days per week. With Sacramento recently imposing a 1 day per week rule, Modesto will be tightening the rationing.
What business is going to relocate to a community with water rationing?  Who wants to move to a community without enough water?
The other dream that has been shattered by reality is that good jobs are coming.  They may never come.
For many years, urban developers have been saying that if only this or that occurs, Silicon Valley will start sending their high paying jobs out here.  Why?  Because Stanislaus County has a lower cost of living.  Houses are less expensive. The quality of life is…..
Unfortunately for the dreamers, high tech is moving in different directions. Some of it has relocated to downtown San Francisco (!). Despite higher costs of living, that city has many more amenities. Other high tech has moved out of state. Arizona and Texas have managed to capture companies that Stanislaus County dreamers thought would move here. Other states have a reasonable cost of living and more amenities than central valley towns like Modesto.  They aren't ranked at the bottom of livability surveys.
Will Stanislaus County Ever Prosper?
As long as urban developers run local politics for their own financial benefit; as long as citizens interested in building a better community are kept from office; as long as the quality of life remains so low that the area gets poor livability ratings; as long as the crime rates remain so high relative to the rest of the country; as long as there is water rationing; as long as the streets are not cleaned; as long as the community does little about property eyesores; as long as the homeless and derelicts maintain such a high profile; as long as the citizens don't trust their local government to properly spend tax dollars, then Stanislaus County will probably not achieve much prosperity.
Instead of growing food, Stanislaus County will grow urban blight.