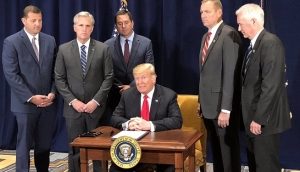 From Restore the Delta: "Congressman Denham, who claims to be against the Brown Administration's WaterFix tunnels, has, however, also voted for and helped to advance the controversial Calvert and Valadao riders in the Department of Interior House Appropriations bill. The Calvert rider would strip Delta residents of due process rights by blocking their ability to litigate over the tunnels project, while the Valadao rider would block Delta residents from being able to litigate over the operation of the Central Valley Project."
Jeff Denham's celebrity campaign hit a new high over the weekend. After bringing in Secretary of Interior Ryan Zinke a few weeks ago, Denham followed up a short time later with Secretary of Agriculture Sonny Perdue. The idea was to show Denham's tight connections to DC power, which only a short time ago was known as the swamp Donald Trump was promising to drain.
Now the swamp is populated by the likes of Zinke, who has shown a special zeal for offshore oil drilling and making what appear to be  self-interested deals with the CEO of Halliburton. And Secretary Perdue has the distinction of heading the Department of Agriculture when Trump's tariffs are making Midwestern farmers dependent on subsidies, a form of welfare the Republican Senator from Wisconsin Ron Johnson likened to a, "Soviet type of economy."
Tariffs and graft notwithstanding, Jeff Denham seems to think close association with Washington DC will help people forget how little he's accomplished after eight years in Congress. By far the most revealing attempt is Denham's most recent group photo op with Donald Trump, Devin Nunes, David Valadao and Kevin McCarthy.
The photo shows Donald Trump signing legislation Denham said would help stop the state "water grab," a proposal to increase flows along the rivers in and near Denham's Congressional District. Denham is quoted as saying,
"My number one priority has always been to deliver more water to the Central Valley. This order will reduce regulatory burdens and promote more efficient environmental reviews of California water storage projects, ensuring that Valley farmers and residents have a supply of water for generations to come."
But "Central Valley" means something far different to Donald Trump, Devin Nunes, David Valadao, Kevin McCarthy, and Jeff Denham than it does to most people. That difference can be best understood when one realizes that delivering, "more water to the Central Valley," really means pumping more water south through the San Joaquin Delta.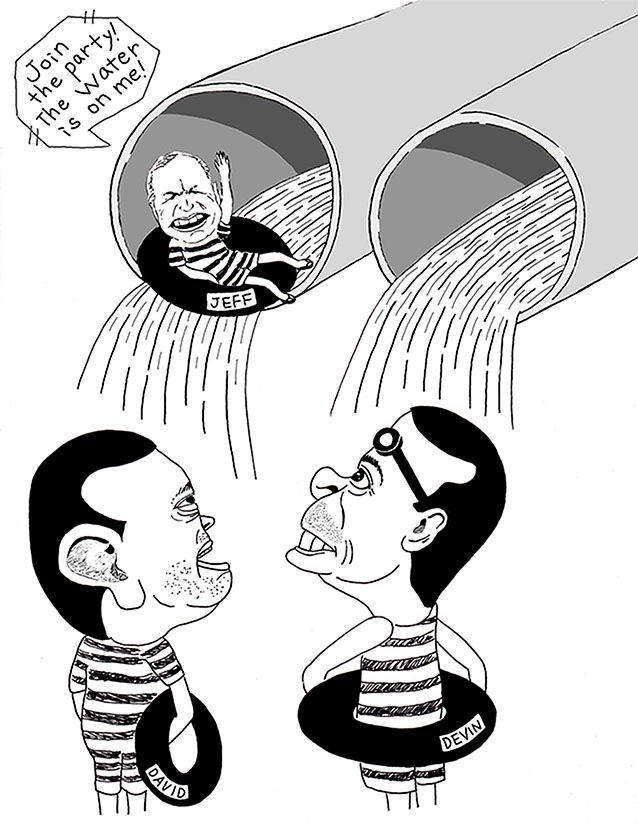 That water isn't intended for the Central Valley at all. Instead, it's intended for the southern San Joaquin Valley, where McCarthy, Valadao, and Nunes need it for political survival.
As for Jeff Denham, it's conceivable he doesn't even understand the water dynamics of his own district. More than once, Denham has argued that pumping water to his friends Nunes, Valadao and McCarthy doesn't affect his district because California Congressional District 10 is "south of the Delta."
But some of Denham's biggest contributors are advocates of selling Oakdale Irrigation District water to buyers outside the district, especially Westlands Water District. That District 10 water is sent south through the San Joaquin Delta.
Probably the greatest irony of Denham's latest photo-op with his buddies down south is it offers even more evidence that Jeff Denham is in favor of selling his own district's water. In August, Zinke himself instructed his aides to find ways to enable more water deliveries through the San Joaquin Delta. Trump's latest fanfare with Denham and his buddies down south is yet another attempt to make voters think Denham and company can hurdle state and federal laws that limit how much northern California water goes south.
But there is one thing voters should keep in mind, and that's if Jeff Denham and his friends down south ever do get what they want, District 10 residents can kiss their water goodbye. Jeff Denham votes with his party 97.8% of the time. And all anyone who thinks he will put people over party needs to do to learn the truth is check his record.