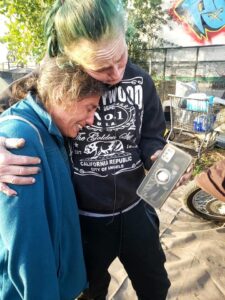 When death takes a homeless person, there are cold facts. If they die walking home from a store alone, the coroner will eventually pick them up and take the remains to the morgue.
The deceased may have friends, but they often do not have any next of kin to claim them. They usually have a tent and possessions somewhere, even friends, or a spouse. No one in an official capacity will know about these things. No one will be going to their address to tell their loved ones the tragic news.
Oftentimes, because homeless people rarely have credentials like driver's licenses, there will be no identification unless they are well known to police. It could be an exceptionally long time before a positive identification will give them a name.
When death comes to a homeless camp, someone must locate a phone and make a call to have the authorities visit the encampment, often hidden and illegal. In order to allow medics in the area, the authorities have to take measures for their safety. The police must navigate the camp for safety risks and identify the people who are there. They must figure out the layout, avoid all the dangerous items, and the unsanitary nature of the camp for their own safety. This causes delay and often hysteria on the part of those hoping that the person with fast attention will recover.
Once the EMT's and paramedics can access and begin CPR, precious time has expired. Everyone is aware of that. No one is comfortable at this point. Everyone is facing the awful truth that this place is where so many things are potential killers, yet everyone is wanting this to be that one time when the patient recovers.
When Edward "Popeye" Peacock died on November 7 at a location near a freeway bridge between Modesto and Ceres, he was a well-known vagrant, character, and friend to  many, but not all. He had leadership ability amongst those who occupy the illegal encampments. He watched over those who were defenseless.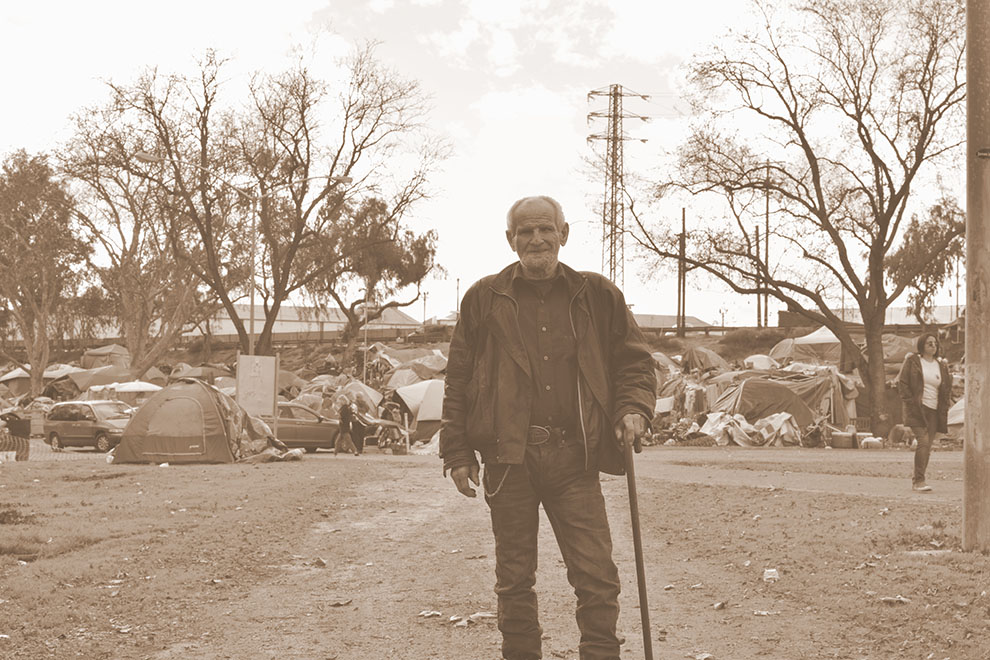 During the time he became more ill and unable to care for himself, his partner Lacey was sent to jail. Christina then became his helper. She had him sleeping nearby while she watched for signs signaling it was time to call an ambulance.  She had a cell phone with minutes. When Popeye began to cough and fail, she made that call and waited the extra time it takes to get the authorities into the camp.
She saw the awful things that occur when the body is rejecting life. She tried her best to do CPR or something to save his life. The next part, when the medics do what they do, and then drive off, is harsh. They have the body of a man these people know intimately well, some for more than 20 years.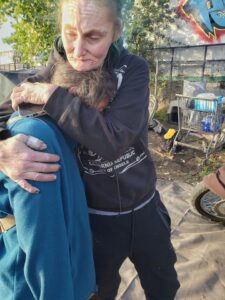 No one will pick up his body from the morgue. No one will come and collect his valuables. Christina will now look after Little Sherry, a developmentally disabled woman Popeye watched out for. There will be no funeral. Christina will also have to break the news to others who were absent while this happened.
This is death in a homeless camp. A friend and I visited to honor this death. We know that everyone must grieve and share memories, to honor and remember him. They need to speculate, articulate, and ask questions. They need to describe the scene and how it was for them. Sometimes there is that one person who suspects foul play. Fortunate people with homes can sit on comfortable chairs in warm homes and share their grief with visitors who stop to pay respects. Not so among the homeless.
In Popeye's case, his disoriented friends are unsure of how to tell his incarcerated female partner. Those who did not see him die or even know he was sick could be thinking he will recover in the hospital. Others are thinking their turn is next, but for sure no one has a comfortable chair and a box of Kleenex, and no one is visiting to pay respects.