Cheryl Littlefield's daughter, who prefers to remain anonymous, was stunned when she found her mother on the street last Thursday.
"The last time I saw her was in November," said the daughter. "She still had her room then. It was packed full of her belongings and a lot of trash, but her rooms have been that way for years."
According to her daughter, Cheryl has a history of mental illness going back decades. "My father got custody of the kids when we were small," she says. "That's how bad it was, because back then the mother almost always got custody."
Despite being raised by her father and a stepmother, Cheryl's daughter has always tried to keep in touch, even through all her mother's erratic and sometimes threatening behavior. She says Cheryl lived with a man for years in a trailer park on south 7th Street in Modesto, but has been on her own for at least a decade.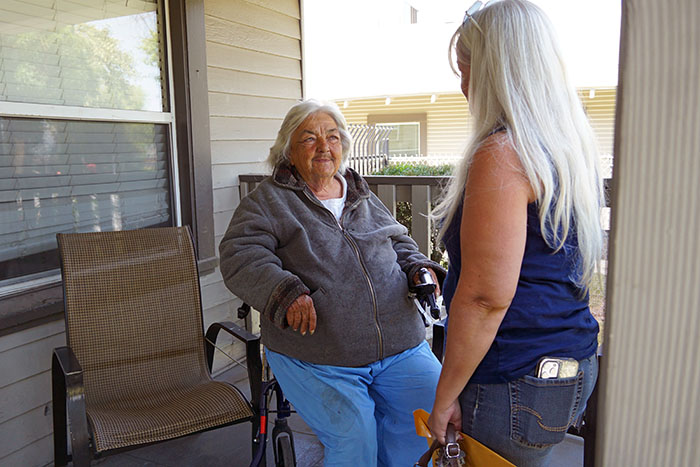 At one point, she lived in Shiva's Motel on south 9th Street, which became uninhabitable after a fire in 2014.
"She got worse after the fire at Shiva's," said her daughter Sunday. "But up until recently, she had another room and I still checked on her."
Cheryl apparently lost her room not long after her daughter visited in November, but she kept telling anyone who asked she still lived there. Cheryl's daughter only learned Thursday that Modesto's Homeless Engagement and Rescue Team had removed her from the streets in early March.
No one is sure how the seventy-four year old woman ended up back on the sidewalk after a circuitous journey through Stanislaus County' systems of care, but outreach workers acted swiftly when they learned on Thursday that she was back at her old haunts on south 9th Street. Despite clear signs of mental illness, Cheryl may have convinced people she still had a room and could take care of herself.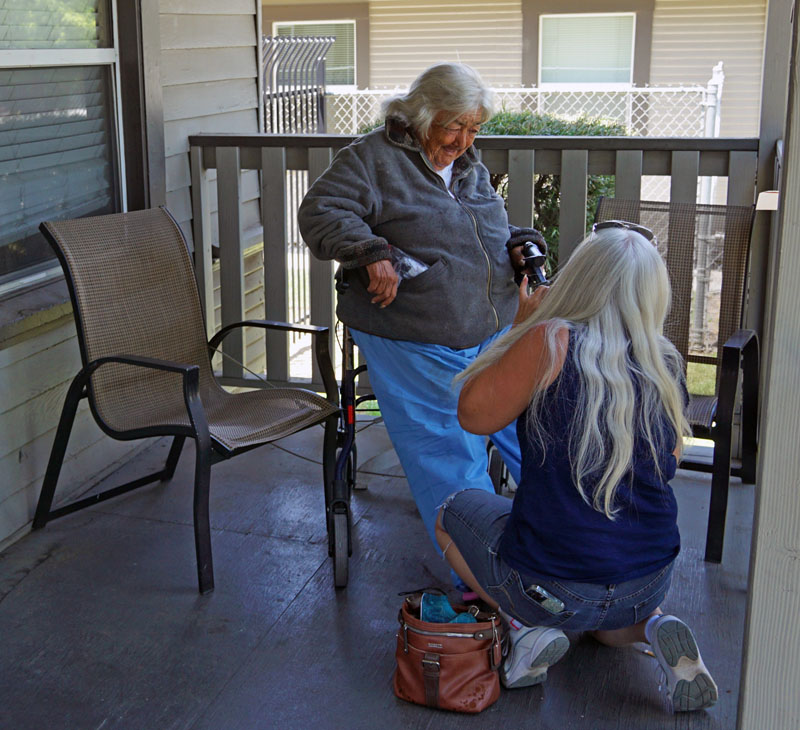 By Friday, Cheryl had been transported to a secure location in Modesto, not far from where she was found. Within a short time, she had clean clothes, a bed, a bathroom, and access to care. However, her situation is still precarious; her current location is a transitional facility. Her daughter is working with Stanislaus County authorities to find her a suitable place to live permanently. Even while aware of how difficult it is to find care for the mentally ill, she's determined Cheryl won't have to endure the peril of today's urban streets, where a mentally ill elderly woman can be especially vulnerable to cruel predators.
During a visit on May 16, mother and daughter enjoyed discussing a future that will include sleeping on a bed instead of the sidewalk, and ready access to compassionate care. Cheryl seemed delighted when her daughter knelt down and inspected her feet, saying, "We're really going to have to do something about those toenails."