We first saw Cheryl Littlefield on south 9th Street in Modesto in late January. She was badly soiled and had obviously been sleeping outside for several weeks. Her fingernails and toenails were grotesquely long and dirty. Prior to living on the street, Cheryl had had a room at a nearby motel. She said she lost the room when it, "caved in."
Her income is managed by a local payee. Payees are assigned to people who can't manage their money. The payee makes sure rent and other necessities are paid before issuing whatever is left over to the client.
In March, the manager of Cheryl's former motel room said the payee had moved her to a different location. She says she's unaware of the move and seems determined to stay within a few blocks of the motel she lived in for years.
Around mid-March, after repeated attempts by county workers to get her to a shelter — she refused to go in — Modesto Police Sargent Mike Hammond and the Homeless Engagement and Rescue Team (HEART) were able to get her into an ambulance. She was taken to a Modesto hospital for evaluation.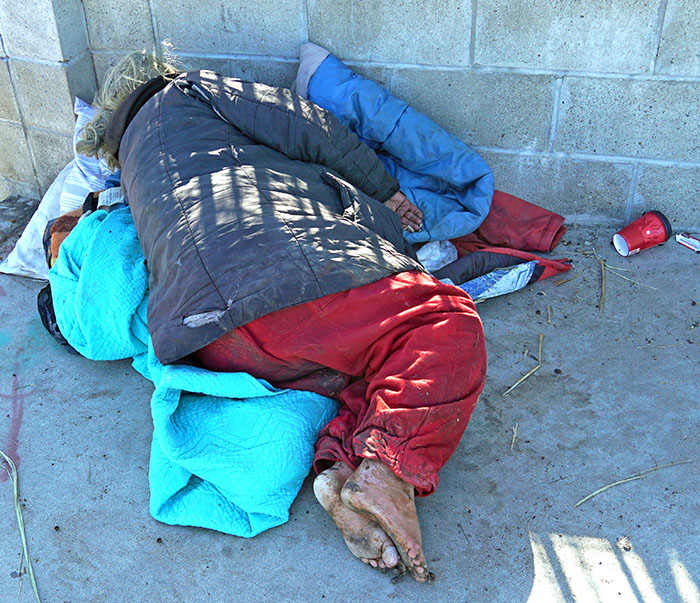 Once released from the hospital, Cheryl went to the Modesto Gospel Mission. Or maybe she went to Stanislaus County's Behavioral Health and Recovery Services (BHRS) center. In a typical scenario, no one who has tried to follow her case is certain exactly where she went, or how, or when. Some think she was turned over to Adult Protective Services. Confidentiality rules prohibit hospitals, public agencies, and public employees from releasing information that might promote better understanding of the breakdown of our systems of care, so Cheryl's exact path is difficult to follow.
For a while, once she was at the Mission, Cheryl slept on the concrete entryway at the  entrance, sometimes in her own waste. After a few days, she began going inside at night, and using the beds and showers. By then, she had clean clothing and her nails and hair were tended. She spent her days outside on nearby sidewalks.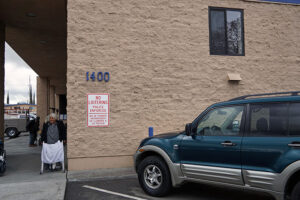 After a few weeks at the Mission, Cheryl wandered away. She was located and turned over to another agency, or maybe Adult Protective Services again. The few people who know exactly what happened won't talk.
She then spent a few days at a transitional care home. At some point, Cheryl had a room at a motel on McHenry Avenue. The manager of that motel thinks she was there for "about eight days." He says she was taken away by a, "blue van."
Cheryl says her payee removed her from the motel and brought her back to her current location on south 9th Street, exactly where she was found in January. Her memory may or may not be reliable. When asked how long she's been back on the street, she says, "Since June 1st." She doesn't know the year, day, or month, and doesn't know who the president is.
When people talk about cases like Cheryl's, they invariably invoke clichés about, "falling through the cracks" and "gaps in the system." Those responses are misleading. There are no cracks and there is no system. For most homeless people in dire need of help, there is only a yawning hole, the upper rim of which is composed of social services, churches, charities, non-profits, and volunteers, all of them underfunded, understaffed, and overwhelmed. The least understood component is social services.
Government funded social services are the supposed safety net into which people like Cheryl Littlefield are placed. Again, it's not a net, it's a hole. People like Cheryl Littlefield often run the gauntlet of services, sometimes over a period of months, only to find themselves back on the street, often the very same places they fell into the hole we know as the, "system of care." It's also known more widely as, "help," a misnomer that has thus far prevented the public from understanding the primary reasons homeless numbers keep growing.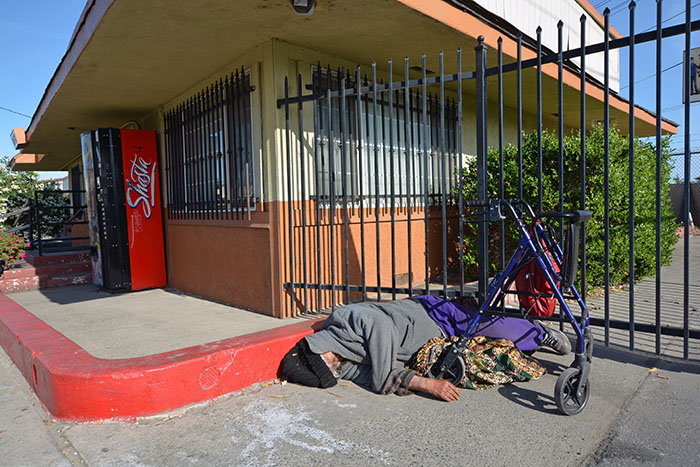 For the seriously mentally ill, one of the stops along the rim of the help hole is jail. That's where Mary Baca is now. We first wrote about Mary almost six years ago. She's clearly schizophrenic (see minute 4:33 of video and on) and to the best of our knowledge has had exactly one visit to BHRS during all her years on the streets. Once out of jail, she will almost certainly be returned to the streets.
Mary's case isn't unusual. In fact, jail has become the default alternative to the streets for mentally ill homeless people. Between 2009 and 2019, "the proportion of incarcerated individuals with an open mental health case in California jails rose from 19 percent to 31 percent." Even more telling, the total number of prisoners actually decreased during that same ten-year period. Yes, the number of people incarcerated for crimes decreased even while the number of mentally ill prisoners rose.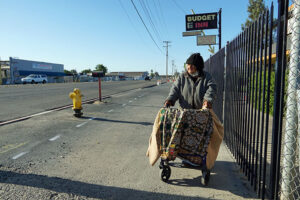 Cheryl Littlefield may or may not be mentally ill; however, she's clearly unable to take care of herself. At 74 years old, her money has to be managed, she sleeps on the streets, and when asked where the bathroom is, she points to her trousers.
This week, after county outreach workers were notified Cheryl was back on the street, they approached her with offers of assistance. She politely declined, and, in the public eye, will be seen as yet another homeless person who, "doesn't want help."
It may well be, however, that despite her diminished capacity, Cheryl Littlefield has learned firsthand that "help" for the homeless means a weeks- or months-long trip around our "system of care," followed by a swift and efficient kick down the rabbit hole that leads back to the streets. No wonder she doesn't want help.