Consider the case of a 74 year old woman who stood, sat, and slept in plain sight on the concrete along a busy street just outside Modesto's city limits for over six weeks, her pants soiled with her own waste, her fingernails and toenails grotesquely untended, and the space around her littered with trash and garbage. Consider also that she is almost certainly developmentally disabled, has an authorized payee, and earlier this year was living in a subsidized motel room.
Then consider the case of Mary Baca. We first wrote about Mary in October of 2015, when she showed up in a Modesto Park after several months living in her car. At the time, Mary showed clear signs of classic schizophrenia.
During her time on the streets — years now — Mary's mental illness has gotten worse. An award-winning vocalist, , Mary can be seen singing and playing guitar on a video taped by Richard Anderson in May, 2016. At :28 seconds in, Mary talks about life in Modesto's Graceada Park, and the seven homeless men responsible for home invasions in the Graceada neighborhood. Displaying textbook symptoms of schizophrenia, Mary discusses attempts by the seven underground men to control her mind.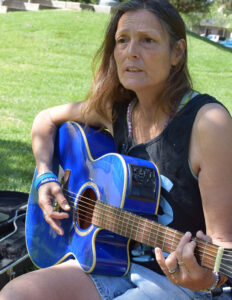 Over the almost six years since she became homeless, Mary has received help from local authorities exactly once, when she spent 15 days at Doctor's Behavioral Health Center, where she was prescribed medication and released back to the streets. Despite the best efforts of homeless friends, Mary stopped taking her medicine within a month of release. She reverted to severe schizophrenia almost immediately.
Last month, Mary was arrested on charges typically associated with homelessness, including, "Failing to leave property." She's currently in jail.
The 74-year-old woman?
After refusing numerous offers of help, she was taken off the street only when Modesto Police Sargent Mike Hammond went beyond the bounds of duty after hearing about her plight from outreach worker Randy Limburg of Telecare. Up until Hammond and his Homeless Engagement and Response (HEART ) team intervened, Limburg had been unable to get the woman to accept help. Today's laws being what they are, Limburg was powerless even to help someone so obviously in need.
Though Hammond and his team have many years' experience dealing with homeless people in crisis situations, it took extra measures of compassion, effort, and persuasion to get the woman into a better place, albeit still precariously short-term.
We cite these two cases as examples of inadequate systems of care, not because people lack compassion and the will to help, but  because our laws so often prohibit intervention in clear cases of distress and our resources for addressing critical needs are far too limited. We could cite many, many more cases. Many of our readers could add to that number exponentially.
The point is that anyone who truly believes there are sufficient "services — including disability, mental health and drug and alcohol addiction resources" — for the hundreds upon hundreds of local homeless people who truly need them is either out of touch with reality or has never experienced the endless futility of dealing with our systems of care. Just ask Steven Finch.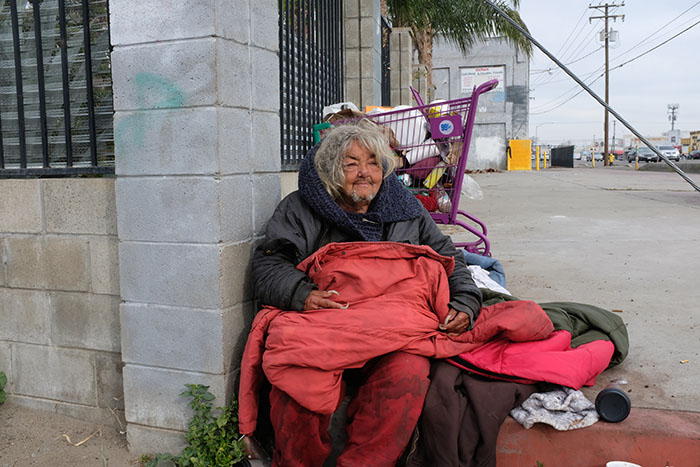 Finch recently formed "SHARE," the Stanislaus Homeless Advocacy and Resource Enterprise. Finch thought applying a successful model of individual sponsorship and assistance from other volunteer organizations would work with homelessness. He soon found that,
"Agencies and non-profits are so strained and understaffed they are at a breaking point," They refer you back and forth and the referral is sometimes to a phone with no answer and a mailbox that is full. There are many good people in this work, but it seems their hands are tied."
Finch also learned that a great deal of local budget money for homelessness,
"Gets burned up by short-term congregate living solutions. These are not a solution for many people, so they end up back on the streets. I spoke with the Director at Family Promise and she said they could ramp up their program to 4-5 times the size and pace, but at the end of the day, there is NO long-term housing for graduates of the program."
Given these realities, the  City of Turlock's recent  decision to spend half a million dollars on a 120-day project to reduce the effects of homelessness citywide is indefensible. Most of the money will go towards expanding the number of available beds in congregate living facilities. Assuming the beds fill — an optimistic projection at best — the chances a significant number of people will move from those beds to better situations than they're currently experiencing are infinitesimal.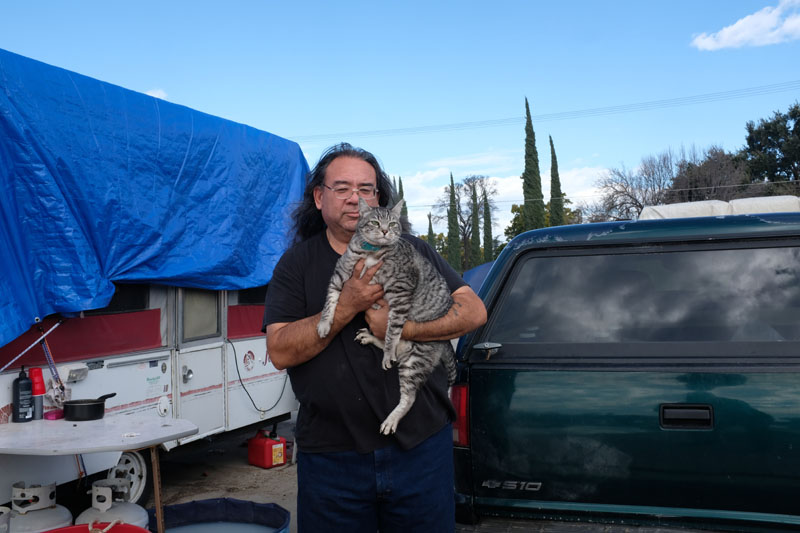 Theoretically, the beds will be needed to accommodate homeless people who've been forced to move from current locations, especially highly visible camps. Many of those people have been living in cars, campers, motor homes and trailers. Asking them to move into congregate living during a pandemic, especially in a county notorious for its failures to address Covid-19, is like asking the household cat to take up residence in the hot tub. Good luck.
Doubtful? Just ask anyone with a few years' experience dealing with homelessness.
Sweeps of homeless people generally occur once or twice a year. The City of Modesto has recently engaged in yet another one. It includes a coordinated effort by the Modesto Police Department, Stanislaus County Sheriffs, and Caltrans. The results are visible to the naked eye. Homeless people, formerly camped under bridges, along railroad tracks and highways and in other out-of-the-way places are now stranded in local parks or sitting on curbsides downtown. They're everywhere.
Despite repeated failures to reduce homelessness, sweeps remain the default strategy for authorities in Stanislaus County. Sometimes they're accomplished with much fanfare, like the current sweep in Turlock. City and county officials release detailed plans about beds and services, in hopes the public will yet again fail to learn from experience.
But even the most gullible onlookers can't ignore the evidence of their senses, and by every indicator, homeless numbers have risen every year. In fact, even when Turlock adds beds, there won't be enough to accommodate current numbers of homeless people.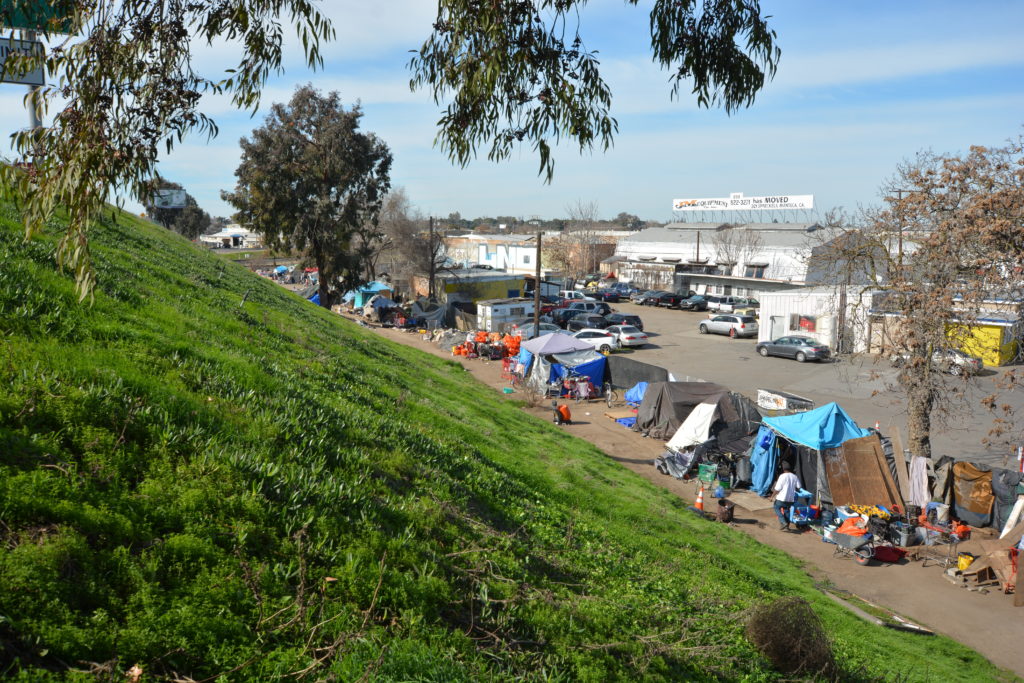 And that brings us to the recent decision by the 9th Circuit Court, which holds that homeless people sleeping on public property can't be required to move or penalized if there are no other places available to lay their heads. Given that shelters throughout Stanislaus County have been at reduced capacity because of Covid-19, there has been no way to argue homeless people have alternatives to sleeping outside.
Nonetheless, authorities have persisted at chasing homeless people, claiming that, "We always have five or six places available." The claim is so thin that even authorities accustomed to bullying people who can't afford attorneys have gotten nervous about the prospect that a pro bono law firm might come along and expose their bluffs.
However, if cities and counties do manage to add beds, and if Covid does become manageable, then their argument about having enough beds becomes a little stronger — but only a little. The fact is, the 2020 Point in Time homeless count for Modesto registered over 1592 homeless people in the city alone, not including people outside the city limits. Most experienced observers agree it was a significant undercount of true numbers. Add all available beds together throughout the city, and the total is still far short of even a thousand, let alone more.
So in addition to accomplishing little to nothing in reducing homelessness, today's sweeps leave local authorities legally vulnerable, especially since they have better options.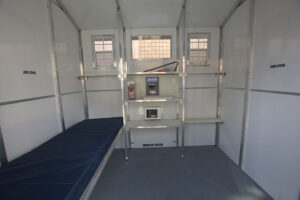 One such option, much favored by people on the ground, is to permit people living in cars, trailers and motor homes to park in designated areas. They could be approached on site by outreach workers and the costs of care and law enforcement would drop exponentially.
Another option is permitted camping. Modesto showed promising success with permitted camping when it approved of MOES (Modesto Outdoor Emergency Shelter), a tent encampment that sheltered homeless people at a cost of approximately $13 per day.
In addition to permitted campsites, cities throughout the west have recently begun establishing "bridge" communities featuring tiered housing options such as Pallet Shelters in cities like Fresno, Los Angeles, and Sonoma, Conestoga Huts in the northwest, and various kinds of sheds. The advantages of permitted camping and tiered housing options include reduced costs for law enforcement, easier access for social service providers and volunteers, and lowered costs of health care and emergency assistance for homeless people.
As for spending more money on beds in congregate living situations, the record is clear: It doesn't work. The return on investment is illusory and ephemeral.
Citizens who want to see homeless numbers improve need to penalize repeated failures by public officials to act effectively, and reward efforts that reduce harm. The time-honored way to do so is via the ballot box.