Alan Davis, the wheelchair-bound double amputee who has haunted the streets of Modesto for the last few years is safe inside — at least for now.
Homeless outreach worker Randy Limburg found Davis near 9th and J Streets in downtown Modesto early in July, badly soiled and ravenously hungry. It wasn't long after Davis's friend and advocate Frank Ploof had found him across town and taken him for a shower at Church in the Park's Shower Shuttle off Yosemite Avenue, near the Modesto Gospel Mission.
After buying Davis a fish sandwich, French fries, and a milkshake from nearby McDonald's, Limburg started working his phone to see if he could get Davis off the streets. Davis had been at the county's Berberian Homeless Shelter earlier this year, but kept wandering away. Sometimes weeks would pass before he was sighted again.
Because Davis was in such obviously bad condition, Limburg was able to get him help from county authorities. Confidentiality laws prohibit knowing Davis's exact assessment or status, but Limburg and Frank Ploof have been able to follow him though the county's system of care.
When Ploof learned Davis had been sent to a county facility for observation and oversight, he began visiting him. A few weeks after getting inside, Davis was in much better shape than he'd been while on the streets of Modesto.
During a visit Monday, Davis said he was well taken care of and thankful he didn't have to worry any more about falling out of his wheelchair.
"Sometimes I'd go off and land in a bad place and it really hurt," said Davis. "I don't have to worry about that no more."
Davis said he was also happy to have a comfortable place to lie down. "My back doesn't hurt so much now," he said. "I can lie down and get some relief."
Asked about the food in his new resting place, Davis spoke fondly. "One night we had hamburgers," he said. "We get tacos, chicken, and sometimes bacon and eggs for breakfast."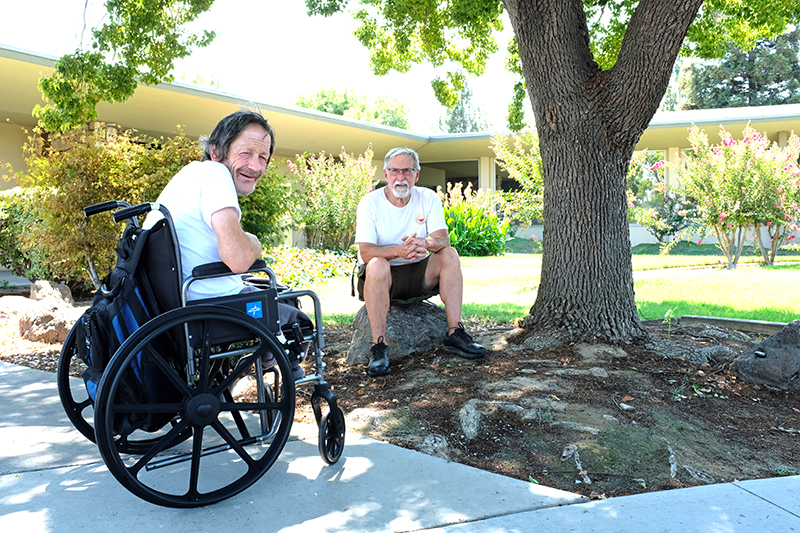 Davis said he's scheduled for dental work and new glasses next month. "Then I'm going to work on getting my SSI," he said.
Frank Ploof then reminded Davis, and not for the first time, that he already had SSI and a bank account.
"I do," said Davis, disbelieving.
Like many homeless people, especially the disabled, Davis is often disoriented. Though he's had disability income for many months, he seldom realizes he has money and even less often understands he can find shelter and care with help from friends like Limburg and Ploof.
Fortunately for Alan Davis, and thanks to the efforts of Randy Limburg and Frank Ploof, he's now under the supervision of county authorities and the care of highly qualified county staff.  He got off the streets in time to avoid a record-setting heat wave and has found relief from the hunger and pain he had experienced only weeks ago.
"I like it here," he said Monday. "It's a lot better."