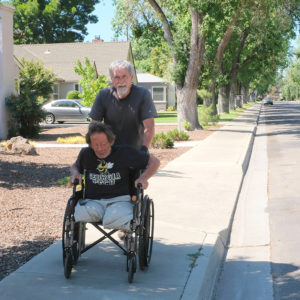 Last Tuesday, while he was pushing a wheelchair-bound, double-amputee along the shady sidewalks of Modesto's La Loma Avenue, Frank Ploof had plenty of time to think how he'd gotten there. It was circuitous story, one that always seemed to begin and end in the same place.
Just the day before, after Ploof had learned Alan Davis was badly soiled and in dire need of a shower, he had paid Davis a visit at his usual hangout near G Street and La Loma Liquors. Ploof had found the homeless man very near there back in September of 2019, when he had arranged to have him placed in a tent at Modesto's Outdoor Emergency Shelter (MOES).
At the time, Davis was in a wheelchair. Ploof later discovered that Davis had been homeless in Sacramento for over twenty-five years before he was sent to Modesto's Central Valley Specialty Hospital for rehabilitation after his left leg was amputated. When released from the hospital, Davis simply began staying on the streets nearby.
When taken to MOES, Davis claimed he'd been drinking, "three half pints," of vodka per day. However, once at MOES, he endured a short period of shakes and tremors, but never asked for alcohol. He easily got in and out of a donated bed and was able to use a handicap-equipped porta-potty by himself. After a while, Ploof helped Davis apply for and receive disability income, but Davis never seemed to realize he had money.
When MOES was shut down late last year, Davis was moved into the nearby county-maintained homeless shelter in the Salvation Army's Berberian building on 9th and D Streets. Almost immediately, even though it was winter and often rainy, Davis began leaving the shelter and staying downtown for weeks at a time. When asked why, he'd mumble something about not being able to use the bathroom, though it was handicap-equipped.
Ploof had since learned that at one time Davis had been diagnosed as seriously mentally ill. The diagnosis might explain why Davis seems easily confused by rules and expectations. By dint of persistent communication and effort, Ploof was able to get Davis back inside the shelter two or three times, but the man in the wheelchair always ended up back on the streets. He was often hard to find and sightings diminished over time.
Then, when Davis suddenly reappeared downtown, Ploof and others learned that he'd been hospitalized once again and his remaining leg removed. After surgery, he'd been placed in a motel for a few days. Once his paid stay at the motel was up, Alan Davis had returned to his usual haunts.
Over the ensuing months, Davis was seen around downtown Modesto at various favored locations. At least once, he was evaluated by county personnel and deemed competent to take care of himself, a judgment made in keeping with state and federal standards that often seem designed to prevent assistance rather than provide it.
City police officers also checked on Davis from time to time, but since homelessness isn't a crime, there wasn't much they could do except ask him to move along when merchants complained about his presence. Occasionally, county outreach workers were able to place him in a motel for a day or two, but he always drifted away and back downtown.
Davis tended to favor locations next to the Subway sandwich shop on J Street and near La Loma Liquors, where he'd recently been seen most often. He subsisted on the kindness of strangers, many of whom had grown to know him over the years he'd been on Modesto's streets. They provided him with food, beverages, and small change.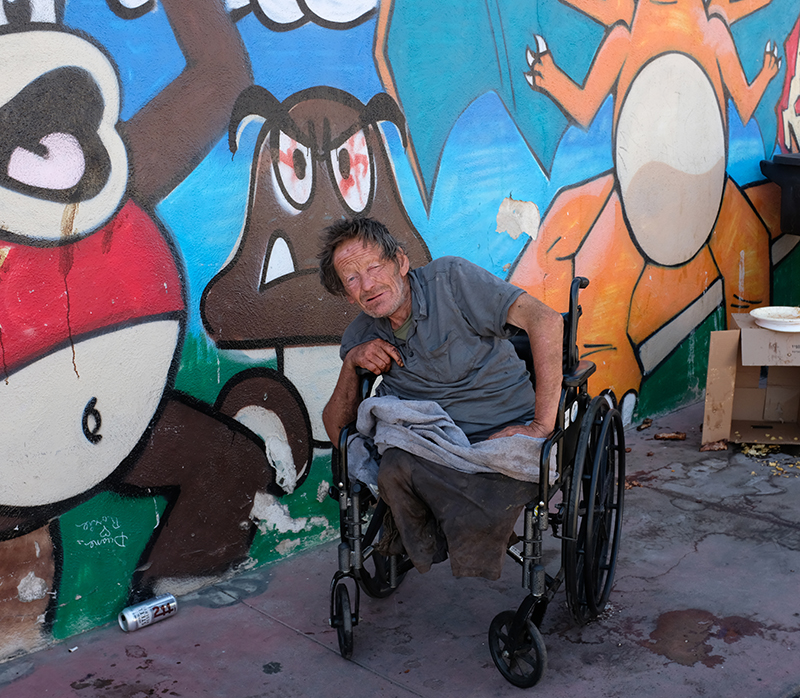 Last Monday, someone who'd seen Davis called Frank Ploof and told him that Alan was horribly soiled and badly needed a shower. He also seemed to be growing less coherent.
Ploof visited Davis that afternoon and was stunned. Davis was filthy and besieged by flies. Ploof, who may know more about aid for the homeless than anyone in the region, was briefly stymied. He knew all routine remedies had already been tried many times over, and considered calling an ambulance.
But Ploof had often seen homeless people receive little or no treatment in Emergency Rooms, even when suffering from severe abscesses and infections. And given rising cases of Covid-19, Ploof figured Emergency Rooms would be even less likely than usual to admit a man who wasn't bleeding and didn't appear to have any sores or abscesses. He confirmed his suspicions by calling a nurse who works in a local hospital.
Ploof knew that there was plenty of room in Modesto's homeless shelters, but knew also that they weren't accepting new applicants. The risk of Covid transmission was deemed too great.
After several calls for help with no results, Ploof hit upon a temporary but much-needed fix. He called Joseph Dean Dodd, the animating spirit behind Church in the Park's "Cleansing Hope" shower shuttle, a shower on wheels that includes a wheelchair lift and handicapped access. Dodd, whose each day provides a living example of Christian charity, said he could accommodate Davis late Tuesday afternoon, at his home base near the Modesto Gospel Mission on Yosemite Avenue.
Now all Ploof had to do was figure a way to get Davis to the shuttle. Davis had long ago refused to keep getting into Ploof's Ford F150 pickup; he had learned getting in and out of the truck was too painful, even when he still had his right leg. Ploof knew public transport wouldn't carry him; he was too filthy. Finally, Ploof decided to push.
Homeless housing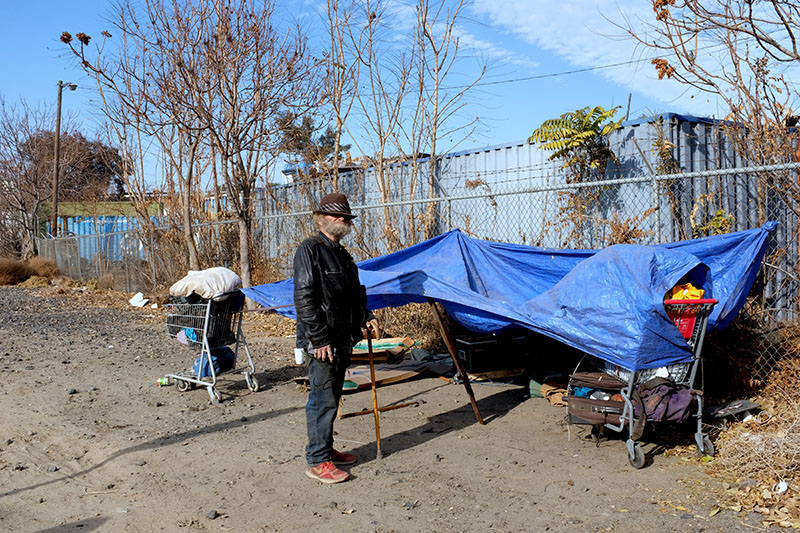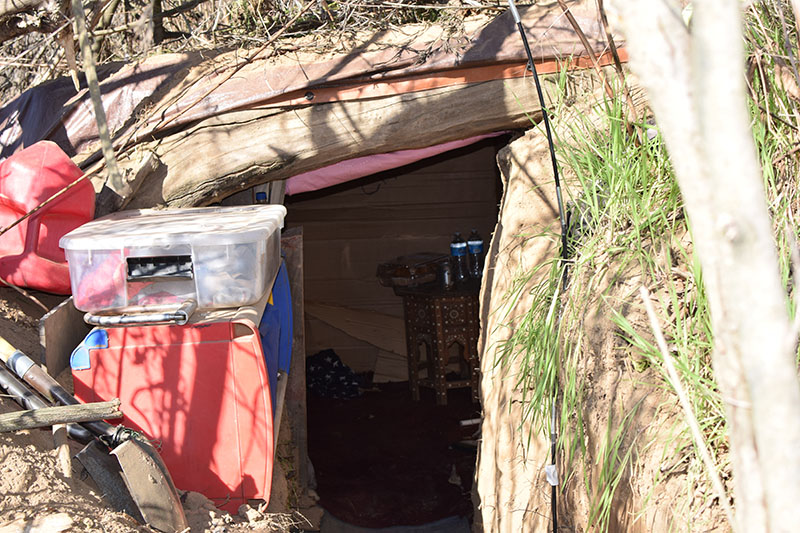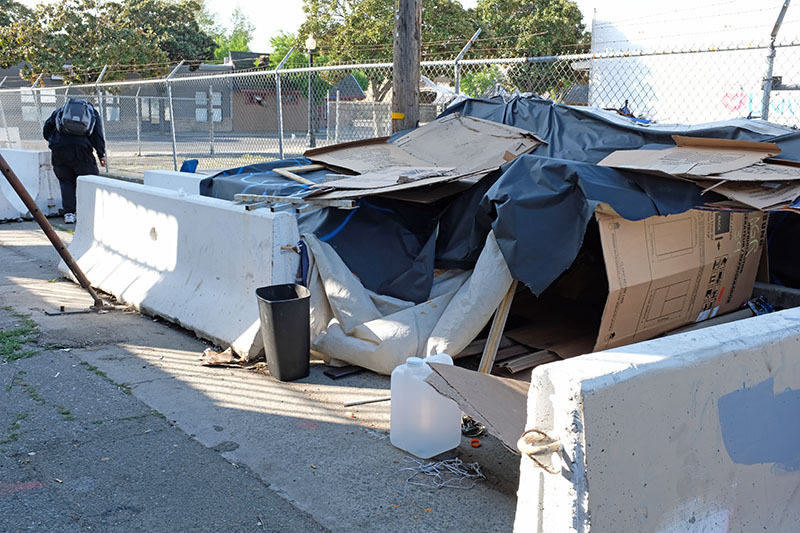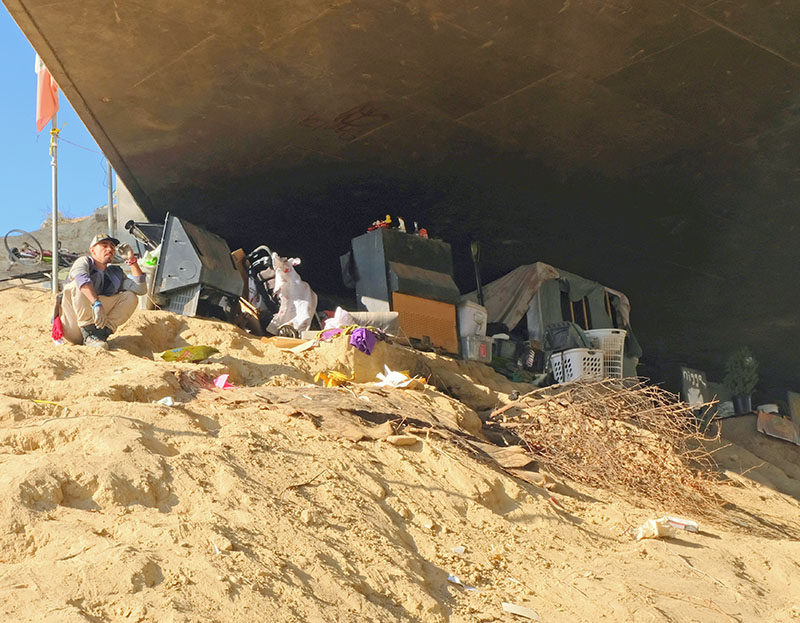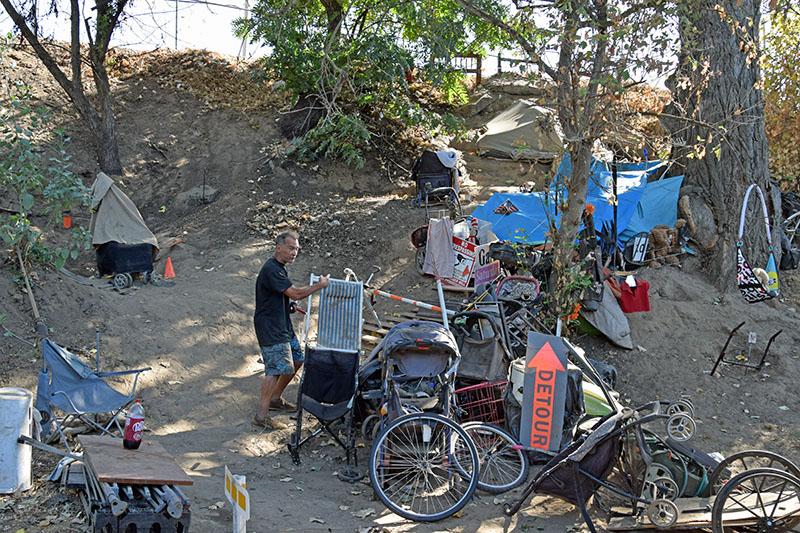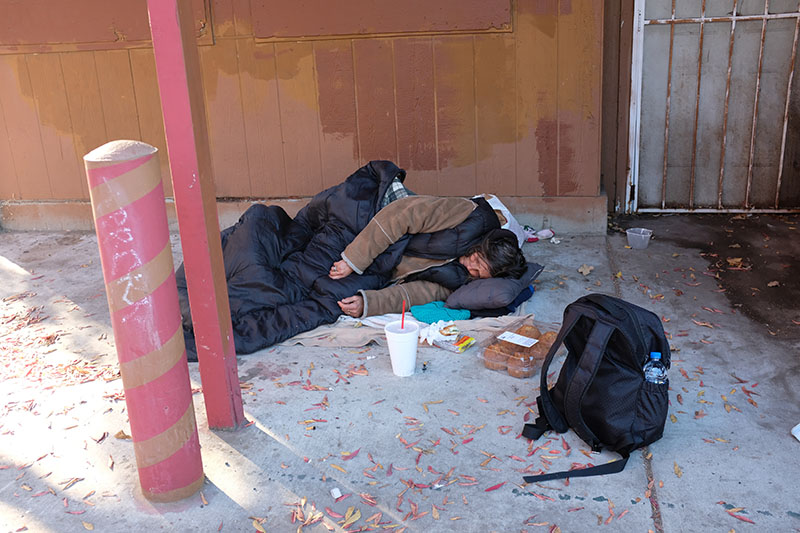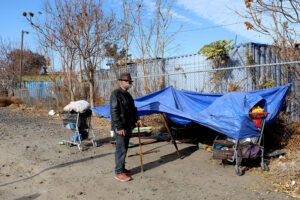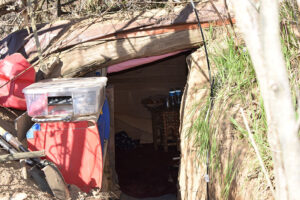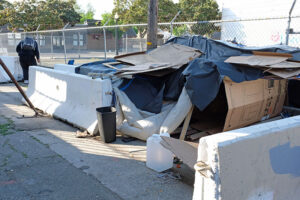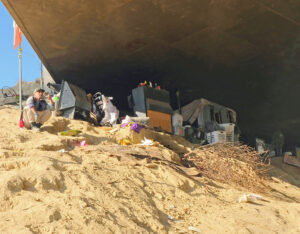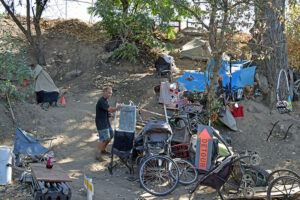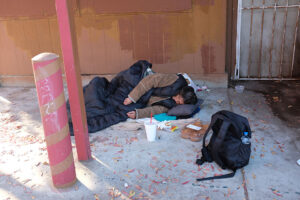 Despite a five-way coronary bypass almost four years ago, Ploof takes daily walks and stays active with yard work. Though he's a septuagenarian, he's also a former marathoner. Once he realized the shower bus was just a little over a mile away, Ploof realized he could get Davis there and back by himself, especially after a good night's sleep. He resolved to do so.
And that's how Frank Ploof found himself pushing a wheelchair along La Loma Avenue on a warm Tuesday in July, with gloves on his hands and an N95 mask tucked into one pocket. Once he got Davis safely to Dodd's office and garage, both Ploof and Davis got temperature checks, just to assure maximum precaution during this time of Covid.
Dodd then got Davis into a fully-accessible shower, where he was able to clean himself and his wheelchair. Once Davis was out of the shower, Dodd scrubbed it antiseptically clean again with bleach and elbow grease.
Davis, seemingly buoyed by the cleansing shower, thereafter enjoyed a visit from a friendly puppy, chatted briefly with Dodd and Ploof, and eagerly accepted a bottle of Gatorade. After Ploof told him he had enough money for a stay in a motel room, Davis said he reckoned he'd like a, "soft bed," so Ploof phoned outreach worker Randy Limburg and asked him to check his contacts for a room that met the standards of the American Disability Act (ADA).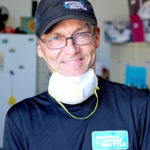 Then Ploof put his gloves back on and trundled Alan Davis back along the uneven streets and sidewalks bordering La Loma Avenue — back to almost the same place Ploof had found Alan Davis some ten months earlier. By the time they got to La Loma Liquors, Limburg was working hard with his wide list of contacts to get Davis placed in an ADA room, but Modesto has very few. As of Wednesday night, Limburg hadn't found one yet, but Frank Ploof hadn't given up either.
Like Joseph Dean Dodd, Frank Ploof is on a daily mission he knows may never end. He also knows in his heart that it's the right thing to do, even when there's no help. Even when there's no help.