"Given the significant dollars spent to address homelessness, this lack of accountability is problematic and can undermine the public's confidence in our public agencies." Stanislaus County Civil Grand Jury, June, 2022
It was only last year that Stanislaus County added "accountability" to its plan for reducing regional homelessness. The new measure was intended to hold homeless people more accountable for being homeless.
Released this June, in yet another of too many ironies to count regarding government failures on homelessness, the Stanislaus County Civil Grand Jury Report of 2021-2022 found that "accountability is lacking," not among the homeless, but as a result of the myriad government agencies, nonprofits, churches, charities and private organizations focused on ending homelessness in Stanislaus County.
The Grand Jury's conclusion that attempts to reduce homelessness have failed wasn't news to anyone still relying on the evidence of their senses. Burgeoning homeless numbers are visible everywhere in the form of bodies on the sidewalks, along freeway margins, and prone in local parks.
However, while no one with eyes and ears needs to know that homeless numbers have continued to grow, the great value of the Stanislaus County Civil Grand Jury Report (SCCGJ) is in its finding that there are,
…. dozens of public agencies, private organizations, and non-profits working in this arena. It is hard to evaluate coordination, effectiveness, and accountability when efforts are so fragmented. The SCCGJ found that while efforts to coordinate all these agencies and their activities are being pursued, accountability is lacking. Given the significant dollars spent to address homelessness, this lack of accountability is problematic and can undermine the public's confidence in our public agencies.
Anyone working on the ground with homeless people in need of help would add that not only is there a "lack of accountability," there is also a lack of candor about why homeless numbers continue to grow.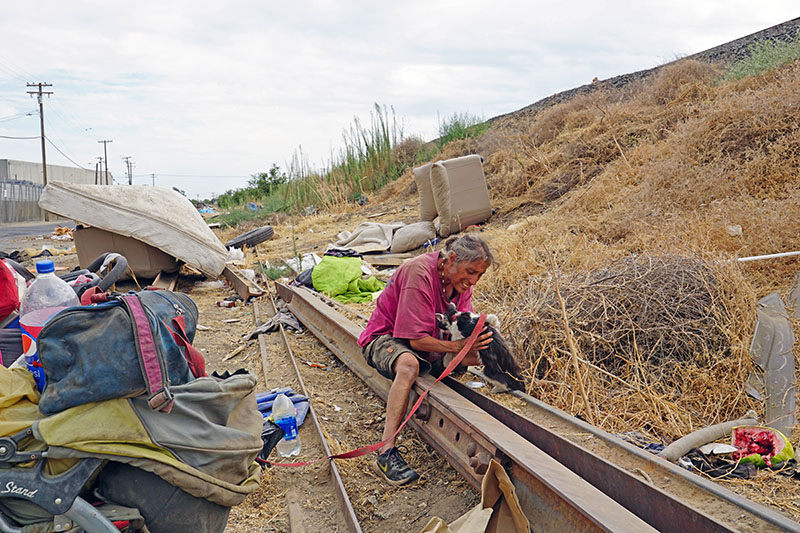 Consider, for example, just one segment of the homeless population, the mentally ill. Salvation Army Major Harold Laubach recently estimated that forty percent of the residents of Stanislaus County's Low Barrier Shelter are mentally ill. He added that another forty percent deal with "substance abuse problems."
Laubach noted that given the absence of alternatives, homeless shelters were a better option than homelessness itself. The vast majority of homeless people, ill or not, disagree. The evidence is in the ongoing availability of beds in local shelters.
Though they were never designed for such purposes, today's shelters now serve dual roles as mental institutions and warehouses for drug users in search of help. Staff at the shelters lack training to deal with such problems while shortages of infrastructure and services prevent timely transition to more appropriate venues. No wonder so many people avoid traditional shelters.
The plain fact is that our homeless crisis is actually a housing and care crisis, and not necessarily even an "affordable housing" crisis, insofar as no housing is affordable for people without incomes or the ability to earn them. And even though a great many homeless people do have incomes — often as a result of disabilities or retirement —  those incomes are far too little to afford traditional housing options.
Those who might benefit from traditional housing options include workers in fast food, Amazon warehouses, and other jobs that pay too little to meet today's housing costs. However, those traditional housing options — apartments and studios — would have to be constructed so that rents would be far lower than today's averages. Given mounting costs of construction and building fees, it's improbable we'll have such options any time soon. Meanwhile, people with insufficient incomes for traditional housing options are living in their cars.
These hard facts about homelessness would ordinarily mean we have a humanitarian crisis brought about by insufficient housing and services to accommodate peoples' needs for health care, shelter, including toilets and running water, and community services such as trash and garbage disposal. Instead, we have "homelessness" and debates about its causes, almost none of which acknowledge the central problem is fellow citizens in  dire need of urgent care.
The SCCGJ did not note that political leaders benefit from lack of accountability and won't be eager to accept responsibility of any kind. They much prefer the fog of a fragmented, inefficient, and dysfunctional system to having to answer for their failures. Positive change won't happen as long as the same players continue to dominate access to revenue streams while squandering resources and avoiding meaningful action in favor of cruel indifference to human suffering.