Despite the expenditure of billions of dollars, homelessness in California continues to burgeon. While every city and county throughout the state faces different challenges  trying to manage the problem, there are enough similarities that all can learn from one another's failures. Stanislaus County and the City of Modesto offer typical examples of tactics that have failed again and again. ed
Frank Ploof may know more about homelessness in Stanislaus County and the City of Modesto than anyone else in the region. With over ten years' on-the-ground experience dealing with homeless individuals and the county's various systems of care, Ploof has also sat on many of the region's various committees devoted to homelessness, housing, and behavioral health.
Recently he said, "What we call a system of care is a system of referrals. A true system of care for homelessness was never designed and should be for obvious reasons."
Like many frustrated observers of people in dire need with nowhere to go, Ploof recently joined Modesto businessman Steve Finch in the formation of a nonprofit dedicated to filling some of the many gaps in the city's and county's overburdened systems of care.
The Stanislaus Homeless Advocacy and Resource Enterprise (SHARE) grew out of need and compassion. The need was for housing and shelter and the compassion was for people incapacitated by disability, age, illness, and poverty who had nowhere to go.
One of SHARE's roles is to fill the gap between city and county "services" and placement of people in temporary, transitional, or permanent housing. Finch and Ploof are frequently called upon to provide motel rooms for people in immediate need of shelter that city and county agencies can't or won't provide.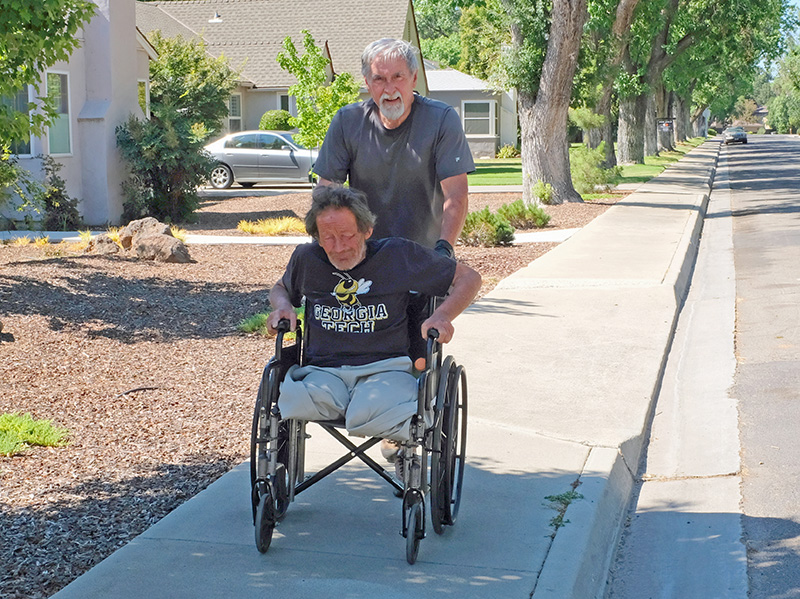 While city and county officials insist there is always help available for anyone who wants it, the fact is that appropriate help and services for homeless people in need is often unavailable when they need it. A common case involves people recently released from hospitals when they're well enough to leave the hospital, but can't access appropriate shelter while recovering fully. Other cases might involve someone with a terminal illness awaiting entry into hospice care.
Ploof estimates there are at least thirty-five local nonprofits and government agencies dedicated to helping homeless people, yet homeless numbers keep growing. The most obvious problem is the lack of housing, but a greater issue is the lack of a homeless management plan.
In theory at least, Stanislaus County is responsible for managing behavioral health problems within county lines. In fact, the county doesn't have sufficient capacity for managing behavioral health.
Well over a year ago, the Salvation Army's Harold Laubauch said that, "Forty percent of our residents deal with mental health challenges and another 40 percent deal with substance abuse challenges." Laubauch was referring to residents of Stanislaus County's low barrier shelter; the Salvation Army has a contract to manage it.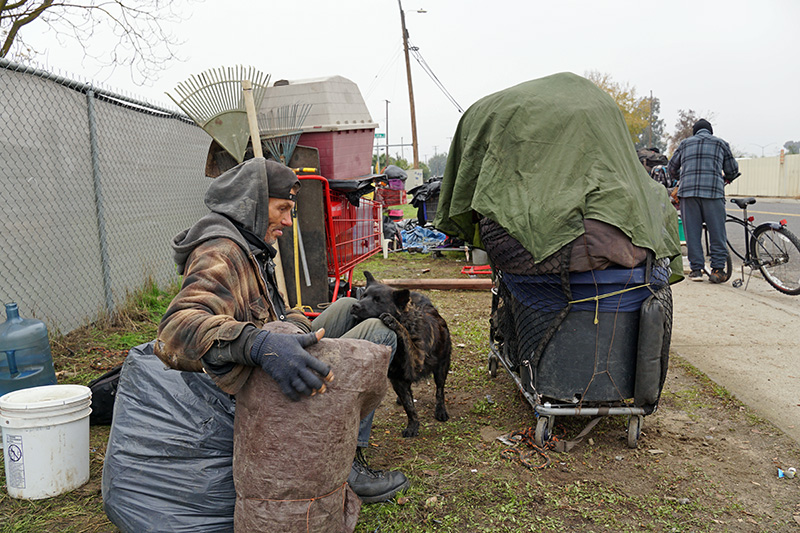 Homeless people trying to get off drugs often end up in the low barrier shelter because of a lack of capacity at the Stanislaus Recovery Center (SRC), the county facility for drug rehabilitation. Not only is there insufficient capacity at SRC, there have also been several cases of drug overdoses within the facility, most likely because of staff shortages and insufficient funding.
Because both SRC and the low barrier shelter lack capacity and expertise to deal with difficult cases involving mental illness and drug use, they often turn away or evict people. Those difficult cases become the default responsibilities of organizations like SHARE.
The overarching problem is that because there's no homeless management plan, there's also no linear chain of command and custody for managing Modesto's homeless population. A Stanislaus County official recently admitted the county doesn't know how many mentally ill homeless people are on the streets of Modesto. Officials not only don't know how many, they also don't know where they are or what they need.
Nonprofits and volunteers do their best to fill these gaps in knowledge and need, but are overwhelmed by sheer numbers. Since most experts estimate that at least half California's homeless population struggles with mental illness or drug addiction, and since there's widespread agreement that Modesto has at least 1500 destitute inhabitants with nowhere to go, we have to assume several hundreds of those people need services the city and county do not have.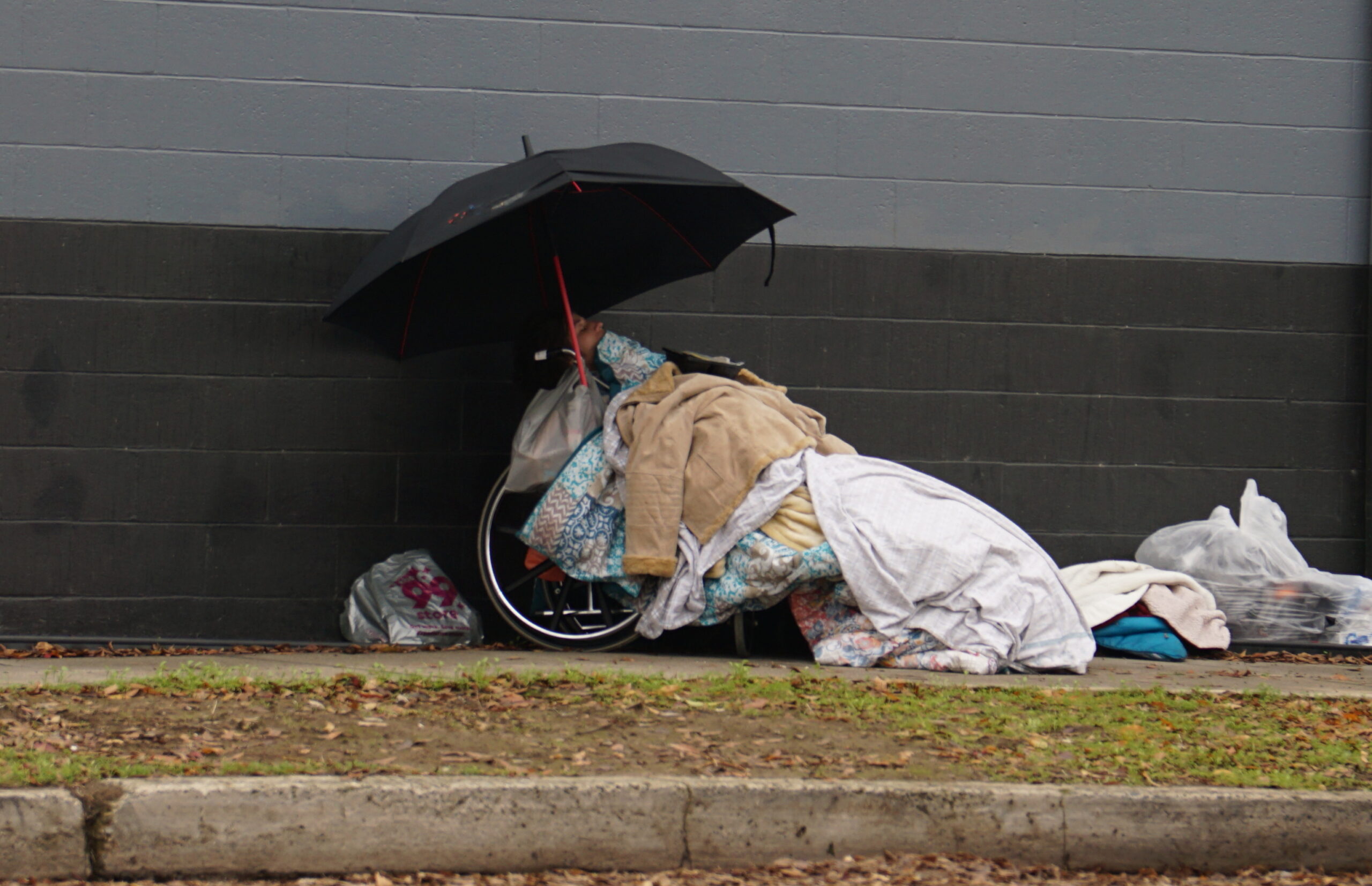 While nonprofits like SHARE tend to be operated and staffed by some of the most resourceful and competent people in the region, their attempts to fill gaps in the county's systems of care can't possibly reduce overall homeless numbers because there are more people than there are places to house or shelter them.
Since there's no management plan for homelessness, attempts by nonprofits to work around the shortfalls in systems of care too often result in a series of repeated efforts by various agencies to help people for whom there's no real help because there aren't  enough services and facilities.
The result is a repetitive process that ends up with homeless people back on the streets, even after a great expenditure of resources. Even worse, the bewildering array of nonprofits and agencies devoted to homelessness diffuses oversight and accountability and enables local officials to claim services are available when they are not.
Growing numbers of homeless people in Modesto represent an ongoing depreciation of property values, lost business, and the hollowing out of downtown Modesto, which continues to lose iconic venues like the Deva Café and Commonwealth restaurant, as well as lost use of local parks and nature trails.
Nonprofits, especially those operated by local citizens, represent the best intentions and capabilities of many of the region's most civic-minded and able residents. Unfortunately, they also enable local elected officials to avoid their responsibilities for public health and safety by establishing a system of referrals that drops a curtain of confusion and obfuscation over failed systems of care while homeless numbers burgeon.