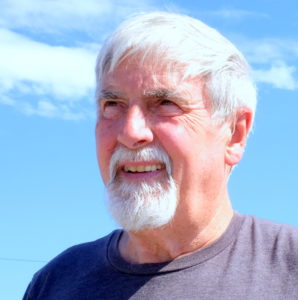 The story of how a wheel-chair bound amputee ended up on the streets of Modesto for over a year is slowly emerging. Alan Davis, whose right leg was amputated at Sutter Hospital in Sacramento sometime in April of 2018, was sent to the Modesto Specialty Hospital in May of that same year, when there was no space for him in Sacramento rehab facilities.
Davis arrived at the Modesto hospital on May 9 and stayed until May 25. He was then transferred to a skilled nursing facility nearby. After a stay of about 4 months, Davis left the nursing facility on September 25. He then stayed at a local motel for three days, after which he became homeless. Acquiring more specific information about how and why he came and went is difficult because of personal privacy laws.
On Sept 22, 2019, just under a year later, after an outreach worker alerted volunteers to Davis's perilous condition—his one leg was infected and his clothing badly soiled—Frank Ploof, Homeless Coordinator for the Modesto Outdoor Emergency Shelter (MOES), found Davis in Modesto on H Street, between 17th and 18th Streets. A nurse-volunteer examined Davis's leg and recommended he see a doctor. Ploof summoned an ambulance and Davis was taken to Memorial Hospital.
At the hospital, Davis's leg was treated with antibiotic cream and wrapped in bandages. He was released later that evening.
Once volunteers and outreach workers were alerted that Davis had been released, they began a search. Telecare worker Randy Limburg found Davis the next morning, on the corner of 11th and K Streets in downtown Modesto, where he had propelled himself from the hospital.
After chatting with Limburg, Davis wheeled himself to Ralston Park, near the location where he'd been found the previous day. He apparently spent the night nearby.
On the morning of Tuesday, September 24, Davis was found asleep on the corner of 19th and G Streets. When Frank Ploof learned Davis had been found, he arranged for a tent at MOES and Davis arrived there later the same morning.
Since then, Ploof has been working his way through the complex labyrinth required to establish Davis's recent history and medical status so that he can get the help he needs. Fortunately, though he'd lost all his identification papers, Davis remembered his Social Security number.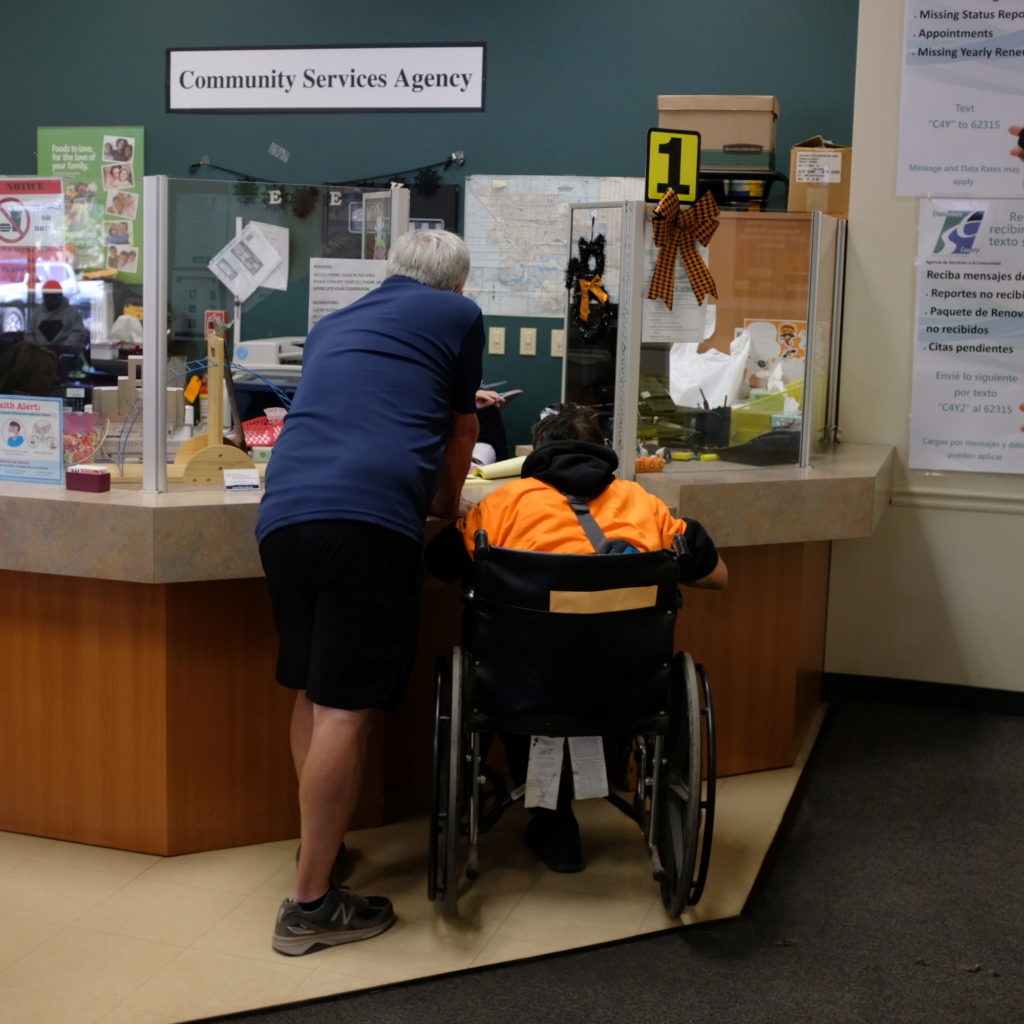 Even so, Ploof has had a near-endless round of appointments and visits to local service providers, including the Social Security Administration. Early on, Davis's leg required extra attention because he'd unwrapped his bandages and again attracted flies and dirt. He'd also told people he's an alcoholic, and there were fears he'd have serious withdrawal symptoms.
Fortunately, Ploof was able to get a prescription for more antibiotic cream and have Davis's leg rewrapped after Stanislaus County Supervisor Terry Withrow arranged for Davis to be seen at St. Luke's Family Practice in Modesto. Though he claimed to have been drinking a pint and a half of liquor a day, Davis didn't suffer any visible withdrawal symptoms other than shaky hands for a day or so after coming to MOES. He has shown no signs of withdrawal since, nor has he asked for alcohol.
Ploof had at first hoped Davis could be transported via the local Dial-a-Ride system, but soon learned that clients have to register and be evaluated in person. Though Dial-a-Ride offers free rides to and from appointments, Ploof discovered that the MOES location isn't on approved stops. At present, he has to arrange transportation as best he can; Davis finds Ploof's Ford pickup truck too difficult to get in and out of.
Even after the long process of establishing Davis's medical history, Ploof finds himself still dealing with bureaucratic obstacles. Davis often can't remember specific details about where he's been, and sometimes makes questionable claims about his past. At one point he told Ploof that he has fifty-four children, but doesn't know any of them.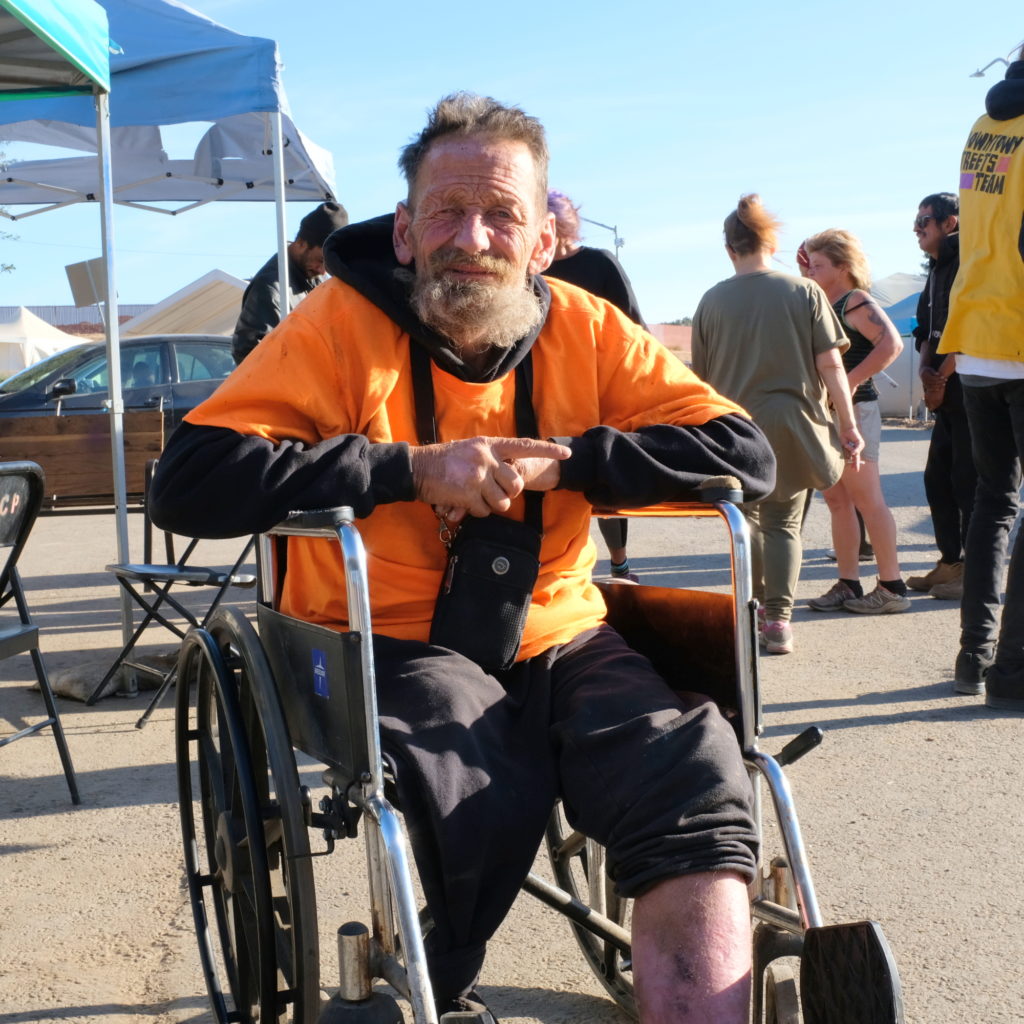 Because of requirements imposed by the Department of Housing and Urban Development (HUD), Ploof has to show that Davis has been homeless for at least a year so he can qualify as "chronically homeless." Ploof has found that Davis stayed at the Modesto Gospel Mission's medical accommodation facility for a short time last year, then disappeared. He also apparently spent some nights at the Salvation Army Berberian Shelter between September 2018 and late August 2019, but details are spotty.
Like most homeless people, Davis has had to re-acquire identification—everything from a birth certificate to a California ID card. Ploof has managed to get the birth certificate mailed from San Luis Obispo, where Davis was born. A visit to Modesto's Department of Motor Vehicles got Davis a temporary ID verification. Once Davis had proper identification, Ploof was able to help him apply for and receive food stamp benefits.
Ploof has also learned that Davis started receiving SSI benefits in 2017, when he was assigned a payee to help him manage his money. The benefits were suspended when Davis went in for surgery, and apparently weren't reinstated because his whereabouts subsequently became unknown.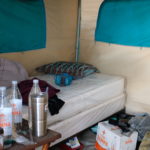 After countless phone calls and often fruitless visits to various service providers, Ploof still sees progress and remains optimistic that Alan Davis will receive the help he needs sometime soon. Meanwhile, Davis has been able to receive regular showers from visits to the Cleansing Hope Shower Shuttle, eats regularly, and sleeps comfortably on a donated bed.
Given the difficulty of acquiring more lasting help, Davis has been exceptionally fortunate to find a temporary resting place at MOES. His leg is healing nicely, he's had people watching out for his current needs, and he's got Frank Ploof advocating on his behalf. He's come a long way from his lonely outpost on the streets of Modesto.