July 25, attorneys for "Lyons Land Management and Mapes Ranch" issued a strong rebuttal to a letter to the Modesto Irrigation District (MID) from its former General Counsel that raised questions about Mapes Ranch's use of MID water. The rebuttal argued the letter, "contains false accusations and incorrect information." We summarized portions of the letter from Ronda Lucas on July 19.
Lucas, who served as MID's General Counsel from early in 2016 until November 2018, reviewed Mapes Ranch's 40 year agreement with MID for what Lucas called "gift water" because it is water that the ranch receives without recompense to the district. In her letter, Lucas also stated that Mapes Ranch had sold 10,000 acre feet of water to Del Puerto Water District (DPWD) in 2021 and 2022.
Lauren D Layne, an attorney for Baker, Manock and Jensen, a firm that represents Mapes Ranch, wrote in a letter to MID that Lucas had overstated the volume of the sale:
"Mapes Ranch and DPWD estimated that Mapes Ranch had delivered
approximately 6,800 acre-feet ("AF") of water by April 20, 2022, leaving approximately 3,200 AF of the original 10,000 AF contemplated by the 2021 Pilot Program Agreement undelivered."
After the underlined emphasis on the corrected volume of the sale, Layne went on (in bold print) to explain further terms of the agreement between Mapes Ranch and DPWD:
"The Extension of2021 (sic) Pilot Program Agreement merely allowed Mapes Ranch to continue to deliver water to DPWD through June 30, 2022 up to the original 10,000 AF contemplated by the 2021 Pilot Program Agreement on the same terms and conditions as are stated in the 2021 Pilot Program Agreement. The extension did not add an additional 10,000 AF as falsely asserted by Ms. Lucas."
The strongly worded letter included the claim that Lucas,
"has misread and misinterpreted the above-referenced agreements and is fabricating 'issues' in a failed effort to support her fishing expedition request for documents that are not suitable for production by MID."
Repeatedly emphasizing that, "no protests or objections were submitted during the two-year process or at the hearings where the 1983 MID-Mapes Ranch Agreement was approved," Layne went on to argue that "there has been no land subsidence within the monitored area" and "any change in the depth of water has been negligible."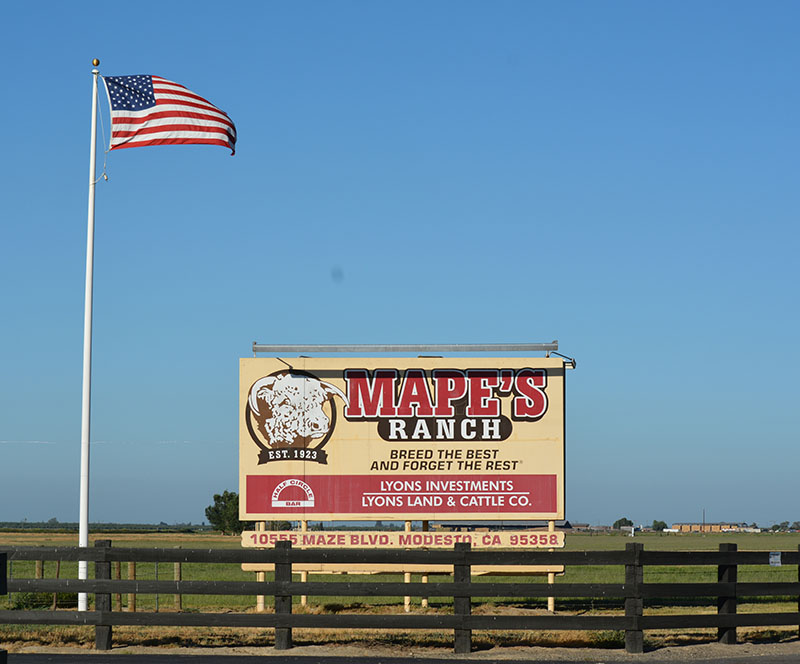 Forty years ago, no one could foresee the effects drought and climate change have brought to the San Joaquin Valley, especially with regard to water use and water rights. Since that time, there has also been a much better understanding of the relationship between groundwater and surface water, especially as it applies to infiltration of groundwater from rivers, streams, and flood irrigation.
If, for example, one is pumping groundwater near rivers and streams and change in groundwater levels is "negligible," it's reasonable to assume that the consistent groundwater level is due to infiltration from the adjacent rivers and streams.
According to the United States Geological Survey, the science is clear:
"Groundwater discharge is a critical part of flow in most streams–and the more we pump below the ground, the more we deplete water flowing down the stream," said USGS Director Marcia McNutt. "When viewed over the long term, it is one big zero-sum game."
While attorneys for Mapes Ranch may argue that it's "absurd" to assume MID water delivered to the Mapes Ranch might end up out of the district, no one is tracking whether MID water delivered to the Mapes Ranch ends of being part of the ranch's groundwater recharge system, nor is anyone measuring the effects of pumping on the three rivers that surround the ranch. Both issues need to be addressed, though only one is necessarily pertinent to MID's Board of Directors.
The question for MID Directors is not whether anyone objected to the Mapes agreement forty years ago. Rather, today's MID Directors need to justify what benefits the arrangement with Mapes Ranch offers today's ratepayer. Variously referred to as, "spillwater, tailwater," or "gift water," MID water that ends up on the Mapes Ranch, however it  gets there, appears to offer little or no benefit to the vast majority of MID ratepayers.
The larger issue is who owns the water. Given increasing shortages, any depletion of water by entrepreneurs that serves narrow interests at the expense of the Public Trust should at the very least be evaluated via robust Environmental Impact Review. The "negligible" effect on groundwater levels after pumping large volumes of water near rivers and streams suggests equally large volumes of inflow from those same rivers and streams. According to USGS Hydrologist Paul Barlow, that's a matter of great public interest:
"Streamflow depletion caused by pumping is an important water-resource management issue across the nation because of the adverse effects that reduced flows can have on aquatic ecosystems, the availability of surface water, and the quality and aesthetic value of streams and rivers."
Ultimately, the public has a right to know the details when a public resource is commodified for private use and gain.
.