"Christy Chavez would be alive today if we had safe sleeping for homeless people," said Lynelle Solomon last Monday, July 31. "All she was looking for was a place to lay her head."
Solomon was referring to the death of 27-year- old Christine Chavez on July  8 in Modesto's Beard Brook Park. Though the cause of death is not yet officially determined, Chavez was run over by a tractor and mower while sleeping on a hillside in the park. Days after her death, family members were still picking up pieces of shattered bone and remnants of clothing.
Solomon visited the park after learning of Chavez's death, and found a sixty-year-old woman in a tent in near 100-degree heat close to the site where Chavez was run over. Disoriented and without water, the woman was suffering from Parkinson's disease. It was another case of a homeless person abandoned, alone, and in severe need with nowhere to go. After an emergency 911 call, the woman was taken away in an ambulance.
A volunteer outreach worker and member of Stanislaus Homeless Advocacy and Resource Enterprise (SHARE), Solomon had grown frustrated during a meeting with Stanislaus County Supervisors Buck Condit and Vito Chiesa. She and other members of the Modesto Citizens Action Group (MoCag) had presented the supervisors with a plan for safe camping for homeless people. They were trying to explain the urgent need to act now in behalf of people who have fewer and fewer places to sleep during a citywide crackdown on homeless people forced to lay down either on public or private property.
MoCag members argued that the county's budget reserves were large enough to permit and manage safe sleeping sites for homeless people in the City of Modesto, where most of the county's homeless population is located.
"Yes, we have the money," said Supervisor Chiesa, "but it's always a question of priorities."
"Why can't the first priority be human beings?" said Lynelle Solomon. "My people are out there suffering in the heat and don't even have a place to lay their heads."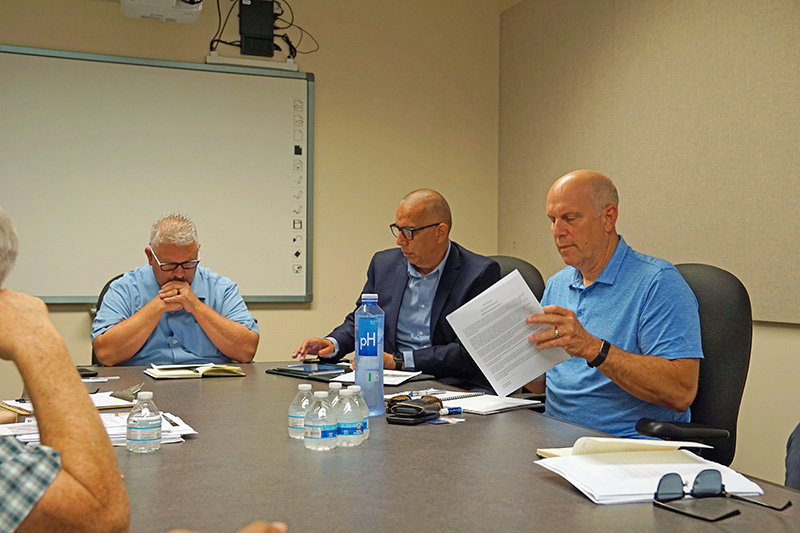 "I can't approve of something without seeing a plan," said Supervisor Condit, who had already began studying the MoCag "441 Plan" after receiving it from MoCag member Richard Anderson, a retired college professor who produced and directed "Homeless in Modesto," a documentary film first shown in 2018 at Modesto's State Theatre.
Chavez's death has served as a flash point in a city that continues to flounder as homeless numbers rise amid park closures and increasingly severe tactics from law enforcement to move homeless people along from the few places they have to rest. In a scathing editorial, Modesto Bee Opinions Page Editor Garth Stapley castigated "the dithering majority" of the Modesto City Council for failing to act on safe sleeping sites for homeless people with nowhere to go.
"What's it going to take, Modesto?" wrote Stapley. "What's it going to take, California? How many more vulnerable people like Christine Chavez have to die before we start asking why she was sleeping in a park in the first place?"
For Lynelle Solomon and members of the Modesto Citizens Action Group, it's going to take a cooperative effort between the City of Modesto and Stanislaus County to provide safe sleeping sites for Modesto's homeless population. Supervisors Condit and Chiesa agreed to review the MoCag plan. That could be a start toward a more humane and cost-effective effort for managing homelessness in Stanislaus County.
Even more importantly, it could be a start toward making human beings "the first priority."