Frank Ploof didn't know it at the time, but while he was offloading cases of water at a homeless camp in triple digit heat, Little Sherry Lopez was half a mile away, slowly growing more disoriented as she tried to escape the battering rays of the sun.
Ploof, who's known Sherry since she began camping in Beard Brook Park almost four years ago, had finished distributing cases of bottled water and was going home when he saw her talking to a passing motorist. The driver of the car had stopped after seeing her tottering alongside the road in a south Modesto neighborhood consisting of junkyards and trailer parks.
"It's too hot," she said. "I'm going swimming in the river."
Carrying a blue life preserver over her right shoulder, Little Sherry was trying to reach the Tuolumne River, one wobbly step at a time.
Dirty, dehydrated and disoriented, Sherry had to be persuaded to drink some water. She accepted the cool liquid when it was poured slowly over her head, but didn't seem to understand how dangerous extreme heat can be.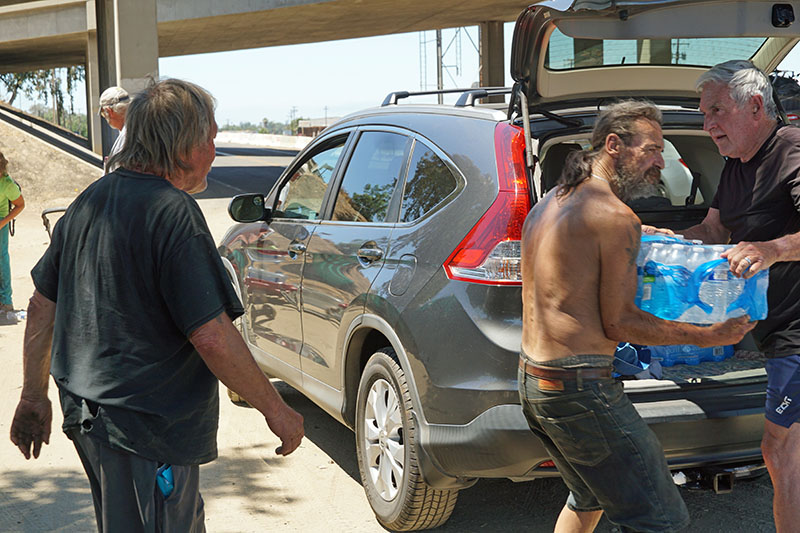 Ploof knew she had been staying at the same camp where he had just dropped off several cases of water. He also knew that Little Sherry is developmentally disabled; she's at even higher risk than most among the homeless.
He'd been especially concerned about how the blistering heat was affecting Sherry's group. Most of the members had been forced off the narrow freeway strip they had occupied by a Caltrans sweep just days ago. Having nowhere else to go, they relocated a mere 30 or 40 yards away. They were woefully short of food, water, and cooling shade.
One of the newest members of the group was a woman who had lost her trailer in a recent fire. She had nowhere else to go.
Another woman, physically disabled and in a sit-down walker, had been homeless on and off since the condemnation of studio apartments at 624 9th Street in Modesto, when she was forced to move out of the only place she could afford with her disability income.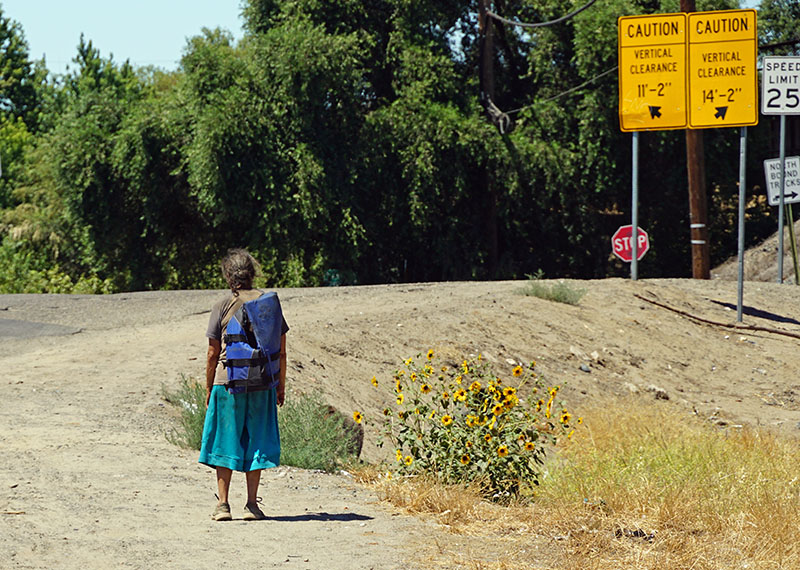 Sherry is a special concern because of her limited comprehension. Though she has a county caseworker and a small income from disability, Sherry often wanders. Caseworkers lose track of her. She then becomes vulnerable to the kind of "friends" who prey on anyone with income.
"The bank took my money, the bank took my money," she said over and over.
Like the passing motorist, Ploof's first thought was to get Sherry checked out at a hospital, but she kept repeating that she wouldn't go. The best he could do was make sure she got cooled off by a full blast of air conditioning, followed by a safe return to her home camp, where the over-stressed residents watch out for her the best they can.
There are times when Frank Ploof can't help thinking how much easier it was to help Sherry and others like her when they were camping in Beard Brook Park rather than scattered among dozens of locations throughout the city and county.
He can't dwell on such thoughts too long, however, because he's got so much to do. There's always another camp and more water to deliver, at least until the heat breaks.