Wednesday, June 28, Stanislaus County Supervisor Mani Grewal said he is supportive of safe sleeping sites for homeless people during a meeting with the Modesto Citizens Action Group (MoCag), a rapidly growing coalition of local citizens promoting Tier One housing and shelter options for people with nowhere to go. The meeting took place at Stanislaus County Supervisors' offices at 1010 10th Street in Modesto.
"Having a safe place to sleep is a fundamental right, "said Grewal, as he agreed with MoCag members that housing shortages are pushing more and more people onto the streets.
"I was just at a meeting with the principal of one of our local schools," said Grewal, "and he said that landlords are evicting renters who might pay $1200 a month for three bedroom homes and renting the rooms for $750 a month to people who pay that much just to rent a room."
The pressure on local housing has come from an influx of Bay Area residents who can now telecommute or combine telecommuting with one or two daily commutes a week. The ability to work from home means they can buy a home in Stanislaus County three to four times the size of a Bay Area residence for the same or a lower price. Rising housing prices have had a domino effect on housing of all kinds, including rentals. Coupled with California's housing shortage of 180,000 units each year, the result has been more and more people on the streets.
During the meeting, MoCag member Lynelle Solomon was receiving a constant stream of texts from those she calls "my people," homeless individuals she watches over and supports as best she can on a volunteer basis, including her work with the Stanislaus Homeless Advocacy and Resource Enterprise (SHARE), a non-profit dedicated to providing short-term emergency help for homeless people in dire immediate need.
"Here's a woman who lives in her car," she said. "All she needs is a place to park."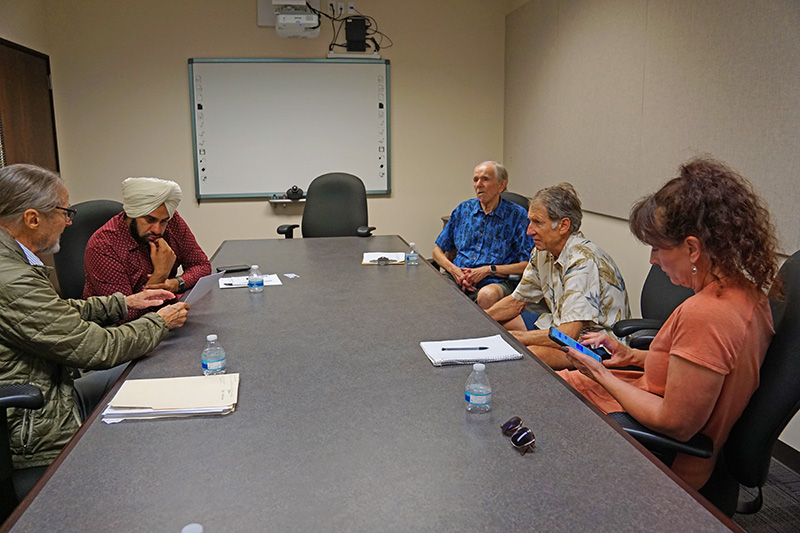 Solomon said that it's heart breaking to witness the effects on people when they're forced to move from places where they feel relatively safe or secure, especially when they have been close to people they trust.
"They lose the only homes they have when they're forced to move from the streets," she said. "They take drugs to stay awake because they're afraid of getting robbed or beaten. I've gotten people off drugs but it's impossible to stay off drugs if you don't have a safe place to sleep or park."
MoCag member Richard Anderson presented Grewal with a plan to provide safe sleeping sites with "Tier One" housing and shelter options, which could include shelter as rudimentary as tents or Pallet Shelters.
"I can set up a Pallet Shelter in an hour and I can take one down in an hour," said John Frailing, a retired attorney and MoCag member. "The advantage is they are quick to deliver and set up and they can be moved."
Both Anderson and Solomon stressed the urgent need to act now, especially in those cases involving elderly and disabled homeless people. "People are dying out there," said Solomon, "and all most of them want or need now is a place to sleep."
Grewal agreed that homelessness is an urgent problem and added, "I know that we can do more and we need to do more." He said that he is willing to work with the City of Modesto to find suitable sites for safe sleeping and added that more are needed countywide. He said that they must find a way around the red tape that gets in the way of immediate action.
"If we don't address this situation, we're not only failing ourselves, we're failing our community," said Supervisor Grewal, as he vowed to call people together and work so that significant numbers of local homeless people will  at least have the minimum security of a safe place to sleep. MoCag members promised to help in any way they could.