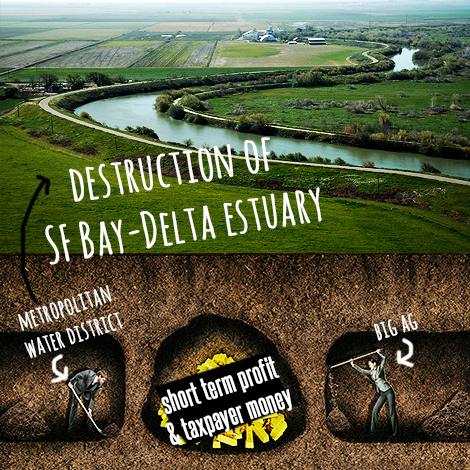 Jeff Denham's California Congressional District 10 is purple—it's almost equally divided between red (for Republican) and blue (for Democrat) voters. But despite the almost equal balance between Republicans and Democrats in his district, Jeff Denham votes with his Republican Party 97.8% of the time.
Just for comparison's sake, consider Representative Tom McClintock, Denham's Republican colleague in nearby District 4. Even though his district leans far more heavily Republican than Denham's "purple" 10th, McClintock votes with the party only 80.9% of the time. That's still a significant margin, but it leaves McClintock enough room to favor his constituents when party policy might be against their best interests.
But Jeff Denham isn't the only Republican Congressman who votes with his party almost 100% of the time. Republicans Ken Calvert (98.9%), Devin Nunes (98.8%), and David Valadao ((98.9%) also vote almost entirely along party lines.
Ken Calvert is recently notable for proposing legislation that would prohibit lawsuits against the Delta Twin Tunnels and California water projects in general. His 42nd Congressional District is in southern California, where much of the water needs are served by the Metropolitan Water District.
The Metropolitan Water District (MWD) is, "the largest supplier of treated water in the United States." But despite being served water from the San Joaquin Delta via the California Aqueduct and diverting vast volumes of water from the Colorado River, MWD is in constant need of water.
The Colorado River itself has been running near dry for years, and groundwater in the Colorado River Basin is nearly exhausted. Thus, water allocations from the Colorado River and San Joaquin Delta are no longer sufficient to serve burgeoning southern California growth and the thirsty almond and pistachio orchards of the southern San Joaquin Valley.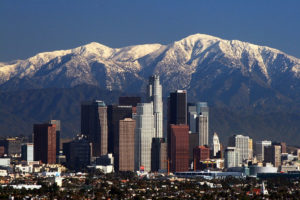 Enter the Delta Tunnels. The major feature of the California Water Fix, the Delta Twin Tunnels would place forty-foot diameter tubes under the San Joaquin Delta for the purpose of delivering northern California water south to buyers in the southern San Joaquin Valley and beyond, including Los Angeles and the Metropolitan Water District.
Proponents say the tunnels would deliver more water south with less harm to the Delta ecosystem. Opponents say the tunnels are just a faster, more efficient way to ruin the Delta and place even more stress on over-burdened California rivers.
Devin Nunes and David Valadao are congressmen from districts in the southern San Joaquin Valley. Like Ken Calvert, they and their constituents depend on water from northern California, especially since the boom in permanent crops like nuts and grapes.
Unlike the districts of Calvert, Nunes, and Valadao, Jeff Denham's 10th Congressional District is water-rich—at least for the moment. Like other northern California districts, it's threatened by new state water requirements for fish and the Delta ecosystem.
Despite threats to local water supplies, the Oakdale Irrigation District (OID), located within Denham's 10th District, has a business plan that depends on selling water to buyers outside the region, most of them far to the south. OID's Sacramento-based water attorney is a major contributor to Jeff Denham. So is one of its largest independent farmers.
Even with water sales outside the district, OID farmers have enough water to buy it at prices below the cost of delivery. Farmers in the nearby foothills, however, are dependent on diminishing supplies of groundwater.
As powerful as they are, Ken Calvert, Devin Nunes and David Valadao must keep the water coming or they will lose the support of their constituents, especially the support of entities like MWD and Big Ag. Yet another Republican Congressman stands to gain even more from northern California water deliveries.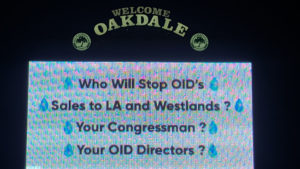 Kevin McCarthy (98.9% party supporter), in California's 23rd District, is widely thought to be a leading contender to replace Paul Ryan as Speaker of the House when Ryan leaves office after this congressional session. McCarthy's district encompasses most of Kern and Tulare Counties in the southern San Joaquin Valley. It even extends into the northern tip of Los Angeles.
Kern County is where Stewart Resnick, another major donor to Congressman Jeff Denham, has most of his 180,000 acres of nut orchards. Resnick's farm holdings consume over 400,000 acre feet of water every year, year after year. The City of Los Angeles itself consumes even more—well over half a million acre feet of water every year, year after year.
Having reached the outer limits of their own water supplies long ago, the City of Los Angeles and the southern San Joaquin Valley still need water and lots of it. Sources like the Colorado River are no longer an option; they're drained.
But if Kevin McCarthy and his friends Ken Calvert, Devin Nunes, David Valadao and Jeff Denham can tap into northern California water for long-term deliveries, they won't just become major players in the Republican Party, they could well become THE major players, especially if McCarthy becomes Speaker of the House. They will dominate Valley water and Valley politics for years.
And though putting more stress on northern California rivers will hurt his own district over the long run—it's already threatened by a state water "grab"—Jeff Denham supported Ken Calvert's legislation to prevent litigation against the Delta Twin Tunnels. He did so because that's what his party wants. He did so because the Twin Tunnels are where money and power can be delivered to the Republican Party for years and years to come. He did so because Jeff Denham puts his party over the people of his district.