During an early September interview with the Modesto Bee, Stanislaus County Sheriff Jeff Dirkse voiced strong support for safe camping for homeless people.
"(With safe camping), outreach folks can actually solve problems because we're condensing them into camps where they can interact with them" said Dirkse.
"So, yeah, I fully support it — it's a necessary step. Nimbyism will be huge. No one wants them (nearby) and I do understand that; I wouldn't want them in my neighborhood, either. But we have to acknowledge that what we're doing now is not working. You put them in a house (with no support), in 12 months the house is going to be destroyed and they're homeless again. They need mental health assistance and they need addiction treatment and a far more robust conservatorship program."
In supporting safe camping, Dirkse has joined a growing contingent of local officials in support of better management for Stanislaus County's growing homeless population. By far the greatest concentration of unhoused people in the county is in the City of Modesto, where three city councilmembers have proposed a safe sleeping plan that would get homeless people off the streets and onto safe ground.
Modesto City Councilmembers Chris Ricci, Eric Alvarez and Nick Bavaro recently presented their Modesto Safe Ground Homeless Vision to City Manager Joe Lopez and asked that it be placed on the agenda for an upcoming meeting. Councilmember Jeremiah Williams has voiced support for safe camping as long as management of sleeping sites is contracted out to qualified service providers.
At the county level, Supervisors Channce Condit and Mani Grewal recently acknowledged the need for safe ground for homeless people. During a late June meeting with the Modesto Citizens' Action Group (MoCag), Grewal said that, "Having a safe place to sleep is a fundamental human right." He added that, "If we don't address this situation, we're not only failing ourselves, we're failing our community,"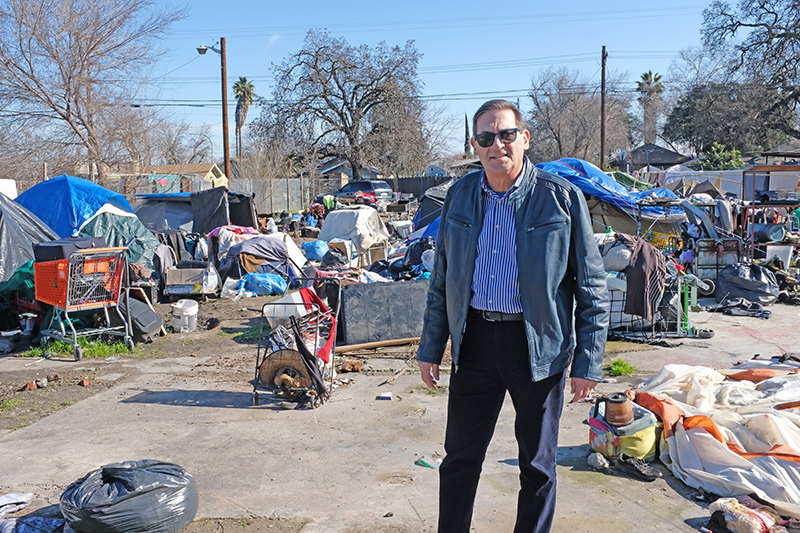 The plan by Councilmembers Alvarez, Bavaro and Ricci,
"reduces the negative impacts and public health and safety concerns of unregulated encampments on local businesses and residents by providing basic services such as portable toilets, mobile showers, and trash disposal bins in addition to case management, service referrals and housing placements."
Opponents to safe ground for homeless people have argued that permitted encampments attract people from out of the region, but voluminous evidence has shown again and again such concerns are groundless. In any case, under the guidelines of the Modesto Safe Gound Homeless Vision, admission to permitted campsites would be, "determined by qualified staff and volunteers on the ground and will be behavioral based and predicated on potential for movement forward."
In Modesto, local homeless people are well known by volunteers and outreach workers. Outsiders are easily identified as are those who prey on the weak and vulnerable. Concerns about people coming from outside the region to access safe campsites have no basis in evidence or experience.
For Modesto City Councilmember Nick Bavaro and other officials who support safe ground, homelessness is a daily management problem. Recent assaults on homeless people in Bavaro's District 4 are just one more of the escalating problems Bavaro must deal with as new campsites spring up almost as fast as the old ones are ordered torn down. Like Sheriff Dirkse, Bavaro is tired of seeing homeless people moved from one place to another as camp sweeps ultimately end in futility.
"It's a frustrating game of Whac-A-Mole" said Sheriff Dirkse. "You deal with it, some may go to jail and it pops up somewhere else. (Safe camping) doesn't get them out of it but gives them a spot to be homeless for now and it's not in your backyard or your business or your alley."
With overwhelming evidence showing that homelessness in California is due less to drugs and behavior than to housing costs, safe ground isn't just the most pragmatic tactic for managing homelessness, it's also the most humane. As Supervisor Grewal said, "Having a safe place to sleep is a fundamental human right."